My baby was taken into care - then murdered
By Ed Thomas
Special Correspondent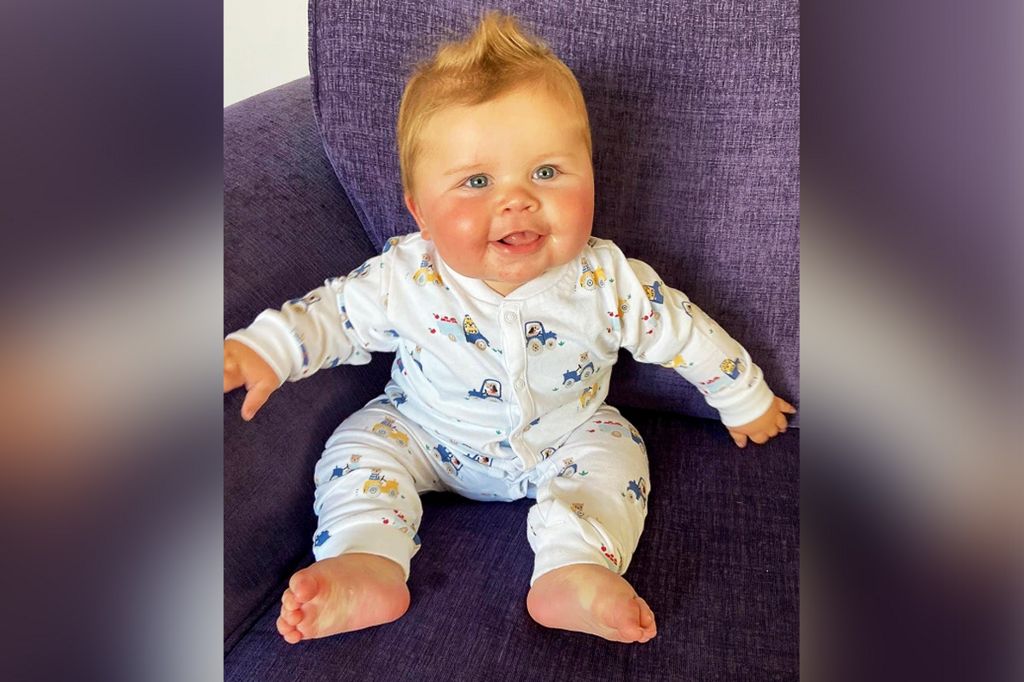 Laura Corkill was prepared for the birth of her son. The baby's room was newly decorated - she had even chosen the name. Leiland-James Micheal Corkill was born by emergency Caesarean four days before Christmas at West Cumberland Hospital.
Mother and baby bonded straight away - Laura describes it as "perfect".  
"I remember his big bright eyes. I was happy, full of joy. I was looking forward to bringing my baby home." 
But 48 hours after he was born, Leiland-James was taken away. The midwife who had helped deliver him came to tell Laura there was a social worker at his cot about to remove him. 
Laura says she went and confronted the social worker but was told paperwork had been sent to her solicitor.  "I still haven't seen any paperwork," says Laura.
Laura's world "shattered" when her son was carried away.
It was 2019, and over the following year, she would try to get him back. But just days after his first birthday, the woman - who social workers had placed him with - murdered him.
Laura Corkill has never spoken out before. She wasn't involved in the subsequent murder trial. She wasn't involved in Cumbria County Council's review into his death. She says she feels silenced. This is her story, told for the first time. 
This is also the story of what happens when social services get it wrong and when mothers who have experienced domestic abuse end up losing their children.
 When Laura fell pregnant with Leiland-James, it was a moment of hope - a time to put her troubled past behind her. She was in a good place - supported by Aishea Drysder, from Women Out West, an organisation helping women who have suffered domestic and sexual violence.  
Laura already knew what it was like to have a child removed by social services. Years earlier, she suffered domestic violence, but weeks after asking for help to remove her abusive partner from the home, her children were taken instead. Her life unravelled. 
But being pregnant with Leiland-James was different, she says.
 "I wanted to do anything and everything possible, to make sure social services didn't get their hands on this one. I was on cloud nine. I heard nothing from social services until 22 weeks."  
The first social worker, she says, appeared to be happy with the preparations made for the baby at home. "She checked everything over and went around the house. She had no problems. She could see from what she read in my previous paperwork that I've come a very long way." 
But Laura was still cautious and says she asked directly if she would be able to keep her baby. She says the woman reassured her there wasn't any reason the baby would be taken into care.
"I got the cot. I decorated [the room] in blue and white." 
Laura believes everything changed when a second social worker replaced the first. The woman  wanted  to know more about Laura's past, particularly her time with an abusive partner when her first two children were taken away from her. Laura says she was open and honest.
"My mind was in two places. I feared they were going to whip everything away, but I was determined to carry on. I thought 'they are not getting him'."
Before the birth, Laura passed several parenting assessment courses.
"I jumped through every hoop to bring Leiland-James home."  
Cumbria County Council has a different version of events and says in the last month of her pregnancy the plan was to remove Laura's son at birth. They say they told her this three times. Laura disputes this, and she says she is still waiting to see the paperwork, and that she only received confirmation when the social worker was taking her son from the hospital.
Laura's home is on the edge of Whitehaven, in a corner of an estate looking down on the town's harbour. It has a stunning view.
It's a place of extraordinary beauty but also deep deprivation. It's hard to believe now, but in the 18th Century it was a town made rich by coal, and the second-busiest port after London. Those days are long gone.  
Laura's front room is now a shrine to her children and in particular Leiland-James. 
When I meet her she is with Aishea from Women Out West and her colleague Rebecca Todd. Between them, they have more than 50 years' experience helping women who have suffered domestic and sexual violence.  
They had no idea Leiland-James was going to be taken. "The first we knew was when Laura phoned us from the ward. We were devastated," says Aishea.  Whatever the plan was, it wasn't communicated to them, they say.
Aishea says they had their own plan which would have seen Laura supported at home with the baby. After he was taken away, there were several attempts to negotiate with Cumbria County Council to bring him home.
A council spokesperson told the BBC that where there are concerns that a child's needs cannot be met, they have a duty to act and they work hard to support and inform birth parents.
Initially, Leiland-James was placed with a temporary foster carer. Laura says he was happy.
But she never stopped asking for him back.
The BBC has seen evidence that the Women Out West team supporting Laura offered social workers proposals to bring Leiland-James home. Both Aishea and Rebecca say they were not listened to. 
The council told us Laura was assessed as not being able to meet Leiland-James's needs and during his life her circumstances did not change. This is strongly denied by Laura and Women Out West.
Removing Leiland-James proved to be the start of a series of events that proved fatal. Laura, Aishea and Rebecca believe decisions were made based on Laura's past, a belief the violence she faced previously could happen again, putting her and the baby at risk.
Leiland-James was taken from his mother in hospital and placed in care. He went on to be killed by the woman who wanted to adopt him.
Laura suffered several miscarriages after experiencing severe violence at the hands of a previous partner. After one of them, as she lay in a hospital bed recovering from a blood transfusion, her two children were removed from the family home.
She says at the time she reached out to Cumbria County Council for help but had not received what she needed.
"What they didn't realise was that I may have been the victim, but I was also the protector of my older children."  
She says she "went off the rails" and suffered a mental health breakdown. She collapsed and ended up in hospital again. The next few years were hell, she says.
"I didn't want to be around any more." 
Laura says she wasn't in a relationship while pregnant with Leiland-James and was in a positive frame of mind.
 For the first few months of Leiland-James's life, Laura was able to see him at a council-run contact centre. She shows me photographs and it's striking how happy they both look. Laura would see her son four times a week, for an hour-and-a-half a day.  
"I was still expecting him to come home," she says. "The contact meant the world to me. I even asked for them to extend it to about two hours. They wouldn't do it. I didn't trust them [the social workers], but I was willing to co-operate to get Leiland back." 
But Covid cut off contact. In March 2020, as the country went into its first lockdown, she says she took two buses - an hour's journey - and turned up at the centre only to find it was closed.
For the next three months, she asked for video contact. But when she did get it, it wasn't the same.  "I just wanted to hold him," she says.  
But worse was to come. In July Laura says she was told by the family court that Leiland-James would be placed for adoption. Laura says she hadn't been told that Cumbria County Council had already identified her son for adoption and had  found  a family to place him with  months earlier.
Cumbria County Council says they told Laura in April that Leiland-James should be adopted.
Laura disputes this - and says the time she had with Leiland-James in the contact centre should have indicated she was able to look after her son. She thinks too much weight was placed on her abusive past and the assumption the baby would be at risk of future emotional harm.
"How can [social workers] come up with that when they had seen what I was like in contact with the baby?" Laura asks.
Laura also believes her lack of face-to-face contact with her son because of Covid, and the closure of the centre, was used against her. 
On 22 August 2020, Leiland-James was formally placed with a foster mother,  Laura Castle, with a view to adoption. 
Laura says she was meant to meet  Laura Castle,  as she still had parental rights, before the formal adoption. But the meeting time was constantly changed.  She says she was given excuse after excuse by social workers. "Leiland was poorly when he wasn't, or they had to work. Something always cropped up." 
Cumbria County Council says it did plan for a meeting before the adoption order was granted but everyone involved needed to be emotionally ready and the pandemic also caused difficulties.
Laura became suspicious. "I thought there's something seriously wrong. I automatically thought 'He's getting abused.'" 
She  shows me the last picture of her and her son at the contact centre. "It's precious," she says, her voice breaking. It's all she has left. She would never hold Leiland-James again.  
In January 2021, the baby was taken to hospital by ambulance. Laura Castle told emergency services he had fallen from a sofa, injuring his head, and that he was unresponsive. 
A social worker phoned Laura Corkill, but wouldn't tell her which hospital he was in.
"I was up and down all night. I just wanted to try to figure out if I could go to every hospital I could to find him. It was evil not to tell me." 
The following day, she was told Leiland-James had been moved to Alder Hey  Children's Hospital in Liverpool.
Cumbria County Council says only limited details were shared with Laura because his prospective adoptive parents were with him and the extent of the injuries were not known at the time. But the next day, when it became clear he wasn't expected to live, they rang Laura within an hour.
A taxi sent by the council was meant to take her to Liverpool, but Laura says it didn't arrive. Her support workers at Women Out West provided transport.
Laura was alone at the hospital when she arrived. She says by the time she got to his room, Leiland-James had died. By then, Laura says her son's body was evidence, a crime scene, and hospital staff would not let her touch him.
Laura says she instinctively knew his death had not been an accident. 
"I said whoever had him had killed him. The surgeon told me 'we had suspicions of this and it went into investigation as soon as Leiland-James went into the hospital'."
Pathologists would later say in court that Leiland-James's injuries had been a classic indicator of "abusive head trauma" - a replacement term for "shaken baby syndrome" - and were of the severity seen in high-speed car crashes.
If you've been affected by the issues raised in this report, details of organisations offering information and support for domestic abuse and adoption are available via BBC Action Line.
Before Leiland-James was placed in her care, Laura Castle had agreed to Cumbria County Council's zero-tolerance approach to corporal punishment.
But during her trial for the murder in May this year, it emerged she had  constantly beaten and abused the baby. In court, she was described as self-centred, abusive and violent. 
She filmed the baby in distress. In text messages she bragged to her husband how she had "leathered him" and described him as "the devil's spawn". 
In one text, she wrote: "I honestly really don't like him lately, he's an absolute moaning winge bag and I totally regret doin this [sic]. 
"Although I need to stop smacking him cos if I start, I'll not stop at one point and it's not getting us anywhere and then I feel bad."
These texts and the abuse were hidden from social workers, they had no idea this violence was taking place - but they were becoming concerned about what Laura Castle was saying to them about the boy.
The court heard a social worker had reported that Leiland-James had appeared unsettled, while another reported that Laura Castle had branded him "lazy" and "big" and said she didn't love him.   
In December 2020, what is known as a Child Looked After Review had taken place. Social workers had agreed not to support an application for Laura Castle to formally adopt Leiland-James. But when Laura Castle was told this, she said to one social worker that "Leiland-James wasn't going anywhere". 
In May this year, Laura Castle was found guilty of murder and sentenced to 18 years. Her husband, Scott Castle, was cleared of causing or allowing Leiland-James's death at the couple's home. He told the court that on the morning of the fatal attack he was in bed  asleep after working a night shift.
Laura Corkill describes the woman who killed her son as an "evil sadistic monster". But she is also angry with Cumbria County Council and says it also must bear some responsibility for his death.
"Why did they place him there? Why did it take them so long to pick up on it? They should have cancelled the adoption order." 
She also argues the council needs to offer more support to abuse victims.
The BBC has learned there are currently 26 mothers in west Cumbria, victims of domestic and sexual abuse, who are now at risk of losing their children because social workers have concerns about the impact on their children.
All of them are being supported by Women Out West. Laura Bell is what is known as the centre's McKenzie Friend - not a legal professional but someone who may support a domestic violence victim in the family court, or when dealing with children's services. 
All the 26 women she supports are required to go through child safeguarding procedures, despite being victims themselves. This is because there's an incorrect belief, she says, that these women can't keep their children safe. 
"It's a national scandal. A lot of the time, these women victims of domestic or sexual abuse make the right choice, they leave the relationship, they try to get help but end up victimised again, either by the perpetrator or by agencies meant to support them.
"Nine times out of 10, they have to make their children available for contact with the person who has abused them." 
Women Out West was founded by Rachel Holliday three years ago. She says six mothers who faced domestic and sexual abuse by partners  have revealed to her that their children were removed by Cumbria County Council and placed with their abusers. 
Some of the evidence she collected with the mothers' permission, she says, was handed over to the council more than two years ago.
"One woman had her children taken away and moved to the father, and those children are still making allegations to this day that he is putting his hands on [them].
"We have a culture of blaming women, not believing women." 
As a result, Rachel says, women and children are being put in danger.  She says her concerns have not been taken seriously by Cumbria County Council. 
"It didn't matter who we took [them] to. It was shocking nothing happened. We showed a lot of people, community leaders, but nothing changed."
The council told us when it was given the names of these women, it reviewed the allegations and some had been through its formal complaints procedures. It added that decisions to remove children from their parents - and where they should be placed - are made by the courts.
A safeguarding review into the adoption and events leading up to the death of Leiland-James found that Laura Castle lied and misled social workers about her mental, physical health, alcohol use and debts.
It also said relevant information about her was not shared between agencies. It concluded that checks on people who want to adopt should be strengthened.
Laura Corkill has not been asked to be part of it. 
"I lost count of how many times I asked for my baby back. It's as though I've been wiped off the face of the earth. When he came home, it was in a wooden box," she says. 
John Readman. from Cumbria County Council, said in Leiland-James's case the family court agreed he should be placed in foster care after he was born and that Laura Corkill has been supported by her own social worker. He said Leiland-James's death "should not have happened and our condolences go to all who knew him".
A year-and-a-half after Leiland James's murder, Laura Corkill says no-one from the council has visited to her to say sorry or phoned to apologise. If he had been allowed to go home with her, she says, he would still be alive today.   
In the cemetery near Laura Corkill's home, there is a small headstone. The words "gone but never forgotten" are etched alongside Leiland-James's name and those of his living siblings - the children taken from their mother years ago. 
Here, Laura says, she can be at peace with her child. But it might have been very different. Laura says social workers wanted the body to be cremated and she had to fight to give him a burial.
"They even tried to write the eulogy," she says.  The BBC has seen a draft copy of  it sent by a social worker, which includes the words: "Leiland I am sorry I was not able to be the parent you needed."
Laura refused to read it out and wrote her own. "They tried to control me 100% but it didn't work. They tried to make me forget I was a mother, but no-one can take that away from me." 
Cumbria County Council admits it helped Laura to prepare the eulogy, but says she was left to make final decisions.
Rebecca Todd, from Women Out West, says what happened after Leiland's death was unthinkable. "It all needs to be investigated. Everyone involved with this case needs to be accountable.  
"It's important for Laura. She has been silenced and dismissed. To control a lady that can't even control her own child's funeral, where his body is, is just wrong. It's horrific." 
She says there needs to be a public inquiry outside Cumbria into the decision to remove him from mother.
Laura often sits alone at the grave contemplating what could have been - Leiland-James would be at nursery now. She says it's also the place where no-one can control her time with her son.
"I've spent more time with Leiland in death than in life. He's home now. I loved him - all I wanted was to be a proper mother."
BBC photography by Adam Walker
Have you been affected by any of the issues raised here? You can get in touch by emailing haveyoursay@bbc.co.uk.
Please include a contact number if you are willing to speak to a BBC journalist. You can also get in touch in the following ways:
If you are reading this page and can't see the form you will need to visit the mobile version of the BBC website to submit your question or comment or you can email us at HaveYourSay@bbc.co.uk. Please include your name, age and location with any submission.