Kate Moss: I can tell a wrong 'un a mile away
By Jo Couzens
BBC News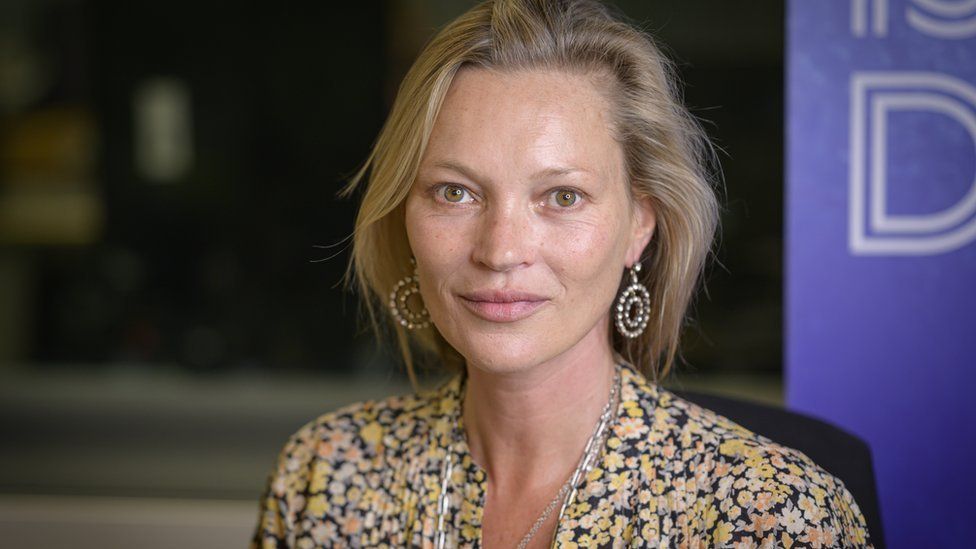 Kate Moss has revealed how a photoshoot as a teenager opened her eyes to the dangers of the fashion industry.
She told BBC Radio 4's Desert Island Discs programme how she found herself with a man who wanted to photograph her for a bra catalogue.
Moss said she was aged just 15 at the time and he told her to take her bra off.
She said the experience had "sharpened her instinct" and that as a result she could "tell a wrong 'un a mile away".
"I was only 15 probably and he said: 'Take your top off'," she said.
"I took my top off, and I was really shy then about my body, and he said "take your bra off" and I could feel there was something wrong so I got my stuff and I ran away."
Spotted by a talent scout at the age of 14, Moss was signed by Storm modelling agency in 1988.
The 48-year-old told presenter Lauren Laverne how she would go to castings in London on her own, armed with just an A to Z street guide.
Moss went on to become one of fashion's most famous faces, and remains in demand with designers and magazine editors around the world.
In 1992, she shot her first major advertising campaign for Calvin Klein with actor Mark Wahlberg, known as Marky Mark at the time.
But Moss said the underwear shoot did not bring back good memories.
Topless for the photographs, the model said she felt objectified and "vulnerable and scared".
She said she suffered from severe anxiety before the shoot and was prescribed Valium to help her get through the experience.
Now an agent herself, her daughter Lila Moss is on her books, and the icon said she has been able to give her some advice about the fashion industry.
"I've said to her you don't have to do anything you don't want to do," she said.
"If you don't want to do this shoot, if you don't feel comfortable, if you don't want to model, don't do it."
She explained that she takes care of her models and ensures an agent is always with them at a shoot so there is someone there to say "I don't think that's appropriate".
Moss also opened up about standing by friend John Galliano, the designer who was found guilty of racist abuse in 2011, and her former partner actor Johnny Depp during his recent libel trial in the US.
She explained: "I believe in the truth and I believe in fairness and justice.
"I know that John Galliano is not a bad person - he had an alcohol problem and people turn. People aren't themselves when they drink and they say things that they would never say when they were sober".
She continued: "I know the truth about Johnny. I know he never kicked me down the stairs. I had to say that truth."
Moss for a while was perhaps most well known for controversial fashion photos taken by Corinne Day for British Vogue in 1993.
Day's images of Moss posing suggestively were criticised and prompted a media debate about so-called "heroin chic".
Moss said: "I think I was a scapegoat for a lot of people's problems. I was never anorexic, I never have been.
"I had never taken heroin. I was thin because I didn't get fed at shoots or in shows and I'd always been thin."
'Obsessed with gardening'
She also faced a backlash in 2005 after a newspaper published photographs that appeared to show her taking cocaine in a recording studio with then-boyfriend Pete Doherty.
"I felt sick and was quite angry because everybody I knew took drugs, so for them to focus on me and try to take my daughter away, I thought was really hypocritical," she told Laverne.
Moss also talked about not believing she was photogenic when she was younger, and how she still dislikes having her picture taken if not for work.
"I would never, ever have said to anybody I wanted to be a model because I thought that was vain," she said.
Moss also chatted about sitting for a portrait by artist Lucian Freud and how he tattooed her thigh with a flock of birds, "which now look like varicose veins", she laughed.
But the model said she leads a quieter life now at home in the Cotswolds where she has become "obsessed with gardening", taking out a membership of the local garden centre.
"I'm not into being out of control anymore," she said, adding: "I like to get to bed and do my meditation before anyone gets up. I like to feel in control."
Her music choices included Harvest Moon by Neil Young, Life On Mars? by David Bowie, Whiter Shade of Pale by King Curtis and a version of Back To Life by Soul II Soul featuring Kanye West's Sunday Service choir that she had specially remixed for the programme.
Moss chose The Little Prince by Antoine de Saint-Exupery for her book, and a cashmere blanket "in either a duck egg blue or pink" for her luxury item.