The secret mission to save LGBT Afghans
By Lauren Moss, LGBT correspondent & Josh Parry, LGBT producer
BBC News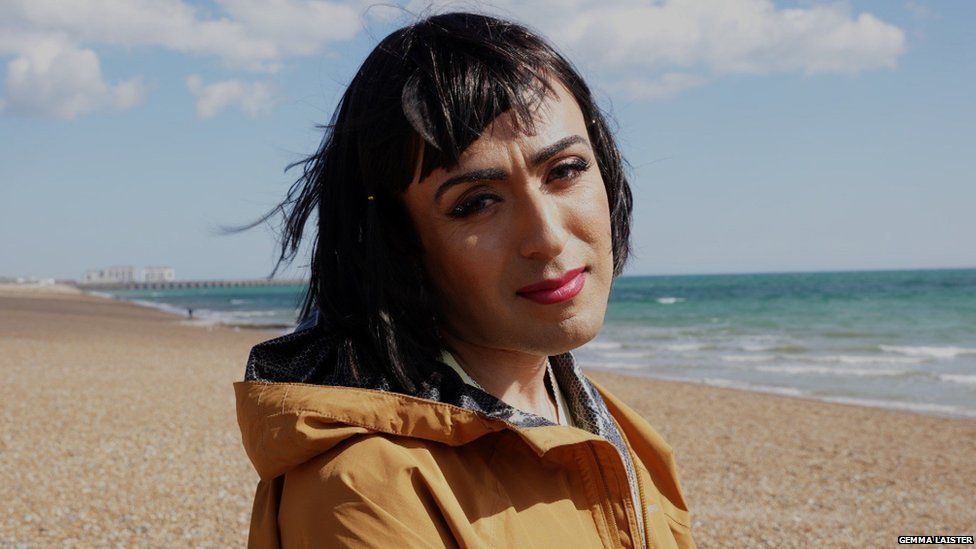 "They said they were going to look for LGBT+ people. They had names, they had addresses, they were searching homes, stopping people on the street."
Ali* has spent his life being cautious. If officials in his home country of Afghanistan ever found out he was bisexual, he could have been arrested and taken to court.
Almost overnight, people like Ali began being actively hunted.
"They are not primitive like you think they are. They can hack phones, they can look at your messages, even a simple song could have been enough to get you in trouble," he said.
Shortly after the Taliban regained power, Ali and about 30 others were evacuated in a highly secret mission, organised by the UK government and charities, which BBC News can reveal details of for the first time.
As the Taliban took over, Bella - a teacher from Afghanistan who had kept the fact she was transgender secret all her life - scrambled for a way out of the country.
"Maybe the Taliban would kill me by stone, or by fire, maybe hanging or [pushing me] off a high building," she said.
She contacted Rainbow Railroad, a Canadian organisation that helps LGBT+ people escape persecution.
But with embassies closed and chaos in the streets, the plan to get Bella to safety took several weeks to put in motion.
It was a race against time as Rainbow Railroad worked with UK charities and the Foreign, Commonwealth and Development Office (FCDO) to get vulnerable LGBT+ people on the final few flights leaving Kabul.
Bella spent those tense days at home, only leaving the house to get food, until she was told she had a place on an evacuation flight.
With only one set of spare clothes, her passport and a cover story about going abroad for medical treatment, she made her way to the airport. She knew she was taking a "huge risk" by even leaving her house but that staying in Afghanistan meant "100% facing death".
At the airport, she was searched by the Taliban multiple times.
"The atmosphere was so cold, so frightening and stressful," Bella said.
Bella boarded the plane feeling relieved but worried about family members she was leaving behind. She also felt lonely, especially as she was still keeping her gender identity a secret - but on that same flight were others in her situation.
At that point, none of them knew each other and they had no idea which country they would eventually end up in.
After a top-secret evacuation BBC News follows a small group of LGBTQ+ Afghans settling in the UK.
Ahmed*, who is gay, flew in the same group as Bella.
"Everyone was desperately trying to find any way to get out of Afghanistan because it was the only chance to stay alive," the former youth worker says.
He remembers hearing of people "rushing" to the airports - but at first was too frightened to leave himself.
"I was hiding in a small room [at home] and I found out there was an organisation helping LGBTQ people."
After finding out more information online, he got in touch and was given a place on an evacuation flight. It was here that he started to realise there were others like him.
"Everyone was shocked and frightened and then it was something like gay-dar - we were noticing who was gay on the plane."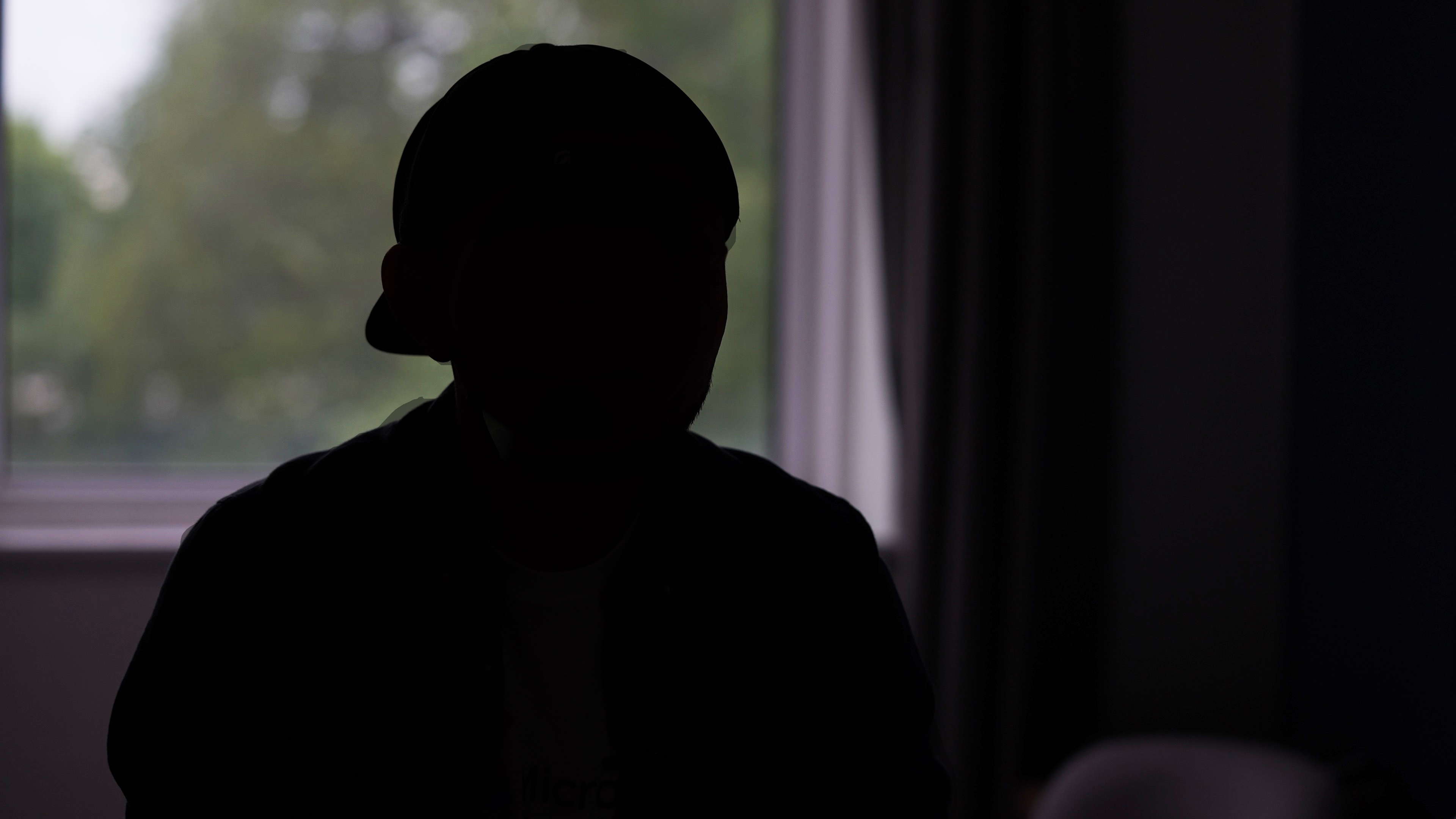 BBC
It was the only chance to stay alive
Christian Turner, the British High Commissioner for Pakistan and one of several foreign diplomats involved in the mission, said: "It was very clear as we were looking at events unfold during August in Kabul that we'd have to support those at risk.
"Those moments when they were travelling were always nervous ones, whether people are going to make it, would they get through the authorities to fly or cross the border? They were obviously very scared and traumatised."
Despite that, the UK government was the first in the world to offer an evacuation programme specifically for LGBT+ people. This came after meeting with charities such as Stonewall, who were being inundated with requests for help.
The FCDO said it has carried out a "thorough review" into the lessons learned from the withdrawal and has introduced "new systems for managing correspondence and increasing senior oversight" of its operational and diplomatic response.
After leaving Afghanistan, Bella, Ali, Ahmed and their companions were held in another country while their paperwork was processed before travelling to the UK. Their exact route has not been disclosed for safety reasons.
When they arrived here, Covid restrictions meant they were housed in quarantine hotels, but were eventually allowed to meet some of the team responsible for saving their lives.
Charity Micro Rainbow, which runs safe houses in the UK for LGBT+ people fleeing persecution, was tasked with helping the group settle - running lessons and workshops on life in the UK, as well as sexual health education and mental health support.
Bella remembers meeting the charity's national manager, Moud Goba.
"I said 'Hi, my name is Bella.' It was the first time I'd said my name."
Moud said: "What really impressed upon me was how brave she was to walk into who she is and start enjoying her freedom."
Sebastian Rocca, Micro Rainbow's founder and CEO, said while moving to the UK is a "step forward", LGBT+ refugees are facing culture shock and continued distress.
After spending several months living in a hotel, Bella has been housed in Brighton, where she lives in a one-bedroom flat.
As well as housing, she receives around £80 a week in Universal Credit payments to live off. She is currently volunteering while looking for a job.
After hiding her identity and living in fear for so long, Bella is finding it hard to engage with the LGBT+ community in Brighton.
"I am so lonely," she says.
"Something inside me still says 'don't believe, don't trust, don't accept'... there are many, many days when I don't speak to anyone."
But she is trying to stay positive.
"Loneliness will be temporary. If I have patience, I can handle it. I hope in the future I can accept my past, and make many friends."
For others on the flight, one barrier to taking part in society in the UK is the fact they still live in hotels.
Ahmed tries to get out of his room as often as he can, by going to college to learn English and heading to the local job centre - he's trying to find work in order to pay for his own flat.
"A home is somewhere that people feel safe, so I suppose in that sense I can call it a home. But at the moment I'm really looking forward to find a proper job and a flat or a house so I can start my life here," he says.
"A hotel feels temporary."
"Housing issues or other issues can be solved, but our issues couldn't be solved because there is no negotiating with the Taliban," he said.
"We all had lives back home, everybody had a house, everybody had a car, everybody had a life - but we could have been killed."
He's determined to "just make something of my life here" despite feeling that the scars of trauma are "going to stay" forever.
"Back home I felt like I was in a box, it was very claustrophobic.
"But, right now, I'm finally breathing freely."
The BBC approached the Taliban for comment, but they did not respond.
Ali and Ahmed's names have been changed to protect their identities.