Harrison McDonald: The 16-year-old DJ juggling gigs and GCSEs
By Bree Johnson-Obeng
BBC News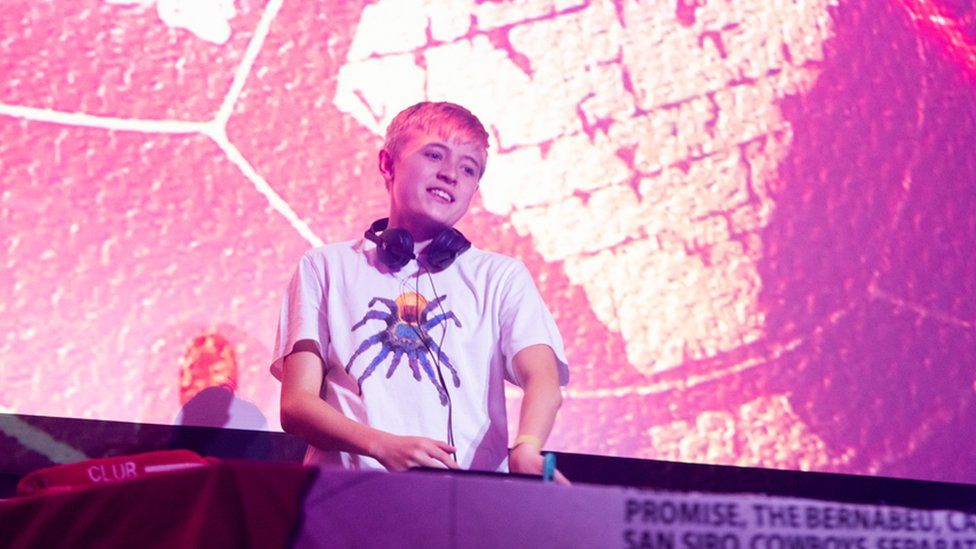 "I just couldn't wait for the invigilator to end the exam so I could be on my way to the airport," says Harrison McDonald.
Like many other 16-year-olds, he was sitting his GCSE exams this summer - unlike the others he was flying off afterwards to DJ in front of 100,000 people at a gig in Paris.
Once his chemistry test finished, he picked up his luggage from the back of the exam hall and headed straight to the airport.
"It was like chalk and cheese," he says. "Starting the day of in a dead silent, tense hall where you could hear a pin drop to barely hearing myself think over the bass during the festival".
He has been DJing since the age of 11 after a clip of him went viral and plays gigs regularly in his home city of Liverpool and abroad.
He's played alongside established names such as Liverpudlian singer-songwriter Jamie Webster - who went to Harrison's secondary school years before - and rock band The Lightning Seeds.
Nerves don't affect him before gigs: "I thrive off the people there. I guess the only thing that may concern me is picking the right song but it's great when it fills the dance floor".
Despite an intense schedule with bookings each week, he doesn't feel the pressure.
"Due to gigs being on the weekend, balancing is never really an issue".
He makes an effort to prioritise education alongside his DJ career: "I think it's important to make the time to revise especially when I have various gigs within exam season".
Being able to get that balance right is something he puts down to support from his school and his family.
"I have to be thankful to my school who set up a club called 'revise till 5' which meant that I had the opportunity to get quality revision in right after school, which then gives me the time to prepare for gigs."
Harrison says he tries to ensure he has time to be "a normal teenager" and meets up with friends, especially in the exam season. "It gives your mind something else to think about instead of covalent bonds," he says, referring to his chemistry studies.
His musical journey began as he was starting secondary school when his father bought him some equipment: "I am very grateful that my dad has provided me a platform to do what I love.
"I owe it all to my dad really, he got me lessons and pushed me to become the best I can. I'm very appreciative of what he has done for me."
His advice to young people would be "just do it, as many people contemplate pursuing something and never do. Becoming a DJ has given me so many fantastic opportunities."
He's spending the rest of the summer in Ibiza on various residencies, and in September will launch a radio show from Dubai, which he is particularly excited about. "I have never had to speak in any of my gigs so I can't wait to be able to interact with my audience," he says.
As a Liverpool football fan, he says his dream goal would be the chance to play for the players: "I think within the dressing room there are some good characters who would be dancing to my funky house beats".
Like his peers he has to wait until August for GCSE results. So how does he feel about what lies ahead?
"After an exam, I have to try and never think about it again. I'll never see the paper again and what's done is done. I shouldn't worry because the outcome will still be the same."