Ukraine War: UK pledges an extra £1bn in military support
By Adam Durbin & Andre Rhoden-Paul
BBC News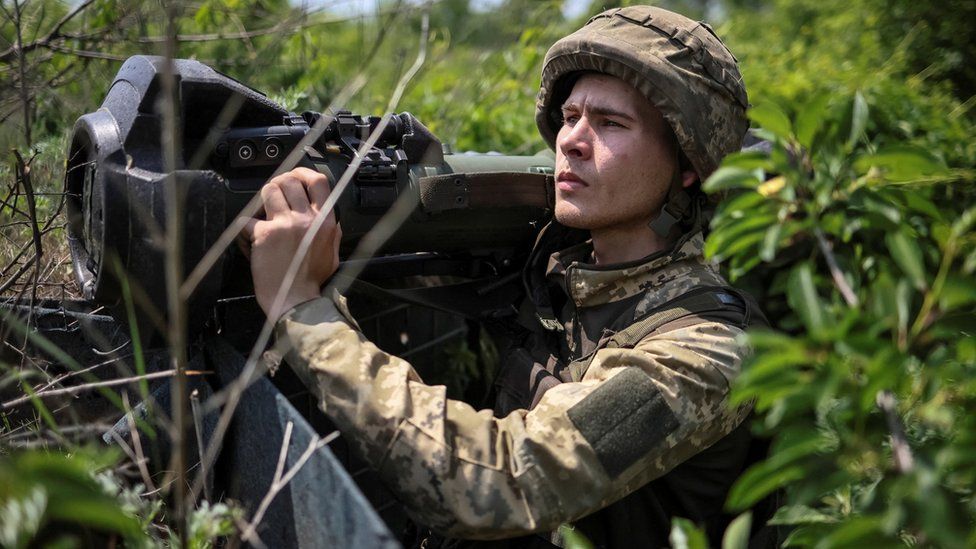 The UK will provide an additional £1bn in military aid for Ukraine, a near-doubling in its support for the fight against the Russian invasion.
The new funding takes the military aid given to Kyiv to £2.3bn - and the UK has also spent £1.5bn in humanitarian and economic support for Ukraine.
Boris Johnson, speaking at a Nato summit in Spain, said the "cost of freedom" is "always worth paying for".
The PM also committed to raising defence spending to 2.5% of GDP.
The £1bn pledge came after President Zelensky urged Nato leaders to do more to help Ukraine's war effort.
Mr Zelensky told Nato leaders the monthly cost of defence for Ukraine was around $5bn (£4.12bn).
Speaking to reporters as the summit drew to a close in Madrid, Mr Johnson said: "Unless we get the right result in Ukraine, Putin will be in a position to commit further acts of aggression against other parts of the former Soviet Union, more or less with impunity.
"That will drive further global uncertainty, further oil shocks, further panics and more economic distress for the whole world."
Addressing Nato defence spending, he said allies were recognising they needed to spend more, and the UK would increase its spending from 2.3% to 2.5% of GDP by the end of this decade.
"We need to invest for the long-term... whilst simultaneously adapting to a more dangerous and more competitive world," he said.
He added Vladimir Putin had "appalled and repelled" allies with his behaviour and described Nato as being "in robust health and getting stronger".
Initially the UK supplied Ukraine with anti-tank missiles, but now it is providing more heavy weaponry.
The new British aid will go towards paying for "sophisticated air defence systems", drones, electronic warfare equipment, and "thousands of pieces of vital kit", the UK government said.
The money is set to come from departmental "underspends", the UK government said, plus £95 million from the Welsh and Scottish governments' budgets.
Announcing the extra support, the government claimed the equipment was the first step to helping Ukraine recover territory lost to Russia, on top of their "valiant defence".
But questions remain about whether the aid will be sufficient.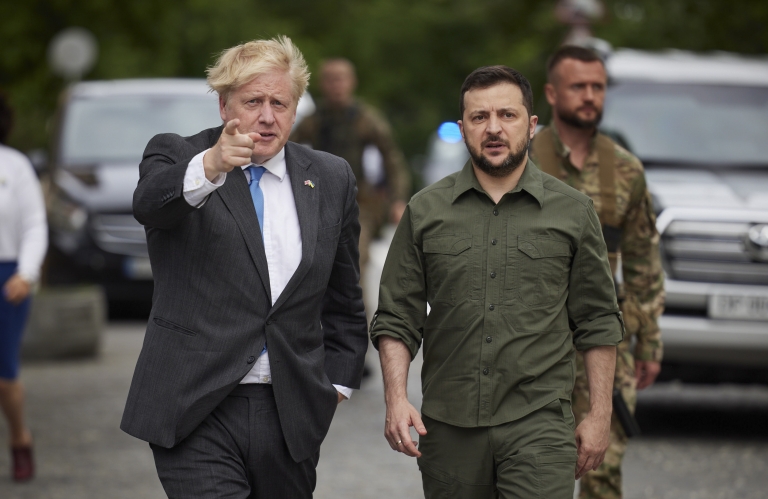 EPA
UK support for Ukraine
£3.8bnSince invasion began in February, comprising:
£1bnNewly-announced military aid

£1.3bnExisting military aid

£1.5bnHumanitarian and economic support
Source: UK government
Addressing Nato leaders at their summit in Madrid on Wednesday via video link, Mr Zelensky said they needed more modern weapons systems and artillery.
"Russia still receives billions every day and spends them on war. We have a multibillion-dollar deficit, we don't have oil and gas to cover it," Mr Zelensky said.
Britain has been at the forefront of the international effort to supply arms to Ukraine - it was one of the first countries to do so.
But Boris Johnson's claim that "UK weapons, equipment and training are transforming Ukraine's defences" is still a bold one.
The US is spending considerably more - nearly half of the $40bn it's giving Ukraine is for military support. Some smaller nations, such as Estonia, have spent a larger proportion of their income.
And Ukraine still says it's not getting enough. It's deputy defence minister recently claimed it had only received a tenth of the weapons it's asked for.
For example, Ukraine says it needs hundreds of multiple rocket launchers. The US, UK and Germany have so far promised to send around a dozen.
Ukraine's military is still heavily reliant on older soviet era weaponry and the transfer of western weapons has been slow and incremental.
Britain has also had to source some of what it's sending from third countries - a sign that there's not a lot left in the cupboard.
Foreign secretary Liz Truss said the UK's contribution would enable the Ukrainians to succeed as "they are not just fighting for themselves, they are fighting for all of us".
But when asked if £1bn was anywhere near enough the amount needed by Ukraine, she said the UK was helping the nation kickstart its economy and reconstruct.
She added: "It's not a blank cheque and we are providing specific amounts of funding... we've been very clear with them we will not let them down.
"We will continue to support them in the long term in whichever way we can, in a way that we can afford."
The UK's commitment comes as the members of Nato agreed a 10-year "strategic concept" to address future threats to European and global security.
The UK's defence budget has been the source of tension between No 10 and Ministry of Defence - Defence Secretary Ben Wallace has been lobbying for increased spending.
A source says he is "very grateful".
"The Defence Secretary has always been clear that as the threat changes, so should defence spending," they said.
"It's not responding to the greater threats we face, and it's putting at risk our Nato obligations," he said, but declined to say if a Labour government would spend more on defence.
As well as providing aid, the UK is also training Ukrainian troops.
The UK trained more than 22,000 members of the Ukrainian Armed Forces as part of Operation Orbital, which ran from 2015 until the invasion in February.
And earlier this month, Mr Johnson announced a new UK-led training programme for Ukrainian forces, which will take place overseas. The MoD said it has the potential to train up to 10,000 troops every 120 days.
Over the past few weeks, more than 450 Ukrainian troops have been receiving training in Wiltshire to operate the weapons provided by the UK.