Ukraine war: Putin's cousin among inner circle hit by new UK sanctions
By Andre Rhoden-Paul
BBC News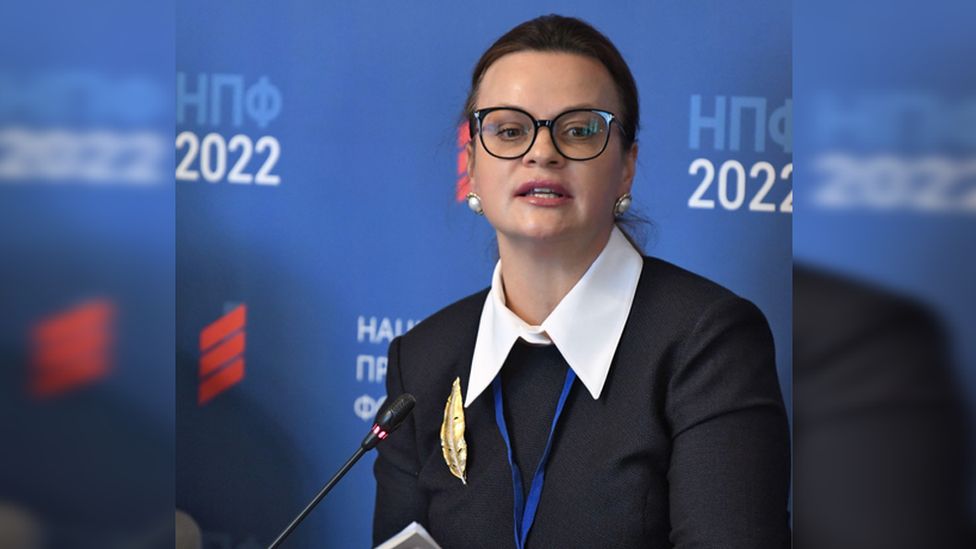 The UK has announced its newest wave of sanctions targeting Vladimir Putin's inner circle, including his cousin.
The Foreign Office said Anna Tsivileva, Putin's cousin and president of a major mining firm, has been sanctioned.
Vladimir Potanin, Russia's second richest man and key supporter of Putin's regime, was also sanctioned on Wednesday due to the war in Ukraine.
The UK government said the sanctions were intended to "weaken the Russian war machine".
The pair will be subject to asset freezes and travel bans.
Ms Tsivileva, who runs prominent Russian coal mining company JSC Kolmar Group, significantly benefitted from her relationship with the president, the Foreign Office said.
Mr Potanin, said to be worth $37.1 bn (£30.5 bn) according to Bloomberg, continues to amass wealth supporting Putin's regime, the UK says.
The oligarch, who heads the world's largest refined nickel and palladium producer Nornickel, has acquired Russian bank Rosbank and shares in Tinkoff Bank in the period since the invasion of Ukraine.
According to the reports, he moved his $300m superyacht to the safe haven of Dubai as a precaution.
The oligarch spent $2bn building the Rosa Khutor ski resort that hosted the 2014 Winter Olympics in Sochi - a project that he said would be his legacy, but that he hoped to get some of the money back from the Russian government.
A UK government spokesperson said: "As long as Putin continues his abhorrent assault on Ukraine, we will use sanctions to weaken the Russian war machine.
"Today's sanctions show that nothing and no one is off the table, including Putin's inner circle."
Russia will also be barred from accessing UK trusts services, which allow a person or business to manage the assets of another.
The sanctions are the latest as part of a series imposed by the UK which has seen more than 1,000 people and over 120 businesses targeted.
Three-quarters of foreign companies have reduced operations in Russia and nearly a quarter have completely withdrawn, according to the UK.
It comes as Foreign Secretary Liz Truss, in Madrid for a Nato summit, told the BBC that the UK must not become "tired or fatigued" in its support for Ukraine.
She said: "It's only possible to achieve a lasting peace, first of all, when Russia are pushed out of Ukraine, secondly, when Russia are held to account for the appalling war crimes that have taken place, and thirdly, when we know that future Russian aggression can be prevented, we must never allow this to happen again.
"And we must protect the future security of Europe."
She added she was also keen to help Taiwan defend itself, as China builds up its armed forces.