Russian threat means UK army needs more cash, says Ben Wallace
By James Gregory & Jonathan Beale, defence correspondent
BBC News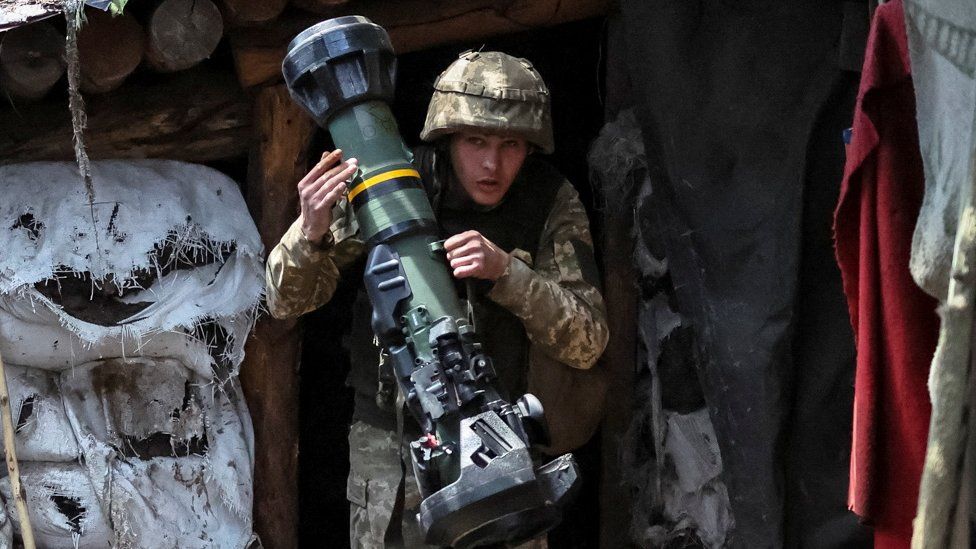 Defence Secretary Ben Wallace has urged the prime minister to increase spending on the UK's armed forces in light of Russia's invasion of Ukraine.
In a speech, he said funding must react to the "direct" threat Russia poses to Europe.
The UK currently spends around 2% of its GDP on defence, matching the target Nato sets for its members.
But Mr Wallace has reportedly written to the PM asking for an increase to 2.5% by 2028.
He later denied the 2.5% figure but at a conference hosted by the Royal United Services Institute think tank (Rusi), said investment needs to continue to grow before it "becomes too late".
He described Russia as the "most direct and pressing threat to Europe" and said it was "increasingly clear President Putin cannot be deterred by threat of punishment or the costs imposed upon his people".
"I'm serious when I say there is a very real danger that Russia will lash out against wider Europe," Mr Wallace added.
Boris Johnson, on his way to a Nato summit in Madrid, said the defence alliance had "never been of more vital importance" and described it as the "indispensable guarantor of European security".
The PM said the UK was the third biggest defence spender in the world, with it allocating 2.3% of its national income.
"We've another £24bn going in under the current spending review, the biggest since the end of the Cold War", he added.
The prime minister also defended a decision to break a manifesto promise to raise defence spending by more than inflation every year in this parliament, saying: "It should be looked at over the life of a parliament, not a single data point."
An assessment by Nato, published this week, indicated that the UK spent an estimated 2.26% of GDP on defence in 2021 and was on course for 2.12% in 2022.
BBC political editor Chris Mason said it would have been more surprising if the government had stuck to the commitment given the rate at which prices were rising.
Boris Johnson earlier declined to comment when asked about future defence spending levels on the final day of the G7 summit in Germany, but said the UK's commitment to spend 2% of GDP on defence was "a floor not a ceiling."
General Sir Patrick Sanders, the new head of the Army, spoke at the same Rusi conference and outlined his plans to mobilise forces to deter Russian escalation of hostilities.
He said he had never known such a clear threat "as the brutal aggression of President Putin" and likened the current conflict in Ukraine to the build-up to World War Two, describing it as a "1937 moment" - when the UK allowed Hitler to expand German territory unchecked.
"We're living through a period of history as profound as the one our forebears did 80 years ago," he said.
The mobilisation effort must start now to prevent war, not provoke it, according to the general.
Allies' readiness and spending on defence was already on the agenda at the summit of Nato leaders in Madrid, which runs until Thursday.
Secretary General Jens Stoltenberg has already made clear he wants a target of members spending at least 2% of their annual national income on defence.
Earlier, Nato's former deputy supreme commander, Sir Richard Shirreff, told the BBC the UK and its allies must build up its deterrent presence in order to prevent further Russian escalation.
Nato had come a long way since the start of the conflict, he said, and every member state should equip their armed forces so they were ready for an offensive.
Anti-tank weapons, short-range missiles, armoured vehicles, drones and air defence systems have also been donated to the country.