Rwanda asylum policy: Deportee says plan would have deterred him
By James Coomarasamy & Joseph Lee
BBC News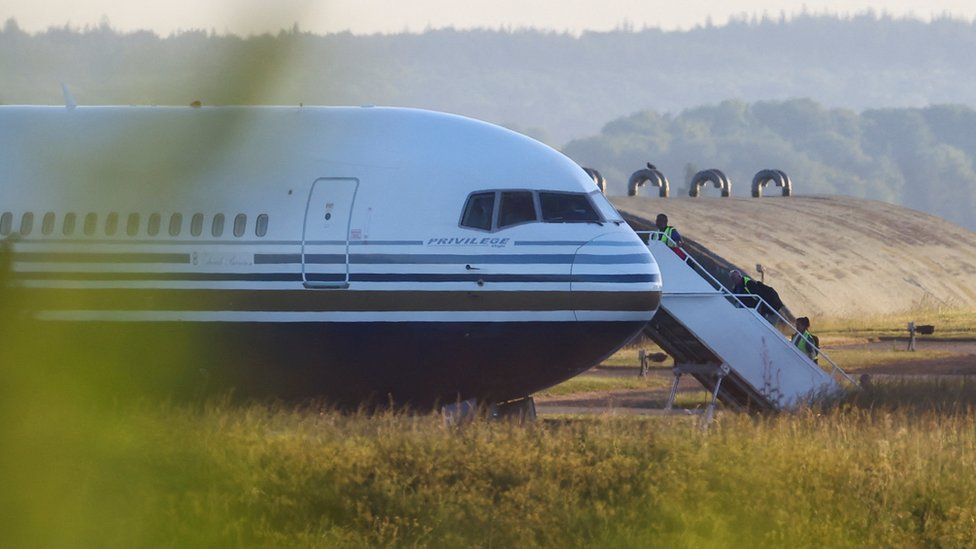 One of seven asylum seekers taken off Tuesday's cancelled Rwanda flight says he would not have come to the UK if he had known about the deportation policy.
But the man, who can only be identified as KN, told the BBC he had been in hiding and did not know about the plan.
The Iraqi Kurd, who said he fought alongside the British in the Iraq war, also alleged he had been mistreated on the way to the plane.
The Home Office said staff were trained in the appropriate use of force.
The Rwanda asylum plan, announced by the government in April, intends to take some asylum seekers who cross the Channel to the UK on a one-way ticket to Rwanda to claim asylum there instead.
The government has said the scheme will discourage others from crossing the Channel.
KN said he had "absolutely no idea" that anyone entering the UK illegally to claim asylum could be deported to Rwanda under the UK government's new policy.
"If I had known about this whole plan I would have never decided to come to the UK," he told Radio 4's The World Tonight.
"The thing is that during the past six months, because I was in hiding, I was completely disconnected from the news and the outside world - so I had no idea what was going on. I was just desperately trying to get my way out for my safety."
After the first flight scheduled to take asylum seekers to Rwanda was grounded on Tuesday due to legal challenges, KN - who cannot be named for legal reasons - was taken to an immigration detention centre he describes as "like a prison".
Speaking through an interpreter from the detention centre, he said when he learned he was being transported to the east African country, he informed British officials that he had been part of the Kurdish Peshmerga forces who had helped the UK in Iraq in 2004.
He said he had documentary evidence on his phone and had told the officials: "I really needed this favour to be returned."
A financial problem in his home country had led to threats from "people connected to the ruling system", KN said, which meant his life was in danger.
He fled to Turkey and found a group of people smugglers. Armed with guns and knives, they transported him hidden in a lorry to the coast of France, before loading him into a small boat.
When he learned that he was due to be on the first plane-load of asylum seekers to be transported to Rwanda, KN said he called his children back home: "They were crying, I was crying too."
He said he was "extremely mistreated" by staff during the attempted removal. "I could barely breathe. At some point I collapsed. My hands and my knees were completely numb," he said.
KN said he was taken to a doctor and offered "some pills", but he refused. Security guards pushed him and bundled him into a van, he said.
A Home Office spokesperson said: "Our staff and escorting providers are rigorously trained to ensure the safety of returnees throughout the removal process, including on the appropriate use of force and restraint."
The news that he was being transported to east Africa "felt like I was dying", KN said.
He said: "It was a horrible feeling. I told the security forces I am here to pursue my rights, I have the right to have a better life."
But after a decision by the European Court of Human Rights in Strasbourg and a series of judgements in London courts, KN was among the asylum seekers who were removed from the plane on Tuesday evening - before the flight was cancelled altogether.
He said he learned of his reprieve at about 22:00 BST.
"I started crying," he said. "I told them I'm just crying for the others who were inside the plane and destined for Rwanda, because those people are helpless, are desperate just like me - they have families to support."
With the High Court due to hear a judicial review challenging the legality of the Rwanda deportation policy next month, KN said he does not know what his future holds.
"I'm still under shock but they are refusing to let me out of this place they are keeping us," he said.
Although Home Secretary Priti Patel has suggested that work would begin immediately on preparing another flight, KN said the asylum seekers have heard nothing about it.
He said they are "hanging in the balance". "We are all in a state of shock and disbelief - we don't know what's happening next," he said.