County lines: Inside the complex battle against drug gangs exploiting children
By Steve Swann
BBC News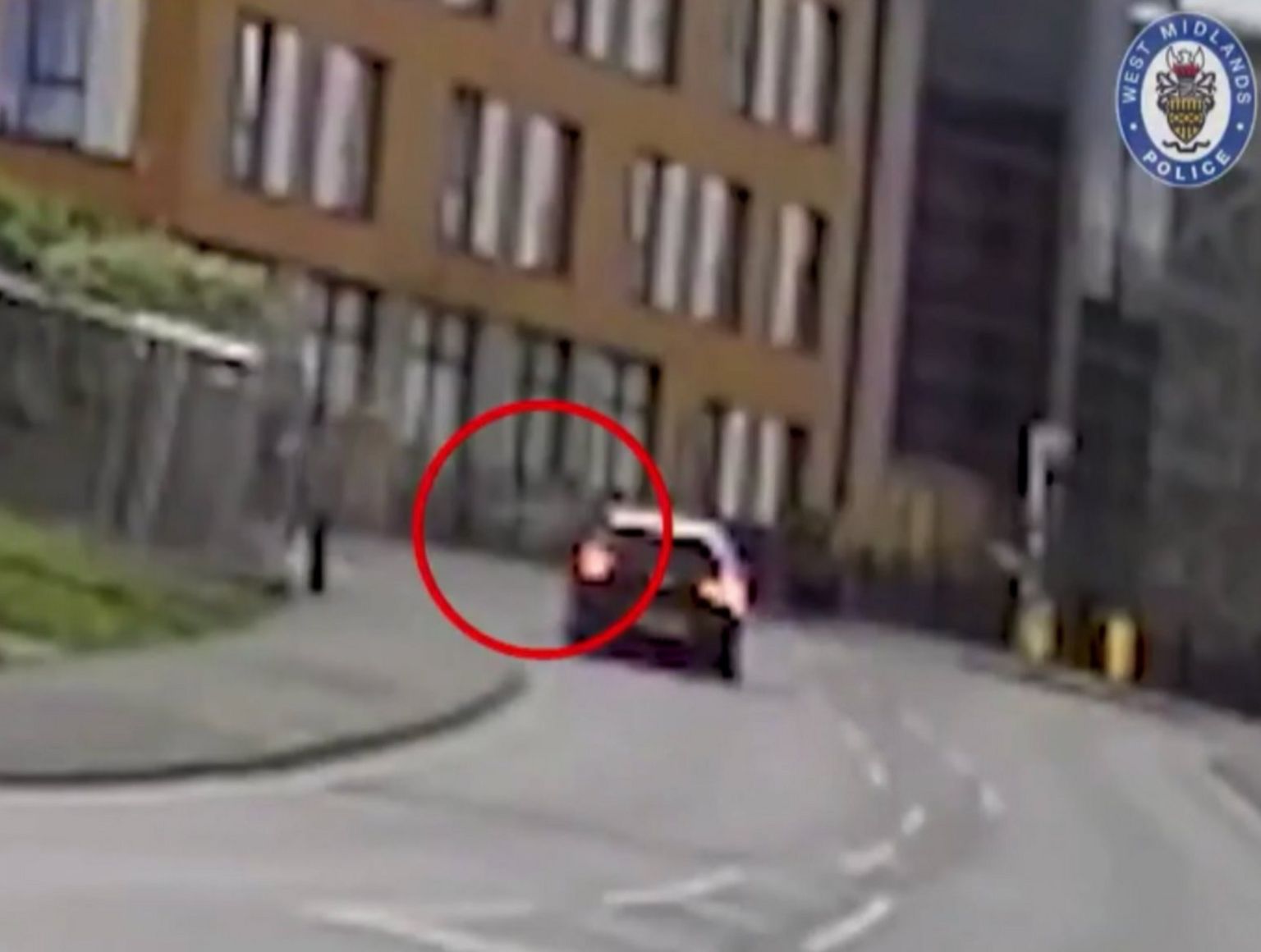 Police waging the relentless battle against dangerous crime gangs often arrest children for drug dealing. The BBC has been given rare access to a new team of prosecutors who have to decide whether these young suspects are criminals or victims. The choices they face are often complex and controversial.
CCTV footage captured the moment just before a teenager was gunned down in the street in the middle of the afternoon. Abdul Xasan, 19, was walking in the Hillfields area of Coventry in March 2020, when he was shot in the back. He died on the pavement.
His killer, who was armed with a pump action shotgun, was the same age as him. The car was driven by a 15-year-old accomplice. Both occupants were linked to the C2 gang in Coventry. Abdul was connected to a rival group, known as RB7. The day after the shooting, armed police arrested one of the suspects at his home.
He and his co-accused were later convicted of murder and jailed for life. It's just one of the cases worked on by the new Serious Violence, Organised Crime and Exploitation Unit, at the Crown Prosecution Service.
It's a "pioneering unit, dealing with crimes that are often marked by horrific violence, bringing terror to local streets", says Director of Public Prosecutions for England and Wales (DPP), Max Hill QC.
Eight prosecutors work alongside legal staff, pooling expertise and sharing years of experience of gang-related cases. They are based in the West Midlands, which after London and Merseyside, is the UK's largest hub for county lines - where city gangs extend their drug operations into small towns across the country.
Working closely with them is an officer from British Transport Police. Mr Hill says 20% of county lines have "a national footprint". Since July 2021, the unit has secured 92 convictions of 110 defendants.
But critics say too many children are being criminalised.
'Your family's gonna end up dead'
"Robbie" was manipulated by criminals in a county lines gang when he was just 15, his family says. Yet he ended up being prosecuted. "He is a victim and he wasn't treated like a victim," says his mother, "Jenny". They are both still afraid of reprisals so we are not using their real names.
Jenny says criminals offered her son a sense of belonging, enticed him with gifts, and then forced him to carry and deal drugs. Having started to get in trouble with his school and the police, Robbie went missing after sitting a GCSE exam in 2019.
For five days "I didn't know if he was alive", says Jenny. Then she saw on a social media chat group Robbie's friends saying he had "gone country". She discovered it was a phrase often used to describe county lines. "That's when it all clicked," she says, realising he was in an organised crime gang.
Soon afterwards, Jenny says she was threatened by an older teenager she suspected of being connected to the gang. He warned her: "If you go to the police you are gonna end up dead. Your family's gonna end up dead."
After a fortnight away, Robbie returned home. "He looked like he'd lost a stone in weight," says Jenny. "He smelt really bad and his face was grey. For the whole of that day he literally paced up and down. He couldn't stop shaking. I've never seen him like that."
Jenny says her son told a social worker that if the family wasn't rehoused, he would be forced back into drug dealing. He was advised to tell the police, but said he was too afraid.
Soon afterwards, he left home again, telling his mother: "I have to do it. I don't have a choice." Police stepped up the hunt to find him and Jenny says they initially seemed to view him as a victim of coercion.
But that changed when he was arrested 70 miles from home with £3,000 worth of Class A drugs, a knife and £500 in cash. He'd been living in a house with two drug addicts and was told to carry a knife to "protect the stash".
Robbie injured a police officer as he tried to escape and was charged with assault of an emergency worker, possession of a knife and of Class A drugs with intent to supply.
As he awaited trial he was identified as a modern slave through the National Referral Mechanism (NRM), a red flag system alerting the Home Office to potential victims of trafficking. In 2021 alone 1,551 referrals were made to the NRM, where boys were flagged as possible victims of county lines.
After the NRM finding, the CPS dropped the drugs charges against Robbie but prosecuted him for the other offences.
It left Jenny feeling "frustrated, annoyed and confused". "He's a victim and he wasn't being treated like a victim," she says. "They're out to penalise, that's what it felt like. Get him arrested, charge him with whatever they can as long as someone is being charged for this crime, that's what it felt like."
In a bland, open-plan office on the 12th floor of a tower block in central Birmingham, Mark Paul, head of the new team of prosecutors, explains how trafficked children are often too terrified to say they are being exploited.
Behind the 'wall of silence'
Young suspects will "often say absolutely nothing at all", he says. "They'll say nothing about the offences they've committed. They'll say nothing about the background circumstances they find themselves in."
So how do prosecutors get past the "wall of silence" to spot the signs of exploitation? "We have to gather evidence from so many different sources," says Mr Paul.
"The young person may be malnourished, may be living in squalid conditions. We may have phone evidence showing he's entitled to use his phone at certain times of the day, which suggests control."
They may also look at medical or psychological evidence of coercion. The Modern Slavery Act of 2015 means it's possible to use as a legal defence that you have been coerced into crime, although people accused of murder and other serious crimes will still be prosecuted.
Concerns that trafficked victims were being put on trial led the CPS to issue new guidance to prosecutors in December. Now they have to be alert much earlier in investigations to signs that suspects could be victims of modern slavery.
Robbie's case happened before the new CPS unit was set up, but it highlights problems that still exist across the UK, according to James Simmonds-Read.
As head of the Children's Society's national exploitation prevention programme, he often works with police. "Kids are facing criminal charges every single day," he says. "What we're seeing is a failure across the system to recognise those children and to protect them from harm."
There is too much emphasis on what he calls "quick wins." "Even if they are 16 or 17, they're still a child."
He says authorities need to recognise that criminals use violence and wield considerable power and control. "If we're going to ever charge a child, that needs to be done as an absolute last resort."
Back in Birmingham, the team can point to a recent case where that happened. In April, seven men were convicted of offences connected to the exploitation of two vulnerable children in Stoke-on-Trent following a major investigation into the running of a drugs line.
The children, aged 15 and 17, had been arrested for dealing drugs but prosecutors concluded they were being coerced, so they weren't charged with offences.
In cases like this, prosecutors will look at the age and maturity of teenage suspects. "Sometimes we won't go for the lowest hanging fruit," says DPP Max Hill QC. They will consider if they've used weapons, caused serious violence or whether they are operating at a slightly lower level in the gang.
If it's the latter, they may decide it's better to divert them from crime, rather than take them to court.
But he has this warning for suspects of all ages: "The bottom line is if you commit serious crime of any sort and you come into this unit at the end of a police investigation, you are at risk of prosecution. We will only divert from prosecution where it's proper to do so."
As for Robbie, his mother says he was advised to plead guilty in court. Reluctantly, she agreed: "We were exhausted by that time."
She is grateful the judge told Robbie he would serve no sentence if he stayed out of trouble for six months. He did - and is now studying and working. There are good days and bad days, but Jenny adds: "I know he's going to be ok. He's safe. He's at home."