Rwanda asylum plan: Flight due to depart as legal bids fail
By Doug Faulkner
BBC News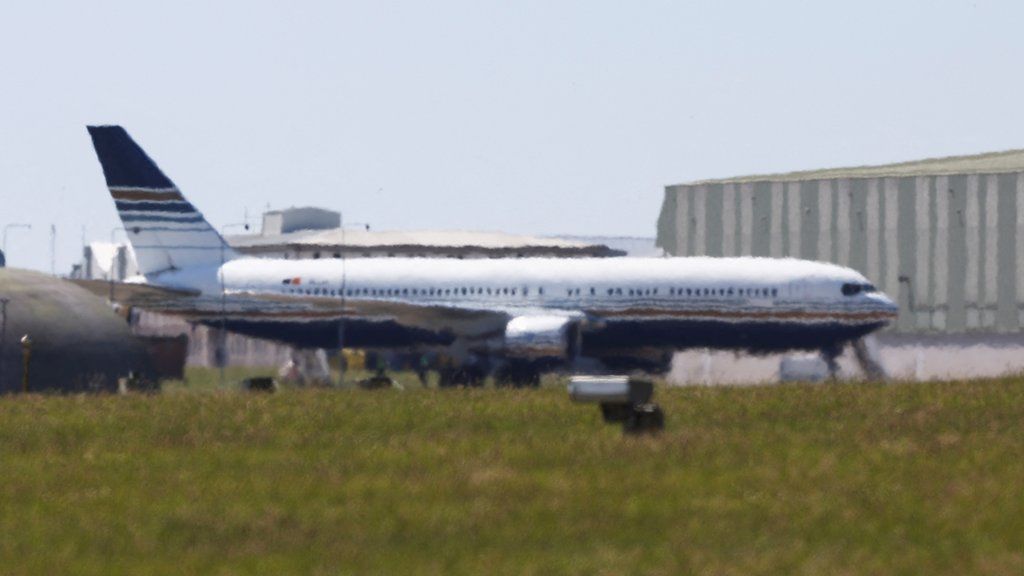 Boris Johnson has defended plans to fly asylum seekers to Rwanda as four men due to be on the first flight failed in their bids to avoid being removed.
Currently, six people are expected to be on the flight, due to depart from a Ministry of Defence site later.
The PM said he had always known the scheme would attract "plenty of legal challenges" and said the government may "very well" need to change the law.
The Church of England and human rights groups have criticised the plan.
The flight was meant to be removing dozens of people - estimated to be 37 by a Home Office source - but a series of legal challenges reduced that number.
And, as the planned departure neared, the European Court of Human Rights (EHCR) issued a last-minute order on Tuesday night preventing one migrant from being removed to Rwanda.
The BBC has been told that the Home Office believes further individual injunctions from the EHCR may yet prevent the flight from leaving as planned.
Earlier, four men were unsuccessful in their efforts against being removed at the High Court on Tuesday.
One man who was due to be on Tuesday's flight told the BBC he would "prefer to die" than be sent to Rwanda.
Speaking through an interpreter before he lost his appeal, the 25-year-old Iranian-Kurd said he had been kidnapped and abused by human traffickers on his way to the UK.
He said he had been told that Rwanda did not have a good record of human rights and that he had "expected more from the UK".
"Since I learned that I am among those to be deported to Rwanda, I hardly can communicate and eat. I'm restless. I prefer to die, not to be transferred there; it's shocking," he said.
It brings the total to make the crossing this year to more than 10,500 according to figures collated by the BBC.
Speaking to cabinet ministers earlier, Mr Johnson said the government was "going to get on and deliver" on its asylum plan.
He told ministers the objective was to ensure there was a "clear distinction" between immigration to the UK by safe and legal routes that the government supports and "dangerous and illegal cross-Channel migration, which we intend to stop".
Before Mr Johnson addressed cabinet, Foreign Secretary Liz Truss told the BBC the flight would leave even if a very small number of people were on it.
"If people aren't on the flight today, they will be on subsequent flights to Rwanda," she said.
She also declined to say how much the flight would cost, but argued the cost of human trafficking and illegal immigration was "huge" to the taxpayer.
There is not nearly as heated a debate in Rwanda about the relocation of asylum seekers as there is in the UK.
Critics of the Rwandan government say this muted response is unsurprising, citing limited freedoms.
They also point to Rwanda's human rights record, which the government has defended. Government spokeswoman Yolande Makolo added that the asylum seekers would be "as free as any Rwandan" during their stay.
If the relocation goes ahead, their claims for asylum are to be handled by the Rwandan government under domestic and international laws.
They will be accommodated at the Hope Hostel, which until recently was the home for survivors of the 1994 Rwandan genocide who were orphaned at the time. Opposition leader Victoire Ingabire told the BBC the decision to move them to make room for the asylum seekers was "unfortunate".
Earlier, the prime minister accused lawyers representing migrants of "abetting the work of criminal gangs".
But the Bar Council and Law Society of England and Wales responded: "It is misleading and dangerous for the prime minister to suggest lawyers who bring such legal challenges are doing anything other than their job and upholding the law."
Meanwhile, in a letter to the Times, senior Church of England leaders described the plan as an "immoral policy that shames Britain".
A poll conducted on Monday by YouGov suggests the Rwanda policy divides Britain, with 44% saying they supported the idea and 40% opposing it - split largely along party lines.
Ahead of the first plane's arrival, Rwanda's government spokesperson Yolande Makolo said the plan was neither immoral nor a punishment and needed to be given a chance as Africa was not just a place of problems but also "a place of solutions".
Tuesday's flight is due to be the first in a five-year trial, in which some asylum seekers deemed to have entered the UK illegally are transported to Rwanda to claim refuge there.
They will get accommodation and support while the Rwandan government considers their application, and if they are successful they can stay in the country with up to five years' access to education and support.
If their asylum claim is unsuccessful, they will be offered the chance to apply for other immigration routes, but could face deportation from Rwanda.
Judges will consider separately whether the government's policy is lawful next month and, if it is ruled unlawful, some people could be returned to the UK from Rwanda.
It is estimated to have cost £500,000 to charter Tuesday's flight, on top of the government's legal costs, payments to Rwanda for each asylum seeker they accept and a £120m aid package for the east African country.