Budgeting: 'I'll walk to the next shop just to save 5p'
By Eleanor Lawrie & Michael Buchanan
BBC News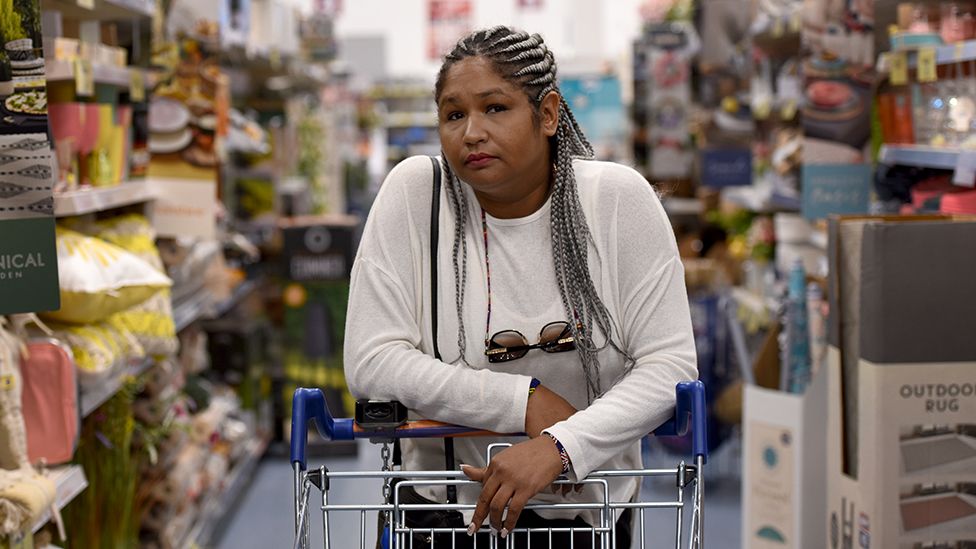 "That's a good deal but I can't have them," Safina Kassu says, inspecting the oranges at her local Aldi supermarket.
A bag of five is reduced from £1.09 to 95p - a bargain, she says. But Safina wants to buy avocados and says she hasn't got the budget for both.
The entrepreneur keeps hundreds of retail prices in her head - she knows exactly what a bottle of Coke, a box of Cheerios and washing up liquid cost in the previous two shops she went to, and what they cost last week.
Before her company collapsed, she would buy any groceries she liked the look of without considering the cost.
But being out of work as costs soar means the 44-year-old has become incredibly focused when comparing prices. Now, doing a big shop at this retail park in south-east London takes about four hours.
"I go to the extreme in everything," she admits. "For 5p [price difference], if it's walking distance I will go, or if it's a £1 saving, I'll get in the car."
She would have driven for smaller savings than this before, but thinks twice now petrol costs have risen.
Safina has already driven to this Aldi from B&M, where she picked up a 515g family pack of Cheerios for £2, but left behind the washing powder and cat food as she was confident she could get it cheaper elsewhere.
Inflation hit a 40-year high in April, with spiralling grocery prices a particular issue. Budget and staple items have gone up by more than 15% year on year - including a 50% increase for the cheapest type of pasta.
Before the coronavirus pandemic, Safina ran her own events business promoting African music artists in the UK. She had a glamorous existence mixing with celebrities and club promotors, but life is now very different.
"Times got harder and harder, prices kept rising, and then the next thing, Covid came and the entertainment industry died. There was no way I could create events because there were no clubs and pubs," she explains.
"Yes, the government was offering small businesses money but you had to eventually pay that back. It's too risky - you're going to find yourself in a big debt."
Safina currently receives universal credit. In the long run, she hopes to get back into events organising, but says rising costs mean it's just too perilous at the moment.
"Covid has come down and everything has opened up [again] but there's another problem - everything has gone up price-wise. So going back to starting your own business is close to impossible," she explains.
'This is the best deal so far'
But there are still a lot of mouths to feed at home.
Safina lives with her 18-year-old daughter, a student and waitress who helps her pay the bills. There's also her six year old son, 16-year-old stepdaughter and Safina's sister, who worked in luxury travel before losing her job in the pandemic.
Naturally good at maths, Safina has poured all the analytical skills from running her own business into her money-saving endeavours.
Before she hits the shops she checks out prices online, so knows roughly where to find the best value.
She will head to Asda for fresh food, Iceland's Food Warehouse for frozen items, Lidl or Aldi for tins and vegetables, rice and pasta, and then to Primark if she needs to buy clothes.
This trip to Aldi and B&M was a "top-up" shop, she said. On a previous occasion, we accompanied Safina on her main food shop, where she scrutinised the costs at her local Asda superstore.
"Five pounds for mincemeat? That's ridiculous. No, I'll have to find somewhere else. This mozzarella is £2. In Home Bargains, it's £1. That's a huge, huge difference."
She's happier with the eggs, where she's convinced she's picked up a bargain.
"Where can you find 15 eggs for £2 right now? And they're free range," she says.
Then there's another find.
"The vegetable oil is five litres for £7 - I think is the best deal so far. So this is coming home - yay! I won't have to buy oil for maybe two months."
The entire shop comes to £49, which she says will last her household of five almost a week. But this is just the beginning - she's off to Home Bargains next to pick up the toiletries she felt were too costly here.
Even though Safina is saving hundreds on her old weekly shop, she says she would go back to her former life in a heartbeat.
"It keeps me awake at night. You are constantly worrying, your stress levels are high. You just want to go out to one shop, get what you need and just go home. The hassle of it gets exhausting."
"This is what countless people up and down the country are doing... and it's exhausting," she told the BBC.
"People who are in poverty are extraordinarily organised and budget for within an inch of their lives."
The government has been under pressure to do more to help people weather the recent price increases, and recently announced a £15bn support package.
Every household will receive an energy bill discount of £400, while eight million on means-tested benefits will also be given £650, paid in two lump sums.
"We understand that people are struggling with rising prices which is why we have acted to protect the eight million most vulnerable British families through at least £1,200 of direct payments this year with additional support for pensioners and those claiming disability benefits," a government spokesman said.