Harry and Meghan share photo of Lilibet on first birthday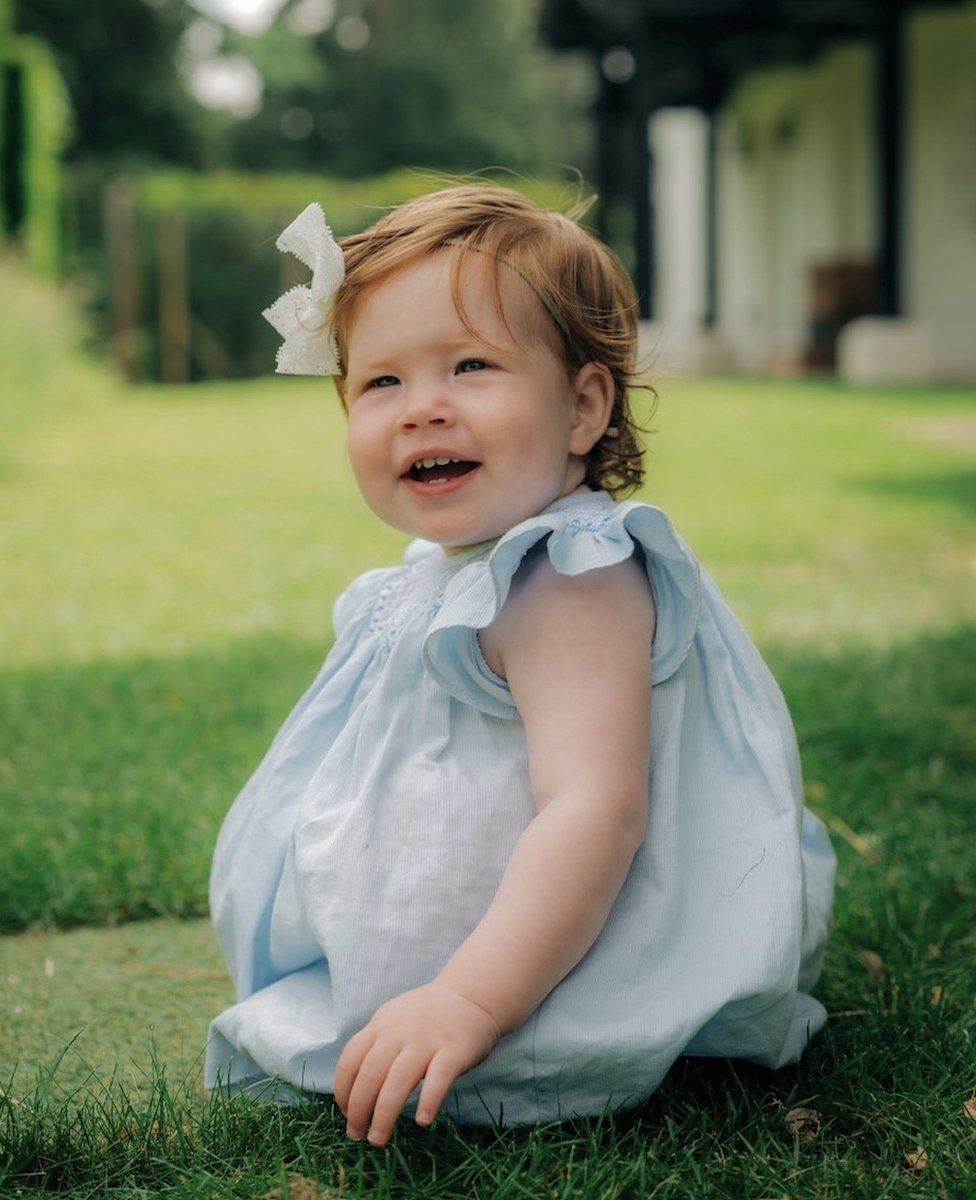 The Duke and Duchess of Sussex have shared a picture of their daughter Lilibet after celebrating her first birthday.
Lilibet is seen smiling at a birthday picnic hosted by the couple at Frogmore Cottage in Windsor.
Prince Harry and Meghan said they were "incredibly touched" by birthday wishes they received for their second child, who was named in honour of the Queen.
But there has been no confirmation whether or not the Queen has met Lilibet.
The photo was taken by a family friend Misan Harriman at a picnic attended by family and close friends, a spokesperson for the duke and duchess said.
Professional photographer Mr Harriman later shared a black and white snap on Twitter of Meghan holding Lilibet alongside the words: "It was such a privilege to celebrate the 1st birthday of Lilibet with my family and hers! Joy and face painting all around."
They added that more than $100,000 (£79,800) worth of donations had been made in their daughter's honour by people around the globe to World Central Kitchen - an organisation providing meals for those affected by humanitarian, climate and community crises.
The timing of the release of this photograph seems to be part of Prince Harry and Meghan's determined efforts to keep a low profile during their Platinum Jubilee visit.
There are also no details of which family were there for the birthday party, which fitted in with Buckingham Palace's earlier position that any such family meetings would remain private, including any meeting with the Queen.
It's a difficult balancing act for Prince Harry and Meghan, with such intense and fiercely divided public interest surrounding them.
They're likely to be criticised if they seem to be courting attention, and blamed if they hide away.
And over the Jubilee celebrations they appeared at the St Paul's thanksgiving service, but otherwise stayed below the radar.
With this latest photo, they kept their own news out of the spotlight until after the Queen's big weekend.
Prince Harry and Meghan named Lilibet after the Royal Family's nickname for the Queen, the toddler's great-grandmother.
Her middle name, Diana, was chosen to honour her "beloved late grandmother", the Princess of Wales, the couple said at the time of her birth last year.
It was such a privilege to celebrate the 1st birthday of Lilibet with my family and hers! Joy and face painting all around ❤️🎂🎉 pic.twitter.com/bg3RY6MOEu

— Misan Harriman (@misanharriman) June 6, 2022
She is the Queen's 11th great-grandchild and is eighth in line to the throne.
Her brother Archie was born in May 2019.