Russian oligarchs: Inside K-Cell - the UK police unit raiding their homes
By Gordon Corera
Security correspondent, BBC News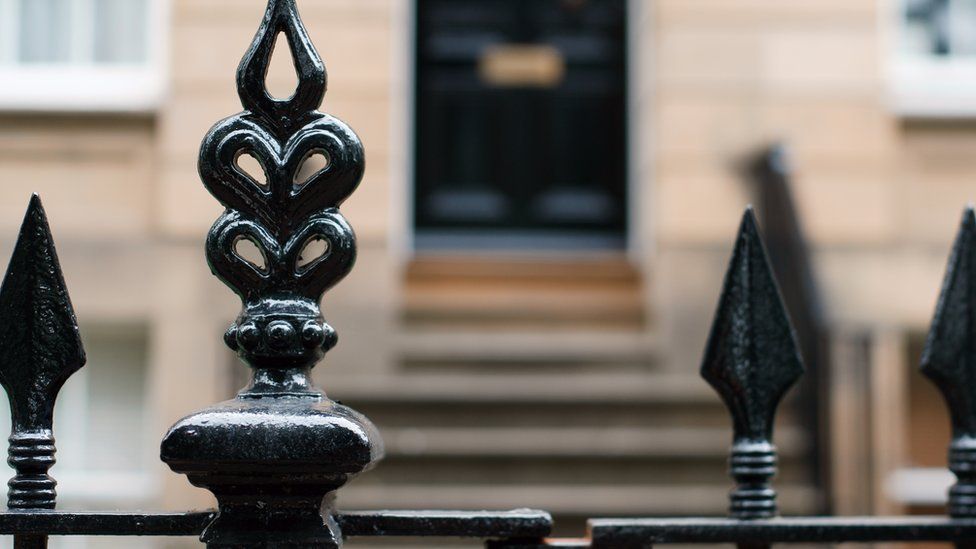 When officers from the National Crime Agency (NCA) arrived at an apartment on 17 May to carry out a search, it soon became clear that it was no ordinary property.
Stretching to 7,000 sq ft (650 sq m) the apartment - in one of London's wealthiest districts - had seven en-suite bedrooms spanning three floors, an internal lift, a transparent grand piano in the lounge and a private-access underground garage. The officers carrying out the raid also noticed that the internal doors had no handles - they were, like almost everything else in the property, controlled electronically.
It was no ordinary property and this was no ordinary search. The target was not the owner of the property - even though the owner is a sanctioned Russian oligarch. The target was someone described in a piece of intelligence the NCA had received as the "domestic".
The "domestic" had recently had £400,000 deposited into their bank account. The suspicion was that this was to pay for the upkeep of the property and to settle bills. And the possibility that the money had come from the sanctioned individual meant that there was sufficient evidence to justify the search warrant to look for evidence.
It was originally suspected that the domestic might be the cleaner, but further investigation after the raid pointed instead to a family member - the NCA will not disclose the identity of those targeted.
This is the work of a new team within the NCA called K-Cell - the K stands for kleptocracy, which is when rulers use their power to steal their country's resources.
Their mission is to make life difficult - or, as they put it, "introduce friction" - into the life of sanctioned oligarchs, super-rich businessmen close to the Kremlin. The BBC was given exclusive access to the team's work.
More than 1,000 individuals have been sanctioned by the UK government, including a flood of new names following the invasion of Ukraine in February. While not all of them have substantial links to the UK, those Russians who do have assets here will find them frozen.
Assets are not formally seized by the state, but they cannot be used unless the individual receives a special licence from HM Treasury - like the one provided to Chelsea Football Club, owned by Roman Abramovich, before its sale. And if anyone else knowingly deals with a frozen asset or funds, the NCA can investigate. This is the basis for searches like the one at the apartment the K-Cell carried out, looking for evidence of breaches when someone - like an associate or family member - has been passed money to evade sanctions.
For Russians who have moved money to the UK and bought property here - expensive properties that need to be maintained - not being able to pay the cleaner, or the gardener, or your driver, can make life very difficult.
Security guards also need to be paid. Not having a licence for security might mean protesters can gain access, as they did in March at a £50m London mansion linked to Russian billionaire and industrialist, Oleg Deripaska, which was lying empty.
Crucially, investigating suspected breaches also offers a route to go after those providing professional services to sanctioned individuals - known as "enablers".
On another raid earlier this month, NCA officers turned up at the black, iron security gates of a grand mansion in Surrey clutching a warrant. Once past the perfectly manicured hedges and lawns, and inside the property's grand entrance hall, filled with fresh flowers and works of art, they searched a man dressed in black.
The man was not the sanctioned Russian owner of the property - a house which includes swimming pools, multiple wine cellars (red and white), and a room specially designed to store furs at the optimum temperature. The man searched was a Briton suspected of being the oligarch's "professional enabler" who manages businesses and property on the oligarch's behalf.
Tens of thousands of pounds of cash was eventually retrieved from the enabler's own home, along with £1.5m in bank accounts, all frozen because they are believed to be linked to the sanctioned Russian.
Enablers can include professionals like private bankers, estate agents, specialist concierges, accountants and solicitors. All of these are now the target of the K-Cell, which grew out of a team set up after the Salisbury poisoning to target corrupt elites.
"The Kleptocracy Cell is not beginning from a standing start," says Steve Smart, NCA Director of Intelligence.
"We have significant experience and capability in this space, and are using the full range of capabilities, both covert and overt, and bringing together our work with the private sector as well as other government departments and agencies."
The NCA is tight-lipped about exactly where the intelligence to support its investigations comes from.
Law enforcement normally judges success by prosecutions. But this team's measure is different. Changing behaviour is seen as success as much as an appearance in court. NCA officials say intelligence shows some individuals are choosing not to invest corrupt funds in the UK as a result of their work. Enablers like lawyers may also become nervous of the reputational damage of working with sanctioned oligarchs.
War in Ukraine: More coverage
The NCA has also been engaging with estate agents and watching for ways money might be moved across borders, including through cryptocurrency.
"We are investigating enablers who support the transactions of corrupt elites, and we are targeting less conventional routes used to disguise movements of significant wealth, such as high value asset sales via auction houses," says Steve Smart.
Friction can also mean tightening regulations - for example making it harder for people to fly in to the UK on private jets or bring security guards into the country if they do not have the correct visa.
But officials acknowledge that there are significant challenges. Officers who work under a tight layer of security, are all too aware their work will be contested.
"Our targets have vast wealth and are some of the most litigious people on the planet," says one officer.
Backed by huge resources, potentially including those of the Russian state, the K-Cell's targets can tie up the NCA in legal challenges lasting years.
"They are very motivated to protect their wealth, influence and reputation," says Steve Smart.
The cell is also playing catch-up. Russian oligarchs have had decades to cover up the murky origins of their money and embed themselves in British life, taking advantage of lax regulation. The days of turning a blind eye might have been replaced by what one person calls a "choke" strategy, but it may take time and patience for friction to erode the deep hold that Russian money has built up.