Migrant crossings: Afghans are largest national group fleeing to UK
By Joseph Lee
BBC News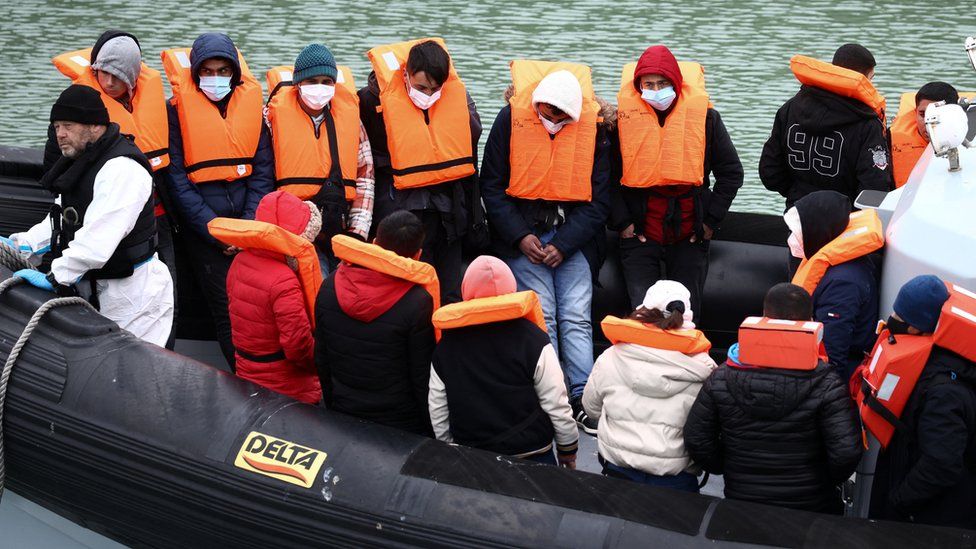 People fleeing Afghanistan were the largest group among migrants crossing the Channel in the early part of 2022.
Afghans made up one in four people making the risky journey, following the Taliban's return to power last summer.
New figures show almost as many Afghans crossed the Channel in the first three months of this year (1,094) as in the whole of 2021 (1,323).
In nine out of ten cases over the last year, people fleeing Afghanistan were granted refugee status.
The figures published by the Home Office do not include the UK's two resettlement schemes for Afghan refugees following the Taliban takeover, which have been criticised by MPs for leaving thousands of UK translators and other vulnerable people who worked with the British behind.
After Afghans, the next most common nationalities on Channel crossings were Iranians (16% of the total in the first three months of 2022) and Iraqis (15%).
The number of passengers on each boat almost doubled in this period, with an average of 32 on each small boat compared to 18 during the same three months in 2021.
There were also almost double the number of boats detected making the crossing, from 74 in the first three months of 2021 to 141 this year.
It meant that there were 4,540 people who crossed the channel to the UK in January to March this year, more than three times the number during the same time last year.
The total number of asylum applications climbed to their highest level for almost two decades, with 55,146 people seeking refuge in the UK during the year up to March 2022.
Easing global travel restrictions and the sharp rise in small boat arrivals partly explained the increase, the Home Office suggested.
It meant the number of people waiting for an asylum decision leapt from just over 66,000 to more than 109,000 in March 2022.
Amnesty International UK accused Home Secretary Priti Patel of "disastrous leadership", saying the Home Office had become "a byword for backlogs and dysfunction".
Enver Solomon, chief executive of the Refugee Council, said the increased numbers waiting for a decision were "desperately worrying".
"This leaves thousands of vulnerable men, women and children trapped in limbo, adults banned from working, living hand to mouth on less than £6 a day, and left not knowing what their future holds. This is simply not good enough," he said.
The Home Office said it was setting up an action group to look at how to speed up asylum claims and increase the number of decisions.
Under the Nationality and Borders Act, anyone entering the UK illegally since 1 January can be sent overseas to Rwanda for their asylum claim to be processed.
The government has said this will disrupt the business model of people-smuggling gangs, but critics have said many people making the crossings are seeking asylum and will not be deterred.