3D images to replace traditional 'missing person' posters
By Bree Johnson-Obeng
BBC News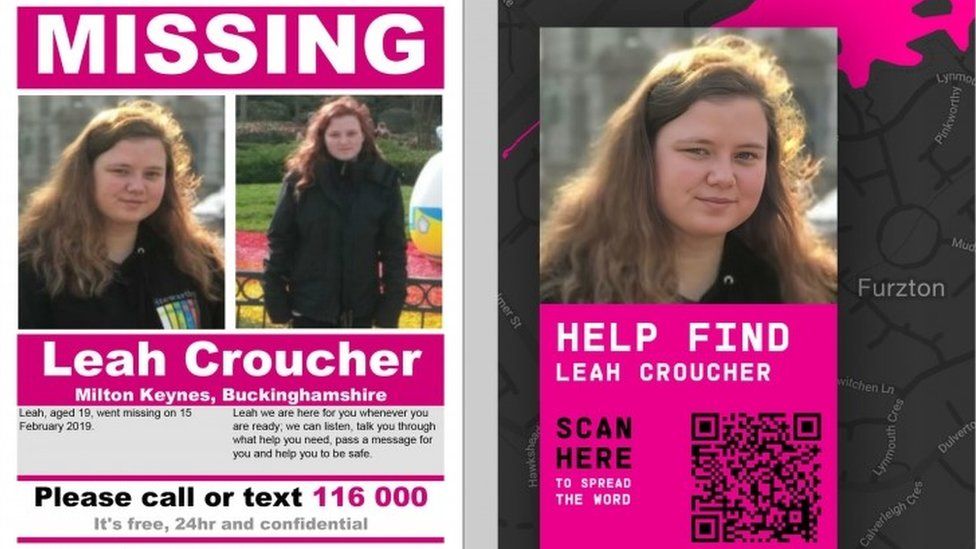 Missing persons posters and billboards have been revamped, with experts turning to science and technology to make them more memorable.
The charity Missing People hopes the changes will make the public more likely to engage and take action
The posters carry a 3D image of the person and a QR code which shows them laughing and smiling when scanned.
The mother of missing Leah Croucher called the new posters "amazing" and said they give them renewed hope.
Leah was 19 when she went missing from Milton Keynes, Buckinghamshire, on 15 February, 2019.
Her mother, Claire Croucher, said "One of the many challenges as a parent of a missing person is trying to communicate who you've lost.
"We feel that if the public were to understand who our daughter is, they are more likely to remember seeing or meeting her."
It is hoped that the 3D images and smiling faces will humanise the missing person and the aminated characteristics and gestures will make them more memorable to passers-by.
The idea is that people might notify friends on social media and share relevant details like background maps of where the person was last seen.
One of the most noticeable differences between the new and the old posters is the absence of the word "missing".
This has been replaced with the more active phrase "help find" which the behavioural scientists behind the posters say is more likely to get people to take action.
The posters will appear on billboards across London on 25 May to mark Missing Children's Day, and the new format will be used by the charity for all new posters after that.
The research for the new posters was compiled by experts Influence at Work, led by Steve Martin, the director of behavioural science at Columbia University's Graduate Business School.
"It takes a village to find a missing person," said Mr Martin.
"So, even if a couple of dozen extra people see that image, they connect with it, they feel some empathy towards it, that could make the difference."
Jo Youle, chief executive of Missing People, said their appeals were a hugely important way to reach the public, to help find children.
"By embracing innovation, we hope the new appeals will have an even greater impact and lead to those featured being found safely."