PM urged to explain Sue Gray partygate meeting
By Christy Cooney
BBC News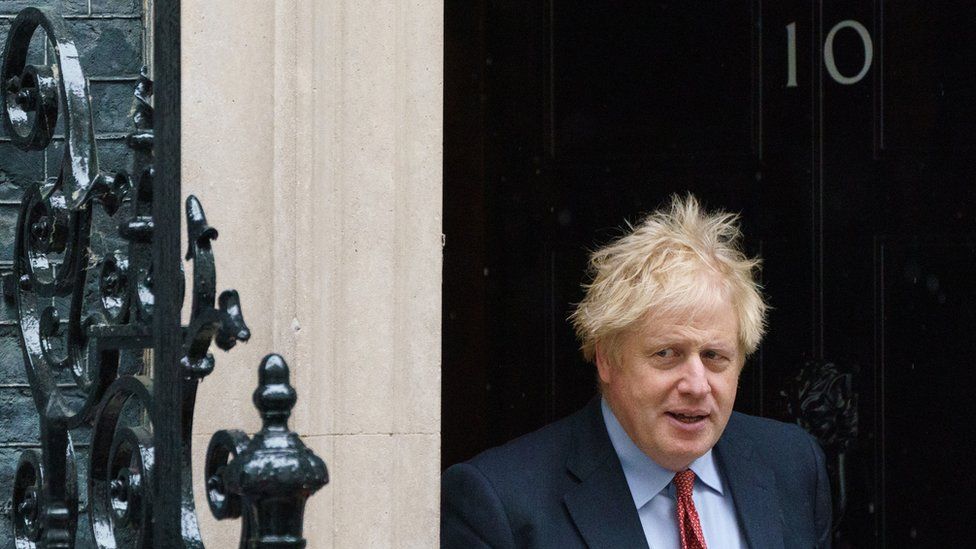 Opposition parties are calling for the prime minister to explain a meeting with Sue Gray over her report into the partygate saga.
It has emerged the civil servant and Boris Johnson met several weeks ago - but there are conflicting accounts of what was discussed.
A spokesperson for the Sue Gray investigation has disputed a government source's assertion the pair discussed including photographs in her report.
The BBC has now been told the discussion about photographs "did not happen", although photos are likely to be included in the final report.
Labour has suggested that the "secret meeting" could damage confidence in the process.
Ms Gray is set to publish her full report into lockdown gatherings in and around Downing Street in 2020 and 2021 next week.
According to the senior government source, the pair discussed including photos in the report, and that Ms Gray initiated the meeting.
But it is now understood that while Ms Gray sent the calendar invite for the meeting, the original idea for it came from Downing St.
In a conversation with a senior official in No 10, it was suggested to Ms Gray that she might offer an update on her work to the prime minister. She accepted that idea and sent the invite to ensure an appointment was put in both their diaries.
Ms Gray's full report will be published after the Metropolitan Police announced it had concluded its investigation, which saw a total of 126 fines issued to 83 people.
Around 30 individuals, including the prime minister, have already been informed they are likely to be named by Ms Gray.
They have until Sunday evening to lodge any objections.
Westminster has been waiting for Sue Gray's report for what feels like an eternity.
Her findings are expected to be published within days and the anticipation is reaching a climax.
Opposition parties are already shouting "stitch-up" and demanding an explanation for the meeting between the prime minister and Ms Gray.
But Boris Johnson needs this process to be seen to be independent, or as much as it can be when the person compiling it is a senior government official themselves.
That's why Downing Street is stressing the meeting between the prime minister and Ms Gray happened at her request and the contents of the report were not discussed.
Anything that compromises the authority of the report risks dragging out the partygate saga further and bogging Boris Johnson down in it indefinitely.
Of course he's still facing a parliamentary inquiry into whether he knowingly misled MPs about all this.
Sue Gray's report is important, but it won't be the last word.
On Friday, a No 10 spokesperson said: "The prime minister commissioned the investigation led by Sue Gray and has been clear throughout that it should be completely independent.
"As he reiterated again today, the decision on what and when to publish rests entirely with the investigation team and he will respond in Parliament once it concludes."
In a statement, Labour's deputy leader Angela Rayner said: "Boris Johnson must urgently explain why he held a secret meeting with Sue Gray to discuss her report despite claiming her investigation was completely independent. Public confidence in the process is already depleted, and people deserve to know the truth.
"This is a prime minister incapable of taking responsibility for the rotten culture he has created in Downing Street or of doing the decent thing.
"The Sue Gray report must be published in full and with all accompanying evidence."
Liberal Democrat MP Christine Jardine said: "Any whiff of a stitch-up would make an absolute mockery of the report.
"This meeting must be explained. Most of the country already feels betrayed by Boris Johnson.
"He has undermined public trust and the public deserve a process that is completely transparent and beyond question."
The prime minister meanwhile faces an inquiry by the Commons' Privileges Committee about whether he knowingly lied to Parliament when he previously told MPs that no laws had been broken in Downing Street.
Under government guidelines, ministers who knowingly mislead the House of Commons are expected to resign.