Prince Charles arrives in Romania to meet Ukraine refugees
By Sean Coughlan
Royal correspondent in Bucharest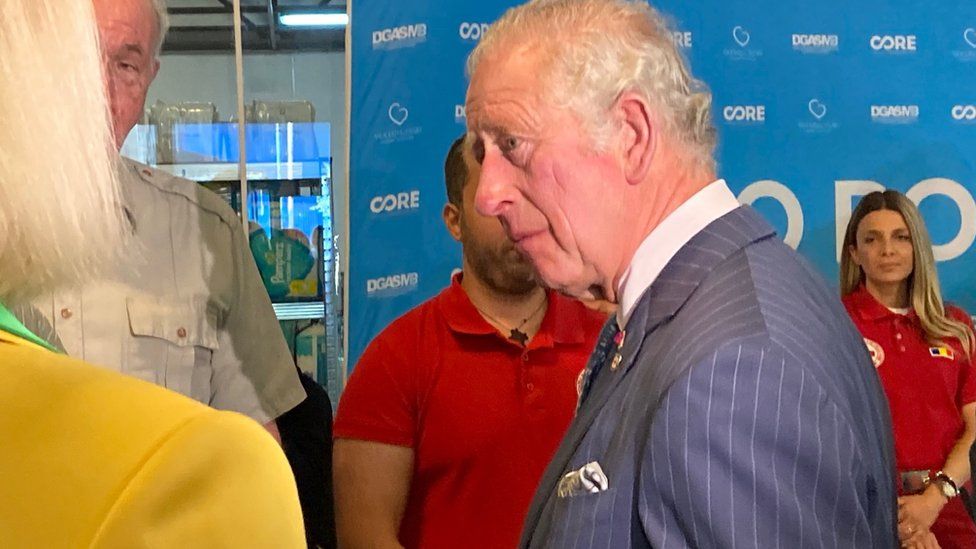 The Prince of Wales has arrived in Romania to show his support for Ukrainian refugees and to see first-hand the assistance being provided.
It's the first visit from a senior royal to the region since the start of the Russian invasion of Ukraine.
The latest figures show almost a million Ukrainians have already crossed the border into Romania.
Prince Charles visited a centre near Bucharest, which supports a rising number of refugees.
"It's a nightmare situation," the prince said to Ukrainian families who were collecting supplies of food and clothing.
He said to "keep praying" and told them he was "full of admiration for the Ukrainian people - their extraordinary courage and resilience".
Aid workers explained the scale of the pressures.
More than six million people have left Ukraine in the three months of the war. In the past week alone, a further 40,000 people are estimated to have crossed into Romania.
Prince Charles has been strongly outspoken about the war, attacking the "brutal aggression" inflicted on Ukraine. Having travelled to Bucharest, about 150 miles from the Ukraine border - this is also the closest a senior British royal has come to the conflict.
The prince also has a long-standing connection with Romania, having set up a charitable foundation in the country and restored a traditional farmhouse.
The visit comes as figures from the UNHCR show 966,000 Ukrainians have entered Romania since the start of the war, with only Poland taking in more refugees.
"I've not seen anything so big and so fast. By any measure it's a major movement of people," says Mike Weickert, global rapid response director for World Vision, a charity supporting Ukrainian refugees in Romania.
"It's going to be increasingly difficult for refugees and for the hosting countries," said Mr Weickert, whose aid agency is working in the Romexpo centre, visited by Prince Charles and Margareta, head of Romania's royal family.
The conference centre site is helping more than 1,000 people a day, with Romanian authorities and international agencies providing food, clothing and advice services.
Among those helping with the international effort at the centre is Stephen Noble of the Salvation Army.
He spent the pandemic helping with a food bank in Scarborough, and there are some similarities to the services being offered here, with food parcels available and racks of second-hand clothing.
There are soft toys for children and pet food for the dogs and cats that some families brought with them.
Mr Noble has been struck by the dignity of those arriving, who had to leave everything behind - and says that for those in the UK who have made donations it is "absolutely worthwhile".
He says one of the most practical ways of supporting refugees has been to give them vouchers, worth about £10, to use in local supermarkets, which allows them to buy for their individual needs.
One of the translators is herself a refugee. Lisa has gone from being a sales manager in Odessa to helping disorientated new arrivals.
"At first it's a shock. You don't believe it. Then you realise you have to stay." So many people have left Ukraine that in some villages there is only one person left, she says.
For those refugees continuing to stream across the border into Romania, by car, bus or train, there is still a generous reception.
At Bucharest's Gara de Nord train station there are volunteers and support workers waiting to help families escaping the war.
Romania has given Ukrainian refugees free travel on its railways, with women and children the great majority of new arrivals. On the station concourse there are tents ready to provide immediate shelter and first aid.
This is a refugee crisis in a highly-mobile, urban setting.
Many are moving on to other countries, some will try to return to Ukraine, and those that stay in Romania are mostly in the bigger cities, with spaces having to be found in hostels, private houses, public buildings or hotel rooms.
As well as emergency needs, such as food and shelter, aid workers say they will need to provide longer-term support for refugees.
Children will need schools, adults will need jobs to have an income, older people with health problems will need access to medical support and there will be mental health problems from such a traumatic uprooting.
The longer refugees are out of their homes the more they risk "running out money, running out of options", says Mr Weickert.