Prince Charles: We must learn from indigenous people on climate change
By Dulcie Lee
BBC News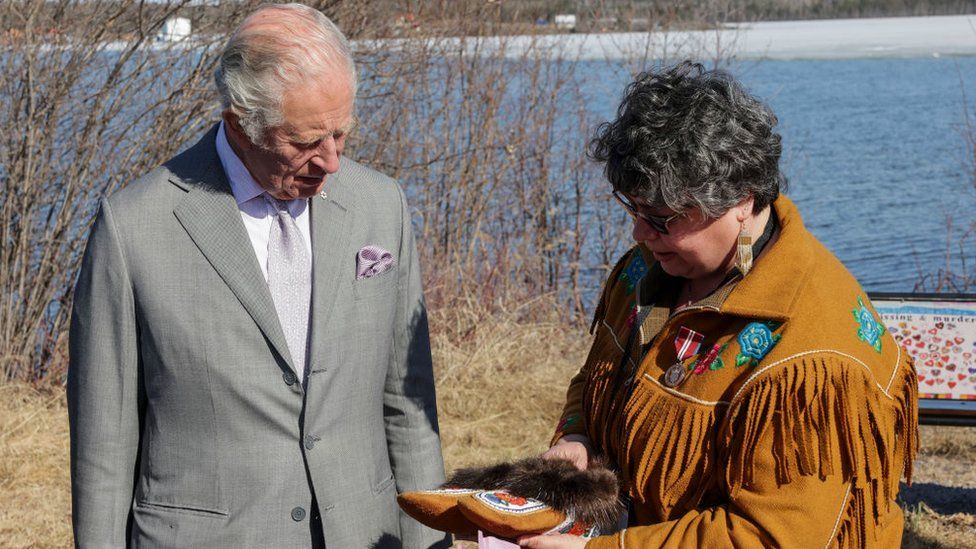 The Prince of Wales has urged nations to learn lessons from indigenous communities to help save the planet, as he visited a remote Canadian outpost battling with climate change.
Prince Charles said leaders should work with "indigenous knowledge-keepers" to "restore harmony with nature".
His comments came on the final leg of a three-day royal tour of Canada.
He and Camilla visited the country - where the Queen is head of state - to mark the monarch's Platinum Jubilee.
The prince also met survivors of Canada's residential schools system, which saw indigenous children die or be abused over decades.
Earlier in the tour, he faced calls from an indigenous leader for the Queen to apologise for the "genocide" of indigenous schoolchildren.
Speaking in Yellowknife in the Northwest Territories, the prince said he was "deeply moved" after speaking to survivors and "acknowledged" their suffering.
"We must listen to the truth of the lived experiences of indigenous peoples, and we should work to understand better their pain and suffering," he told local residents.
The school system saw indigenous children forcibly relocated to government-funded boarding schools, as part of a policy which attempted to assimilate indigenous children and destroy indigenous cultures and languages.
During his speech, he said time was "rapidly running out" to deal with climate change and biodiversity loss.
""I can only say how strongly I would encourage the leadership of the Northwest Territories to address this challenge by working alongside indigenous knowledge-keepers to restore harmony with nature," he said.
"We simply must learn practical lessons from traditional knowledge, through deep connections to land and water, about how we should treat our planet."
Elsewhere, in a busy final day:
The prince tried out a snowmobile used by the Canadian Rangers
He was shown a new rifle, as well as an older version which he recognised immediately, saying: "When I was at school 60 years ago that's what we were using."
The royal couple took part in a "Feeding the Fire Ceremony", where drums were played while offerings of tobacco were thrown into a fire pit
Prince Charles took part in a 1,000 traditional celebratory dance. One onlooker said he had rhythm, and "really looked like he enjoyed himself"
The prince also gave two indigenous chiefs two bird boxes from his home at Highgrove
Camilla was presented with a gift of a hand-made stress ball made of beaver fur, to which she said: "Everybody needs a stress ball."