Care system: Help families before they reach crisis, urges review
By Alison Holt, James Melley and Judith Burns
BBC News Social Affairs Team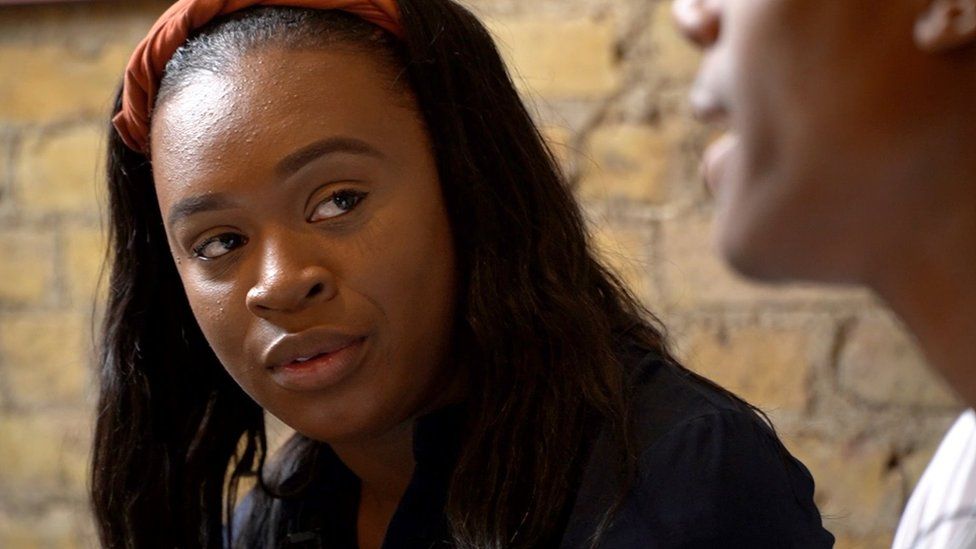 Tens of thousands more children could end up in care without radical changes to child protection, a "once-in a generation" review has warned.
The review of England's council-run children's services says struggling families need early intervention to ensure they do not reach crisis point.
The recommendations include phasing out young offender institutions and a drive to recruit more foster parents.
Ministers promised "ambitious and detailed" plans before the end of 2022.
But Labour and the British Association of Social Workers both blamed government austerity measures since 2010 for stripping away services for vulnerable families.
And the Independent Children's Homes Association, representing private providers of residential care, accused the review of "overreaching".
The Independent Review of Children's Social Care's lead Josh MacAlister called for £2.6bn over five years to transform the system and prevent the number of children in care - already at record levels - rising above 100,000.
It follows the killing of toddlers Arthur Labinjo-Hughes and Star Hobson, who died in separate incidents in 2020. The trials of their killers highlighted the inadequacies of the social system meant to protect at-risk children.
A separate report on the failings in both cases is expected soon.
The landmark review's recommendations have also called for:
new child-protection experts to ensure senior staff are directly involved in frontline decisions
a recruitment drive to increase the number of foster parents who can care for children
a new law protecting care leavers from discrimination
young offender institutions, described as "wholly unsuitable for children", to be phased out
"I was always walking with a black bin bag," says Henrietta Imoreh, of being moved from placement to placement five times during her first weeks in care at the age of 14.
Youth worker Henrietta, now 27, says the sort of early intervention recommended in the report could have transformed her life. Being in care "felt like a never-ending storm", she says.
It disrupted her education, she was bullied and got into fights.
"Where is the support for families right at the start, when they're struggling?" she asks.
She says: "There were so many moments in my childhood where my mum was suffering and nobody offered support... Maybe we wouldn't have gone into care and maybe our stories would have been different."
Mr MacAlister, a former teacher who led the government-commissioned review, told the BBC: "I've walked away from this feeling a mixture of inspiration at times - seeing what families have been able to do and where children have been able to get despite the circumstances - but also rage.
"Some of the things going on in the system are outrageous and are not acceptable."
He said £2.6bn was needed for a five-year programme to change the system fundamentally, and improve the lives of children and their families.
Without that, he said, the number of children in care - already at a record 80,000 - would grow.
"Carry on as we are and we'll have nearly 100,000 children in care by this time next decade, and the costs per year will be £15bn [up from £10bn]... and it won't be achieving better outcomes for anybody."
He suggested some of the money could be raised by a windfall tax on the 15 largest providers of residential children's care and foster care, who he said had "done very well out of market failure" by capitalising on demand.
Mr MacAlister said: "What we found is that this is a system - the children social care system - that needs a radical reset, because at the moment it is in a cycle where problems escalate, costs rise, outcomes continue to be too poor, and that's getting worse and worse over time."
Another key recommendation is extra financial support for relatives taking on the care of a child to avoid them going into children's homes, or being fostered.
"Children have told us, having been in care, that they desperately would have liked to stay with their grandparents or that uncle or family friend," Mr MacAlister said.
But too often relatives' housing is unsuitable or budgets won't stretch to the cost of taking on an extra child, says the report, which argues for kinship carers to be paid the same amount as foster carers.
Lisa, whose baby granddaughter was adopted last year, wishes she could have taken her in instead - but she says the social workers who handled the case were "negative and nit-picking" and not on her side.
She already has a special guardianship order for the baby's older brother, but when she applied for the second child, she was told that a condition was giving up her job to focus on her granddaughter's emotional wellbeing.
Losing her income would have plunged the whole family into poverty, so Lisa felt she had no choice.
"It was the hardest decision I've ever made... I think I will take to my grave whether it was the right one or not."
Lisa says special guardians need better help.
"We are an afterthought. We don't get the support that foster carers get. We don't get the support adopters get - and yet we're the most successful placements for a child. It doesn't make sense."
In a statement, ministers said they were committed to "major reforms to improve the lives of England's most vulnerable children and families".
Initial measures set out by the government include:
family hubs for "essential early support"
an expert National Implementation Board to oversee "transformational change"
a foster carer recruitment drive
more funding for councils to keep vulnerable children in education
"This is the start of a journey to change the culture and dramatically reform the children's social care system," said Education Secretary Nadim Zahawi, who pledged detailed plans for "bold and ambitious change" within months.
Labour called the poor outcomes for children in care "a source of shame for our country and our government".
"A decade of Conservative governments have stripped away the early help services that children and families rely on," said Helen Hayes, Labour's shadow minister for children and early years.
The British Association of Social Workers said: "Public service austerity has not only driven social care services to breaking point, it has fundamentally undermined social protection for the poorest and most marginalised.
"While tackling poverty and funding cuts are in the review report, it needs to be unequivocal in asking government to act on poverty and structural underfunding of preventive and universal services, which is increasing demand on social services and inequalities between areas."
The Independent Children's Homes Association said it was "stunned" at the review's call for "the destruction of more than 30 years in the children's social care sector, work that has produced one of the leading care systems in the world, while demonstrating an alarming lack of knowledge of the sector, poor examination of evidence, and misleading interpretation of critical data".
Have you been affected by any of the issues raised here? You can share your experience by emailing: haveyoursay@bbc.co.uk.
Please include a contact number if you are willing to speak to a BBC journalist. You can also get in touch in the following ways:
If you are reading this page and can't see the form you will need to visit the mobile version of the BBC website to submit your question or comment or you can email us at HaveYourSay@bbc.co.uk. Please include your name, age and location with any submission.