Kate stands in for Queen at Buckingham Palace garden party
By Charley Adams
BBC News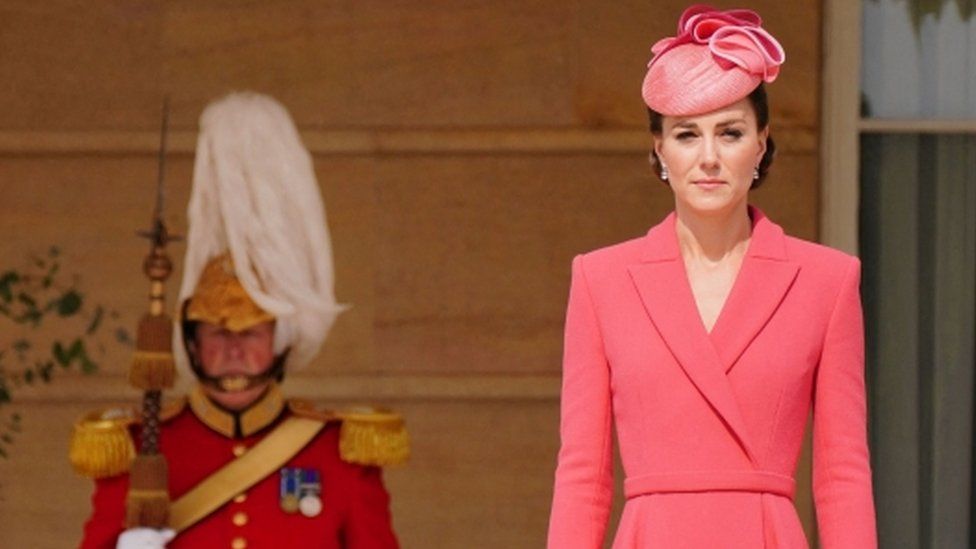 The Duchess of Cambridge joined more than 8,000 guests at the second official garden party of the year at Buckingham Palace.
Attendees, including charity representatives, said it was an "honour" to meet the duchess.
The Earl and Countess of Wessex and the Queen's cousin, Princess Alexandra, were also there.
The Queen, who is 96 and has mobility problems, has cut back on several engagements in recent months.
The duchess, who was wearing an all pink outfit, met representatives from the Foundling Museum - the first children's charity and also the first arts charity formed in the UK.
The museum's director Caro Howell said meeting the duchess again was an "incredible honour".
"The conversations were still present in her mind and it just shows you how much she genuinely does care. She is remarkable."
The national anthem was played by a military band as part of a selection of music performed during Wednesday afternoon's event.
The duchess spoke to two guests from the theatre company Act Up! Newham, telling them "you look beautiful". Awa Jagne, 23, said it was one of the best days of her life.
Because of the pandemic, this year is the first time in three years members of the public have been invited to the Queen's home for the traditional garden parties.
The parties are used by Buckingham Palace to recognise and reward public service, with guests nominated by a network of sponsors including lord lieutenants, government departments, the armed forces and faith groups.
The Princess Royal hosted the first garden party to be held since lockdown for the forces charity, The Not Forgotten Association, at Buckingham Palace on 12 May.
Representatives from the Northern Ballet and the Duke of Edinburgh's International Award met the Earl of Wessex and Sophie, the Countess of Wessex, spoke with guests from the London College of Fashion, Women in Business and Meningitis Now.
Another event will be held at Buckingham Palace on 25 May.