'I'm a Rasta, I'm British, I'm an officer and a commando'
By Lucy Wallis
BBC News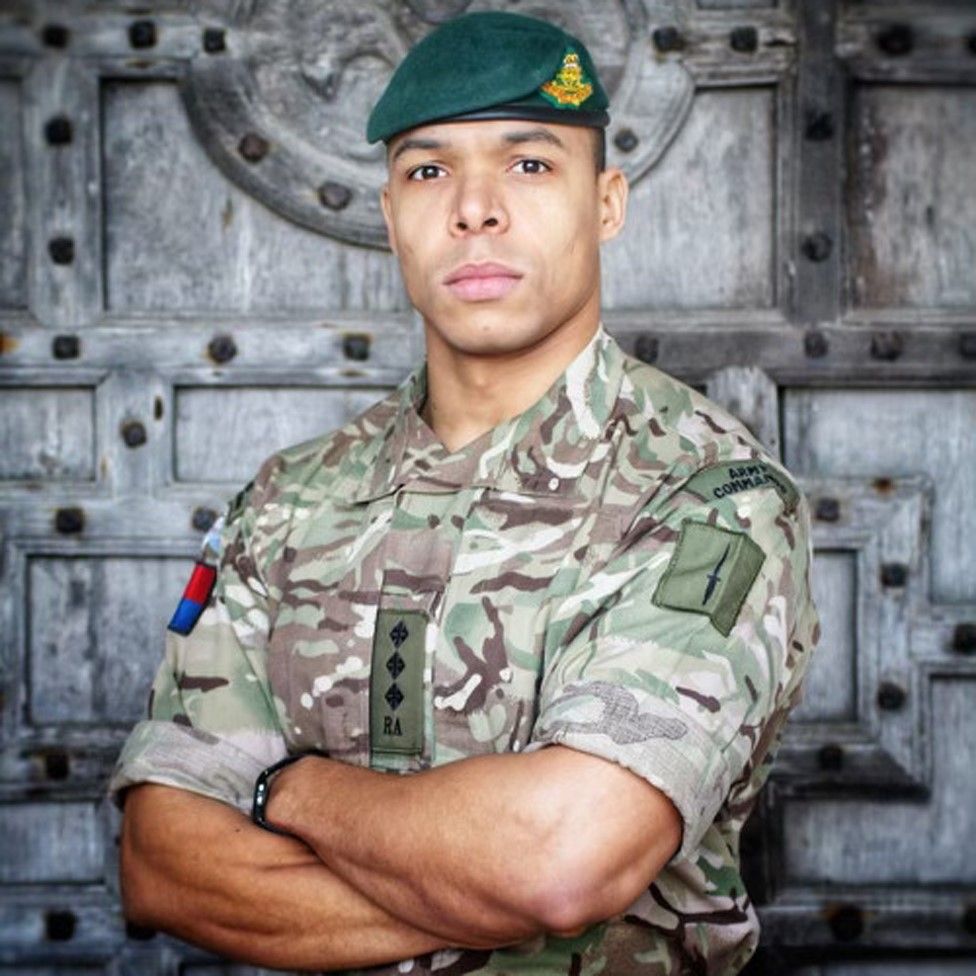 Capt Kidane Cousland was the first officer of Rastafarian faith in the commandos. He went on to set up the Defence Rastafari Network to help support other Rastafarians in the military.
"I don't remember a time not wanting to join the Army," says 30-year-old Capt Kidane Cousland, known as Danny to his comrades.
"All the toys I had were little commando toys or Rambo bandanas. It just felt part of my internal narrative for as long as I can remember."
True to his childhood dreams, Danny grew up to become a commando himself. He joined the Army in 2008, completing his basic training in Harrogate before going on to be posted to 29 Commando Regiment and earning his "green lid" or beret. The green beret is only worn by Royal Marines or other personnel from the Army, Navy or RAF who have completed the gruelling commando course. Tests include a 30 mile (48km) cross-terrain endurance march and timed Tarzan assault course.
Danny was 18 when he did the course, a huge achievement - but his mother Maryam had been reluctant for him to join up at all, worrying he would not fit in.
"There were massive reservations from my family. They thought I would receive prejudice, they thought I'd have a hard time, they thought it wasn't the place for me," says Danny. "I'm a Rasta, I'm a Londoner, I'm British - but at the time those things didn't co-habit naturally. I don't think people expected you to be a Rasta and also want to join the British military."
In fact, the Army has been the making of him.
Danny says he didn't get on well at school. He "bounced" around different schools and remembers often sitting outside the headteacher's office.
"I had learning difficulties that weren't identified by my teachers, so I just became really disillusioned with it," he says. "I knew I was more intelligent than I was allowed to express, but I wasn't given that support, so I couldn't read until I was about 11 years old - I think that was a big challenge for me."
But there were other things that he was good at and which no-one ever recognised - which "all of a sudden aligned when I joined the Army," he says.
Danny is mixed race and says racism was "part of everyday life" growing up in Tottenham and other parts of London. But when he joined the Army he actually experienced less prejudice.
"When I was on the street and someone spat at me and told me to go back to my own country, there was no-one that I could go to to say: 'This person has done that.' Whereas in the Army, if anyone stepped over that line, that's them gone immediately, zero tolerance, and I know exactly who I can go to if I experience it."
That's far from a universal experience for ethnic minority recruits into the UK military, though. In 2019 the independent ombudsman overseeing the armed services, said "racism was prevalent" in the forces. At the time, Nicola Williams urged the Ministry of Defence to do more to root it out, In 2020, the chief of the defence staff, General Sir Nick Carter, said more must be done to tackle racial discrimination in the forces.
Danny did a tour of Afghanistan in 2010 and despite not having the necessary qualifications, was later recommended for officer training at Sandhurst. There he was awarded the Sword of Honour in 2016, given to the best officer cadet on the course. He rose to the position of Adjutant in the 29 Commando Regiment, looking after more than 400 commandos.
In 2021, he was awarded an MBE for his work setting up and building the Defence Rastafari Network. Created in 2017, the network supports serving Rastafarians in the military. Danny believes there doesn't need to be friction between faith and service.
Rastafari began in Jamaica in the 1930s, and grew out of the black improvement movement led by Jamaican activist Marcus Garvey, which promoted the idea that all people are equal.
"It countered the commonly-held supposition that black people were inferior," Danny explains.
But, he says, it is a faith that is sometimes still misunderstood, even trivialised. "It's caricatured as: they smoke marijuana, they have long hair and they're all Jamaican. That's just a lazy stereotype and obviously it's not the case.
"That's why the network [is] so important, because everyone has a right to express their faith without bias."
When Danny joined the Army, he was told by the recruiting sergeant, without malice, "You can't join with that hair," so he cut his dreadlocks. Some Rastafarians take a vow which forbids the cutting of hair, regarding it as a spiritual symbol of strength. Since the creation of the Defence Rastafari Network, the dress regulations have been amended to allow Rastafarian soldiers to wear a full beard, dreadlocks and turban, which is required by some denominations.
"It's been amazing," says Danny.
Danny has now returned to Sandhurst as an instructor but agrees there is a lot more work to be done to attract people from different identities, backgrounds and faiths to the military.
"The armed forces has got a really big challenge, because it isn't representative currently of our society and we're not drawing the very best talent from female groupings, from minority groupings, from different religious denominations. There's something that isn't magnetising that kind of talent towards us," says Danny.
He believes that more diversity is needed in leadership positions, so that those in charge have a "lived experience".
Danny's mother, Maryam, says she is so proud that he is helping to bring about the changes he wanted to see.
"It's amazing to prove your family wrong, when it comes to a positive thing," says Danny. "Being able to go back to my community and encourage them and say [the Army] is a place that we can achieve success and that we are welcome, that we can all pull towards the same end, is something that's really powerful."
Watch Commando: Britain's Ocean Warriors on Sundays at 20:00 BST on BBC Two or catch up via BBC iPlayer