Obesity strategy delay immoral, shallow and weak - ex-Tory leader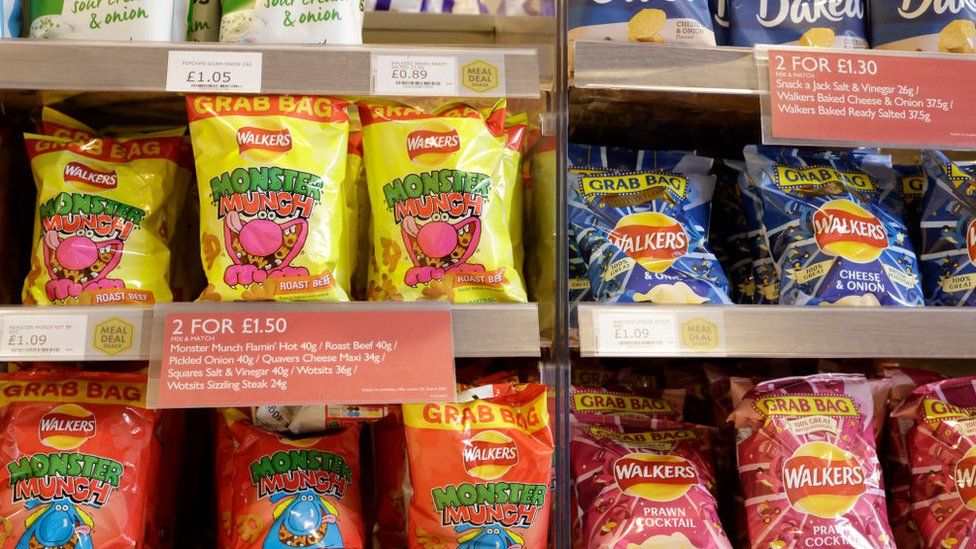 The government's decision to delay parts of its obesity strategy is "morally reprehensible", former Conservative Party leader Lord Hague has said.
Curbs on multi-buy deals in shops and on TV adverts for junk food have been put on hold for at least a year.
Ministers said the delay would give them time to assess the impact of the plans on the cost of living crisis.
But Lord Hague said that argument was "baseless".
Writing in the Times, he said the government was "intellectually shallow" and "politically weak" for giving in to Tory MPs who had been critical of the strategy.
"Many Tories object to the 'nanny state' image of anti-obesity policies and think it is 'un-Conservative' to pursue them," he said.
"As a former Tory leader, I emphatically disagree with this interpretation of conservatism.
"Conservatives support freedom of choice but have always seen that it is sometimes necessary to prevent consumers being abused or misled."
Last week, ministers announced that the planned ban on "buy one get one free" (Bogof) deals for food and drinks high in fat, salt or sugar, as well as free refills for soft drinks, would be pushed back.
Plans to restrict TV advertising of junk foods before the 21:00 GMT watershed and paid-for online adverts were also paused. They will not come into force until January 2024.
But restrictions on where stores can display food high in sugar or fat will still go ahead in October.
Former cabinet minister Lord Hague said the government's "U-turn" adds to a "long history of failed obesity strategies".
"It means the current government's anti-obesity drive will probably join the 14 strategies and 689 different policies over the past 30 years, according to a Cambridge University study, that have failed to deliver," he said.
Lord Hague has had his differences with Boris Johnson before now but even so this is a surprisingly strongly worded attack on Government policy.
The former Conservative leader suggests that the Prime Minister came under pressure from some of the party's backbench MPs and the retreat from key elements of the obesity strategy was a way of keeping them on board.
Lord Hague takes issue with the argument that abandoning the ban on multi-buy promotions has been forced by the cost of living crisis. He says buy-one-get-one-free deals simply encourage people to buy more than they need.
The former Tory leader takes a swipe at MPs who pressed for the dilution of the strategy, but reserves his strongest words for the Government for "giving in" - "intellectually shallow, politically weak and morally reprehensible". Health campaigners have already condemned the U-turn. The question now is whether other prominent politicians put more pressure on ministers to think again.
Lord Hague said those who had pressed for the dilution of the obesity strategy were "profoundly mistaken".
"They are acquiescing in a future of higher dependence, greater costs, reduced lifestyle choice and endless pain.
"For the government to give in to them is intellectually shallow, politically weak and morally reprehensible."
Around two in three adults in England were overweight or obese, according to an NHS health survey in 2019. Almost three in 10 are considered to be obese.
Among children aged four to five, 14% are obese, with a further 13% overweight, the another report found last year.
In children aged 10 to 11, this rose to 26% obese and 15% overweight.
These figures showed large increases on the previous year, when almost 10% of children aged four to five and 21% of children aged 10-11 were obese.
Lord Hague - who served as Conservative Party leader from 1997 to 2001 - said food companies had an "overwhelming incentive" to design products that led people down a "chemically induced addiction to foods".
"We should be able to focus resources on those who are unavoidably ill and disabled.
"Covid hit us harder because of widespread obesity. If we fail to control diet-related diseases, on top of paying for an ageing population, there will be no possibility of lower taxes in the future," he said.
Panorama on Obesity: Who Cares if I'm Bigger?
Eighteen months after the prime minister launched his strategy to help the nation lose weight, EastEnders actress Clair Norris, who is overweight herself, wants to know if it is working.
Watch the documentary on BBC iPlayer here.