Deborah James made a dame by William at her home
By Mary O'Connor
BBC News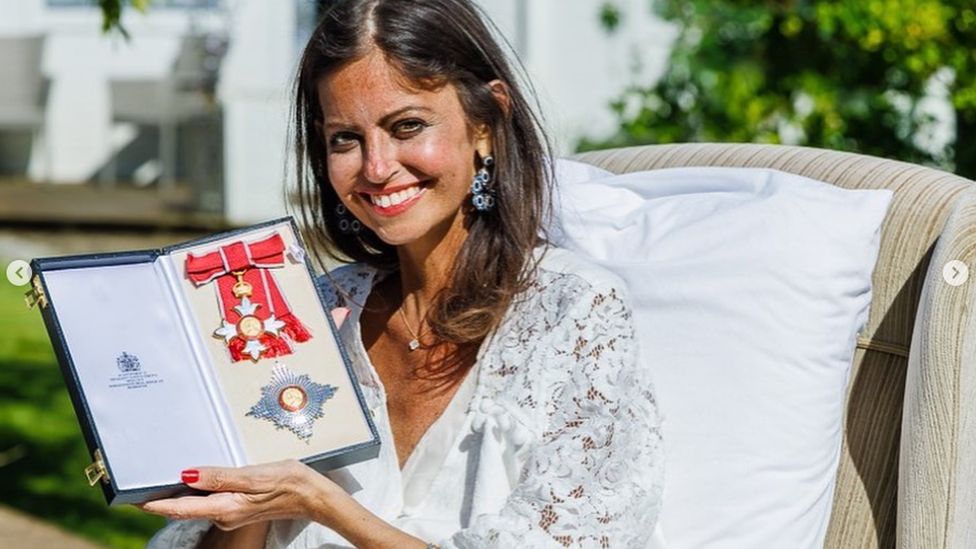 Podcaster Deborah James has had her damehood conferred by Prince William at her family home.
She said the visit was "surreal" and the prince was "clearly passionate" about improving oncology outcomes.
The mother-of-two has raised more than £5m since revealing she is receiving end-of-life care for her bowel cancer.
In an earlier Instagram post, Dame Deborah said she was "completely lost for words" after reaching the milestone amount.
She had only launched the Bowelbabe fund - to pay for research into personalised medicine for cancer patients and to support campaigns to raise awareness of bowel cancer, on Monday - with an initial goal of £250,000.
It came after she revealed she did not know how long she had left to live after stopping treatment and moving to hospice-at-home care.
Dame Deborah is spending her remaining time with her family at her parents' home.
In her latest Instagram post, the former deputy headteacher wrote: "Prince William actually came to our family house today!! I am utterly honoured that he joined us for afternoon tea and champagne, where he not only spent a generous amount of time talking to my whole family but also honoured me with my Damehood.
She added: "It's quite surreal having a royal pop in at home, and yes you can imagine the cleaning antics and preparation went off the scale - but it was all irrelevant because William was so kind and he put us all at ease.
"He is clearly passionate about improving oncology outcomes as the President of the Royal Marsden. It was such a special day for my whole family, making memories to last a life time. He's welcome back any time!"
Damehoods and knighthoods are usually announced as part of the New Year Honours or the Queen's Birthday Honours.
But, in exceptional circumstances, some are announced at other times of the year - as happened with NHS fundraiser Captain Sir Tom Moore's knighthood.
The visit by the duke was arranged similarly quickly, as he had just returned from a two-day visit to the west of Scotland with his wife Catherine.
Dame Deborah has received widespread praise for her no-nonsense approach to talking about her cancer publicly, and has shared her experiences of treatment and daily life with her social media followers since her diagnosis in 2016.
William and Catherine - who donated to Dame Deborah's research fund - said earlier this week that her "tireless efforts" in raising awareness of cancer were inspirational, and thanked her for "giving hope" to those living with the disease.
Dame Deborah began co-presenting You, Me and the Big C alongside Lauren Mahon and BBC Radio 5 Live newsreader Rachael Bland in 2018, with the show earning praise for its frank discussion of cancer.
They spoke to celebrity guests and addressed practical matters, including hair loss, tips for dealing with finances and telling your nearest and dearest about illnesses.