Priti Patel faces legal threat over Ukraine visa delays
By George Bowden & Vinnie O'Dowd
BBC News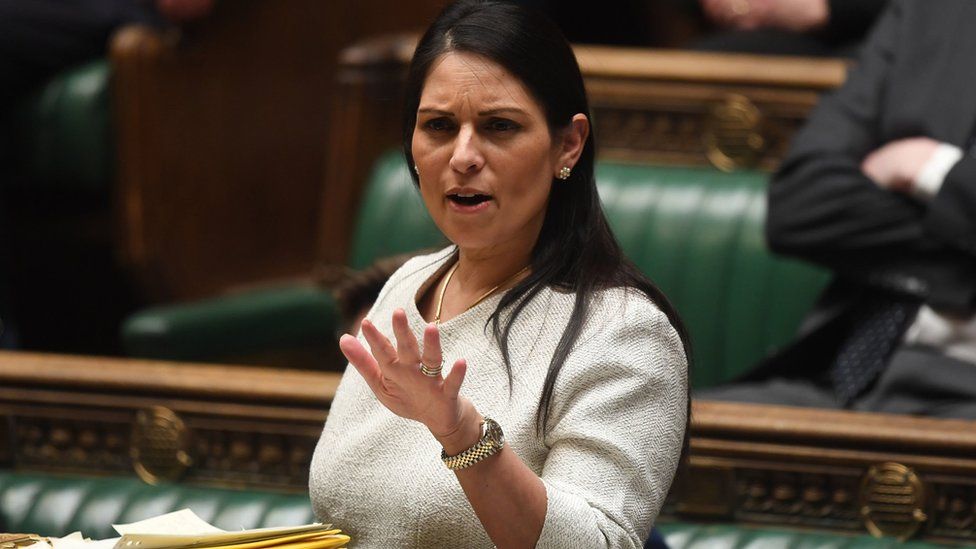 Home Secretary Priti Patel faces the threat of legal action over delays in the visa process for Ukraine refugees.
Groups representing Britons hoping to host Ukrainians plan to take the first step towards a class action case - and have employed a leading barrister.
Latest figures show that of the 86,100 people given Ukraine scheme visas, 27,100 have so far arrived in the UK.
The government said it had simplified the process and boosted staffing numbers for the scheme.
A spokesperson added it was "now processing visas as quickly as they come in - enabling thousands more Ukrainians to come through our uncapped routes".
More than 5.5 million people have fled Ukraine since Russia's invasion began on 24 February, according to the UN's refugee agency.
The groups Vigil for Visas and Taking Action Over the Homes for Ukraine Visa Delays said they had instructed Amanda Jones, an immigration and public law barrister, to explore a potential legal challenge against the Home Office.
Less than half of the people issued with visas under the Ukraine Family Scheme - which allows Ukrainians to join relatives already in the UK - have arrived, according to the latest Home Office figures.
The groups said that, "in many cases, people have either heard nothing or been informed that some family members have received visas whilst others remain 'under consideration'".
Katherine Klinger, from Vigil for Visas, has applied for a family of eight Ukrainians to stay with her in North London. Mrs Klinger told the BBC that the process has "just been a fiasco" and her experience urged her to take action.
"This will be a complicated action because it is challenging not only individual cases but the whole policy background, actions and inactions of the Home Office."
"We have been advised to take a sample of 10 but we could have up to 1000, or more. We've been advised to submit 10 case studies - and issue that as the pre-action protocol."
"If the Home Office does not get a grip on this urgent and potentially catastrophic situation, we will bring our action for judicial review and ask that it is considered urgently in light of the vulnerability of so many of the March Applicants."
A couple who will be part of the action are Mo Gibson and Nichola Merrick - who both worked in a Citizens Advice bureau in Hastings, East Sussex, for 10 years.
"My wife and I have got decades of experience as a paid Citizens Advice managers," Mr Gibson said.
"We've dealt with some horrific, really difficult challenging cases at every level, dealing with all sorts of dark sides of humanity. But never have we been absolutely stumped by something like this in trying to help.
"It's destroying our morale, but it could easily put these people, and it has put them, in more danger."
Charities helping refugees in Ukraine and its neighbouring countries believe there is a gap between public sentiment towards helping those fleeing the war and the UK government's response so far.
An Ipsos opinion poll of over 1,000 UK adults found 51% think the government is offering too little humanitarian support to Ukraine.
Enver Solomon, CEO of the Refugee Council, said he wanted to see the UK follow its "European neighbours by doing much more for people who have literally lost everything".
"We need a different approach that is humane, fair and effective which ensures people who have lost everything are quickly given the protection and safety they desperately need in the UK," he added.
A government spokesperson said: "In response to Putin's barbaric invasion we launched one of the fastest and biggest visa schemes in UK history. Over 86,000 visas have been issued so Ukrainians can live and work in the UK.
"The changes the Home Office has made to streamline the visa system, including simplifying the forms and boosting staff numbers, are working and we are now processing visas as quickly as they come in - enabling thousands more Ukrainians to come through our uncapped routes."