Driving test backlog sees exams sold for over £200
By Hamzah Abbas
BBC News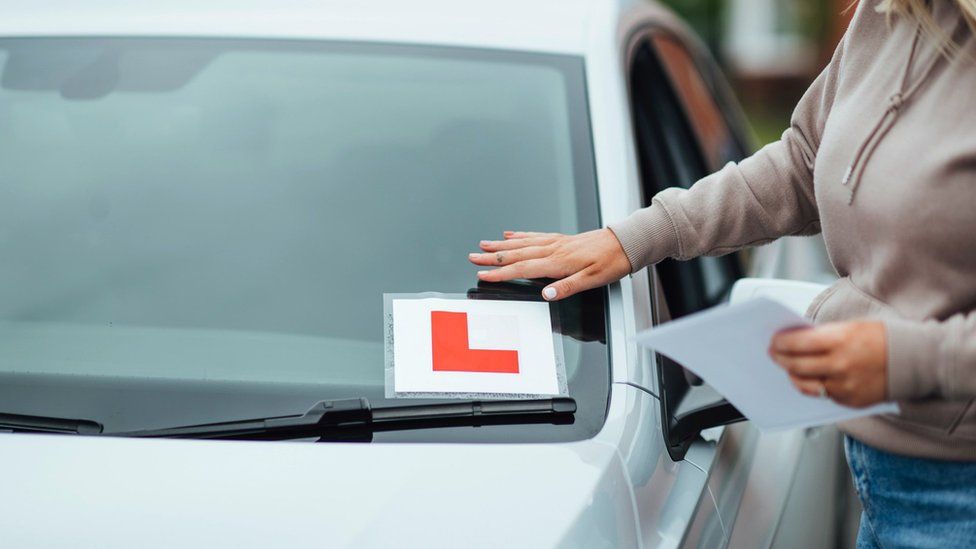 Driving tests are being bulk booked and resold for profit, as a chronic backlog means learners are otherwise waiting months for a test date.
Learner drivers say they have paid more than £200 for a practical test - more than twice the standard fee.
One operator said it used automated software to book tests, and the BBC has seen evidence encouraging driving instructors to sell tests for profit.
The DVSA urged applicants to only book tests via its official website.
The demand for driving tests, caused by the pandemic, means in many places - including London, Birmingham and Cardiff - tests aren't available to book online for up to six months. At other centres, the earliest availability is September or October.
It has seen many learners turn towards a secondary market. Some are paying a nominal fee to companies which find them cancelled tests. Others are buying from sellers which offer tests for vastly inflated prices.
Amelia, not her real name, told the BBC she had paid £210 for a cancelled test through her instructor in London.
The standard fee is £62 for a weekday test and £75 for one in an evening, at the weekend or over a bank holiday, if booked through the Driving Vehicle Standards Agency (DVSA). The DVSA is the official body that carries out driving tests in Great Britain.
"It was very on-the-go," 23-year-old Amelia said. "My driving instructor would call me and say, 'quick, there's a cancellation, do you want it?' The day we booked my test it all happened within a three or four-minute phone call."
She said she'd had to reply with a picture of her provisional licence number, after which she received a reference number allowing her to change the test booking with her own details.
Another driver said her instructor had paid £235 for her test. A third paid £186 - although £54 of this was for the car hire and £62 for the standard test fee.
The BBC has looked into how this is possible. One operator claimed to be using "AI-powered software" to scoop up vacant test slots as soon as they became available on the DVSA website.
They said they used software that constantly refreshes the agency's booking website, together with VPNs, or virtual private networks, to hide their computer's identity, meaning it avoided being banned.
They sent an email - seen by the BBC - to driving instructors, encouraging them to use their service to profit from pupils.
When we contacted them, they said: "This software… [is] like if you're pressing on the search button. It just automates your press, or clicks, on the button."
We also found multiple posts on Facebook Marketplace and within some Facebook groups, offering a variety of test times for sale.
Behind such posts are people like Alex, who runs a "short-notice driving exam business". He posted an advert on Facebook claiming he "can guarantee exam bookings within three weeks".
The advert said approved driving instructors who work with him "make upwards of £400-£600 a week" by reselling exams to pupils.
When contacted, Alex would not reveal how his business booked tests. But the BBC found one way of booking a slot and then transferring it - or potentially selling it - to someone else.
Learners only have access to the main DVSA booking system, where they have to manually search for available test dates.
They can only book one test per person. And if they want to change their test date, they have to find an alternative one manually.
However, we registered on the DVSA's site as a fake driving school, giving us access to a different part of the booking system - one that is not available to most learners.
The system is intended to allow driving schools to book tests for multiple pupils - using a single contact number and email address.
But the BBC found there was little verification to check who was signing up. It took us five minutes to register, with no requirement for official documentation. After receiving a simple verification code by email, we were given access.
Once inside we were able to set alerts for when tests became available and could book multiple tests on the account. And while each booking still required a different provisional licence number, the system allowed exams to be swapped between candidates.
In effect, anyone with instructors' access, could purchase a test - either one in the distant future, or a cancellation - and then sell it on at a premium by swapping appointments.
We also found it was possible to book tests without the provisional licence holder ever knowing.
To test the system, we booked a practical driving test, using a BBC email address and the provisional licence number of a learner, who had given us their permission.
There was no verification required on the learner drivers' part and the booking confirmation was sent to our email address - meaning the learner would not know about the booking.
When challenged on whether the booking system was robust enough, the DVSA said the system was "imperfect" as it "relies on trust". It said it was only illegal to book a driving test using someone else's details without their consent.
Charles Moffat, chairman of the Approved Driving Instructors' National Joint Council, the UK's leading driver instructor association, said the organisation had heard accounts of tests being resold for a profit. "We abhor such practice and will always report such conduct to the DVSA," he added.
The DVSA said it would continue to do all it could to provide as many tests as possible, including conducting out-of-hours testing and recruiting more examiners.
DVSA chief executive Loveday Ryder said in a statement to the BBC: "We've already put in place measures to monitor and prevent bots from accessing our systems while also strengthening our firewall to tackle the issue.
"We will continue to work tirelessly to crack down on companies that are exploiting learner drivers. "We've closed the system to new registrations and will rapidly close down accounts that do not belong to driving instructors and driving schools. We'll also be taking further steps to make sure all future accounts are linked to driving instructors and those with training businesses."
As of 2 June the DVSA has reduced the number of times a driving test appointment can be changed from 10 to the pre-pandemic limit of six.
It has also stopped accepting new automatic online registrations to use the service - any new applications must be made by email - and has stopped accepting any new registrations from companies who do not directly employ a driving instructor.