Prince Charles and Camilla tour BBC newsroom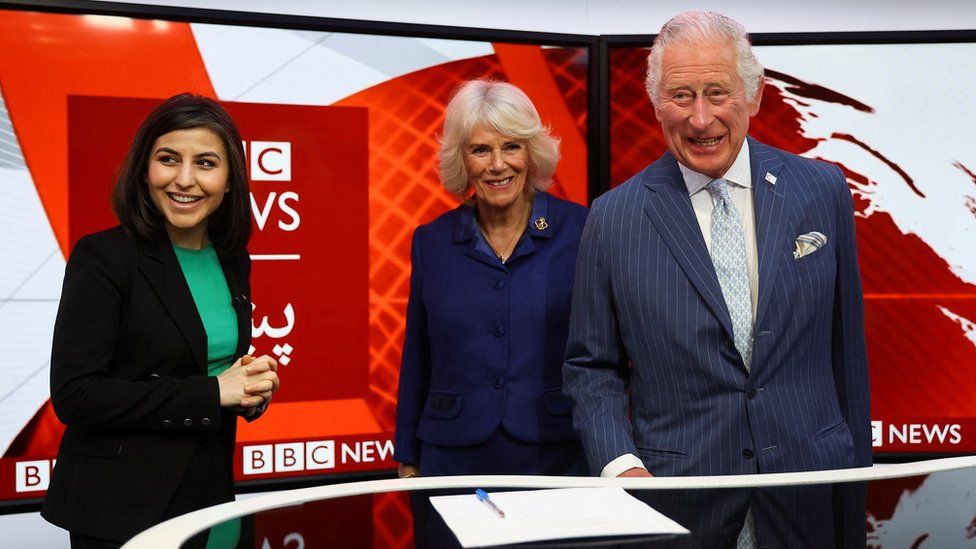 The Prince of Wales and the Duchess of Cornwall have spoken to journalists reporting on Afghanistan, Ukraine and Russia during a visit to the BBC's headquarters in London.
Prince Charles and Camilla visited Broadcasting House to mark the 90th anniversary of the BBC World Service.
During a tour of the building, the prince expressed admiration for journalists reporting in "the most difficult of circumstances".
Speaking to the BBC's Lyse Doucet and Clive Myrie, Prince Charles said he had watched them "shivering on the roofs" during their recent broadcasts from Kyiv, Ukraine.
The royal couple also met journalists from the Ukrainian service, some of whom were forced to leave the country.
The drawing, described by the prince as "marvellous", pictured the Union and Ukrainian flags side by side.
Prince Charles and Camilla also spoke via video call to the BBC's Russia editor Steve Rosenberg as he travelled from St Petersburg to Moscow by train, and chief correspondent Ben Brown who was on a rooftop in Kyiv.
Elsewhere, they heard from reporters and producers from BBC Pashto.
They were shown round a TV studio by presenter Sana Safi, who also demonstrated delivering a news bulletin.
BBC director general Tim Davie said: "As the BBC World Service turns 90, it's fantastic to see the work of our colleagues being recognised, especially at a time when accurate and impartial journalism is needed now more than ever."
The BBC World Service delivers news to a weekly audience of 364m in more than 40 languages.
It recently received an additional £4.1m of government funding in response to the war in Ukraine.
The government said the money would help the BBC to relocate staff and operations to safe locations and to "ensure the resilience of their services".