Mastermind: Inside the world of competitive quizzing
By Alex Taylor
BBC News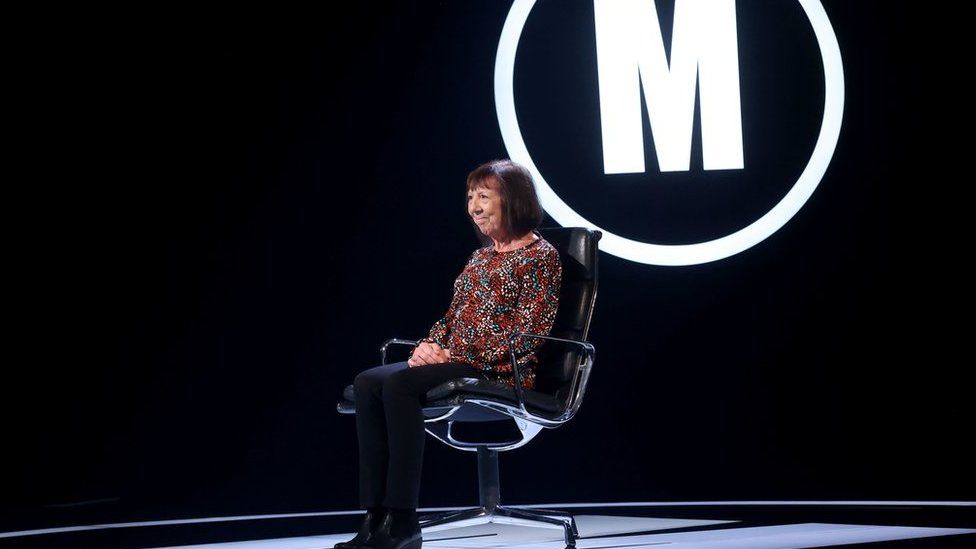 The humble quiz has been a staple of British pub and TV culture for decades, before moving online to redeem social life during the Covid lockdowns.
For many it represents a bit of light competitive fun, but for some it is something to take much more seriously.
The veteran quizzer from Derbyshire scored a perfect 14 out of 14 in her specialist subject, the Peak District, to take the title by six points.
But the true secret to her success may lie elsewhere. She has been part of the Macclesfield and Stockport quiz league since the 1980s.
So just how does this competitive scene compare with the amateur world of chewed biros, hushed whispers and dubious team names?
The main difference is in mindset, says London-based Gareth Kingston, a fellow quiz league player and three-time Mastermind semi-finalist.
"Pubs are looking for footfall, so the quizzes are often pop-culture based - they steer away from the difficult content because it's about making sure your customers stay satisfied and come back.
"High-level quizzing meanwhile is quite a tactical game. Stress levels are high. But the players thrive on that - they want to be challenged in a competitive setting".
For players at this level, quizzing is "a sport rather than a game or a hobby" he says.
And it's one that stretches the breadth of the United Kingdom. Gareth helps to run the Association of British Quiz Leagues, an umbrella organisation that boasts 14 leagues as full members and 36 associate members.
This includes Merseyside Quiz Leagues - a northern powerhouse running since 1959 to become one of the largest (and oldest) quizzing bodies in the world - and Quiz League London in the South East.
Teams are generally made up of four players, with performances ranked throughout the season to form regional divisions alongside cup competitions (think football league and FA Cup).
Individual player point tallies are also kept to generate a list of star names. This cream of the crop often join the continental and international circuit (led by the International Quizzing Association) for a tougher challenge, facing off individually and in teams against players from around the world in European and World Championships.
The heat is on in these matches, designed to test both depth of knowledge and a player's ability to handle pressure. This not only means different content, with more questions about ancient mythology rather than Kim Kardashian's dating life, but significant rule differences between league and local pub quiz nights. Here are some of the main ones.
Timings - Each individual player gets asked a question, with 10 seconds to answer. If they are unsure, they can also choose to pass it to another team member, who'll have five seconds to respond. Get it wrong and it's handed over to the other team for five seconds, potentially sparking a big swing in points.
Points - Answer your question correctly and it's worth two points. A successful pass to a teammate scores one point. Individual player rankings are based in part on their one and two-point averages,
No conferring - Unlike the inter-team wrangling of a pub quiz, players are prohibited from speaking to each other during quiz league matches to prevent eavesdropping. Instead hand gestures are used. Players hold up fingers to indicate confidence level, or make a fist to signal they are certain of the answer.
Seating tactics - Players are organised by seat numbers, creating a tactical battle. Often the strongest player may sit last in a bid to help tip the balance in the closing stages of a contest.
However the leagues do make an effort to stay accessible to new joiners. The Quiz League of London holds cup competitions on a handicap basis. This gives players in lower divisions the chance to test themselves against division one outfits, whose teams can include multiple world champions like Kevin Ashman, as well as famous TV quiz stars like The Chase's Anne Hegerty or Jenny Ryan.
So what does it take to become a world-class player? "I think you have to have that hunger to learn in quiz," says Gareth.
"The worst thing you could do is just say, 'I know what I know and I don't want to learn anything else'. Hunger really sets you up in a good place to keep learning and keep developing and keep building on your knowledge".
Gareth's own story reflects this journey. Now 49, he began to take quiz league seriously in 2006 when, after years of pub quizzes, he heard about a quiz grand prix - an exam-style individual speed test comprising six genres, each made up of 30 questions (plus 10 bonuses), all within 90 minutes.
The "intense" experience left him hooked. By the end of the year he found himself heading off to Paris for the European Championships.
"I loved it," he says. "You're meeting people from all around Europe with the same sort of interest. You're being tested on an even wider selection of knowledge".
Players are given a broad sense of the categories, from sport to history and entertainment, but no more.
At the European Championships, unlike the World Championships, everybody gets the same set of questions delivered in English, with only key terms translated. This has lead to accusations of Anglo-centrism, but impressively means many global stars, such as Belgium's Ronny Swiggers (the current world champion), have won European Championships in their second or even third language.
Still, Gareth makes clear there's a definite difference in quiz culture amongst nations. "Belgians love long questions, with a lot of detail, whereas the British questions are much shorter," he explains.
Away from the world stage, Gareth says that for many UK quiz players, Mastermind remains the pinnacle.
He describes the experience of being in the chair as similar to a ride on Oblivion at Alton Towers. "It's out of body and goes in a flash," he says, "but job interviews are no longer stressful after that experience."
Reflecting on Alice's "memorably brilliant" win, which he watched live with her and other contestants on his YouTube channel All Things Quiz, Gareth hopes it "opens the door" to more diversity within a competitive quiz league scene that has long faced accusations of being male-dominated.
Enter Becky Howell, who helps run Quizogyny - a feminist quiz magazine working to "fight to end the patriarchy over five rounds". The group has drawn up a manifesto which, amongst other things, calls for an end to male bias in questions.
"We realised that knowledge in general has a male bias so we wanted to write something that celebrated female achievement, to get those stories out there," she tells BBC News.
Looking ahead, she says "a big barrier to female participation is childcare. We always wanted to do a live quiz ourselves where we'd have a provision for childcare to increase inclusivity".
And while she says Alice's win is a benchmark, it must only be a "stepping-stone".
"I think seeing that representation makes other women think 'yeah, I could give quizzing a go!' which is great!
"But we need to show women of colour, disabled women, trans women all being celebrated the same way, and again, not just in terms of participation, but in questions, hosting, working behind the scenes to make sure that quizzes are representational. Everyone should be able to enjoy quizzing because it's really fun!"