Easter travel delays: Call to fine airlines over airport travel chaos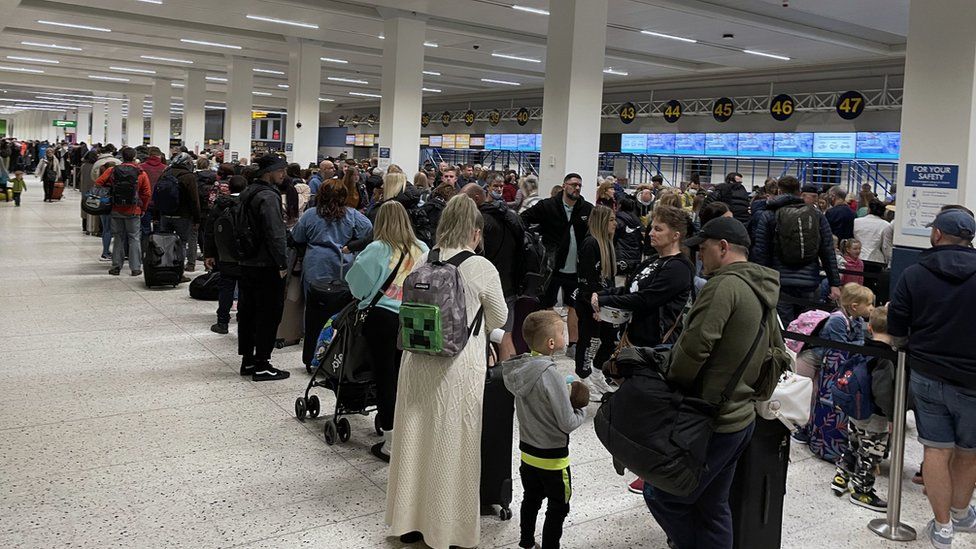 The air travel regulator must be given powers to fine airlines who ignore passengers' legal rights, a consumer rights group has said.
Alongside more powers for the Civil Aviation Authority, Which? said lessons must be learned from the "travel shambles" over the Easter holidays.
Travellers have faced long delays in recent days and weeks, with security issues causing many to miss flights.
Multi-hour waits and queues snaking out of terminals have been reported.
Disruption has also been seen in significant delays at passport checks and baggage reclaim, with some of the worst hit airports including Manchester, Heathrow, Birmingham and Gatwick.
Demand for travel is strongly rebounding after the UK's Covid travel restrictions were lifted last month.
Travellers at Manchester Airport have reported further hour-long queues for security early in the morning on Wednesday, as many follow advice to arrive as early as possible following chaotic scenes at the airport in recent weeks.
Meanwhile, at Stansted Airport, people arriving in the UK have reported long queues to pass immigration checks.
Many in the industry are anticipating further problems over the upcoming bank holiday weekend, with airports encouraging passengers to arrive as early as their airline recommends - often three hours before take off.
Which? called for the government to work with airlines and airports to make sure they have "resources and capacity" to meet the expected demand of summer holiday flights.
The group's travel editor Rory Boland insisted "lessons should be learned from the experience and said "there can be no excuse for a repeat of these failings".
He said the government must "support consumers" by giving the Civil Aviation Authority the power to fine, ramping up pressure to ensure people are given their legally required compensation for flight delays.
"Airlines wouldn't be ignoring the law and their passengers' rights if the aviation regulator had some teeth," he added.
The Department for Transport said it had recently consulted on proposals aimed at protecting air passengers, including additional powers for the CAA to enforce breaches of consumer rights laws.
A spokesperson said: "We are reviewing responses from across industry, consumer groups and the general public, and will set out next steps in due course."
Airports and airlines have blamed the delays on staff shortages, driven by both a rise Covid-19 sickness absences, as well as ongoing difficulties and delays to hiring new staff.
After shedding thousands of jobs during the pandemic, the travel industry has struggled to recruit, train and security-check new staff quickly enough to keep up with rebounding demand.
One aviation recruitment expert cautioned on Tuesday it would take at least a year for shortages to settle down, with others in the industry concerned this summer will likely be similarly affected by disruption.
The Unite union has blamed transport companies' difficulties in hiring new workers on "bargain-basement wages and insecure jobs".
The union said it warned the sector "not to use the cover of Covid to slash jobs and pay", a move which would "render it unable to meet demand when passengers returned".
A spokesman said: "Now the sector is suffering from a chronic inability to attract new staff because workers are not attracted to an industry where pay is poor and conditions are lousy."
Transport Secretary Grant Shapps said the aviation industry had been warned "for a long time" of the need to "gear up again" after losing a lot of staff during the pandemic.
He told BBC Radio 4's Today programme that travel operators, including airlines, airports and ports, must "ensure they get back to strength and quickly" to manage a "very busy" upcoming Easter weekend.
A source in the aviation industry said Mr Shapps's comments "have not gone down well" given the industry's work with his officials to improve security clearances.
They said the sector had been clear with the government throughout the pandemic it would take time to ramp up again and it needed a long-term plan to manage travel restrictions.
The source asked: "Indeed, if they saw this coming, then why is Border Force so woefully unprepared and short-staffed?"