Queen hands over to Charles for Maundy Service
By Sean Coughlan
Royal correspondent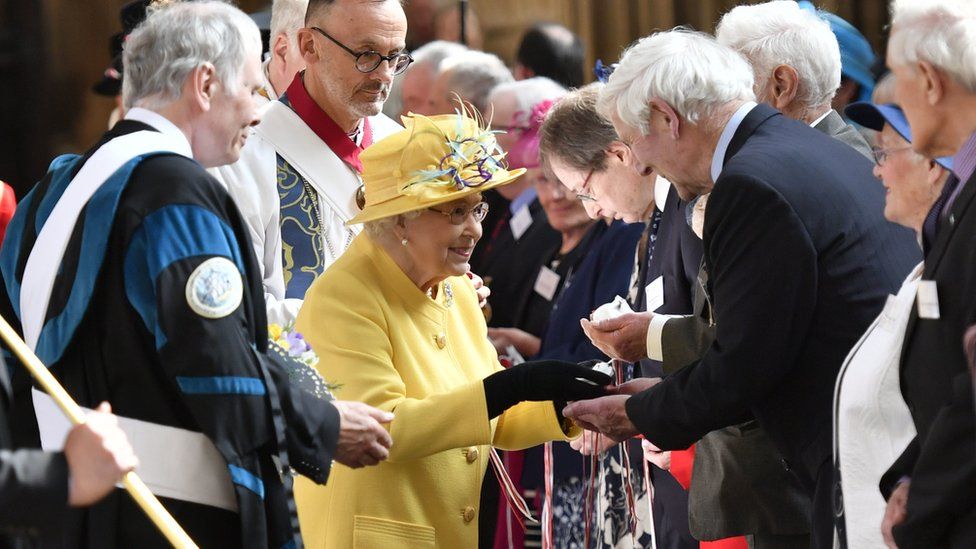 The Queen will not take part in next week's Maundy Service, Buckingham Palace has announced.
Instead for the first time Prince Charles will carry out the traditional coin-giving ceremony, to be held this year in Windsor.
The 95-year-old Queen has had mobility problems, but took part in the Thanksgiving Service for Prince Philip.
It is understood the Queen regrets not attending, but wanted to give clarity in time for those planning the event.
It will be the first Maundy Service missed by the Queen since 1970.
The service takes place each year on the Thursday before Easter Sunday, with special coins given to pensioners, with one man and one woman chosen for each year the Queen has lived.
The church service would have involved the Queen handing out the "Maundy money" to a line-up of recipients.
Rather than allowing speculation about her attendance to overshadow preparations, it is understood the Queen has decided to give an early confirmation that Prince Charles will represent her instead.
She has been taking part in virtual audiences this week, but has difficulty in moving and last month had to pull out of the Commonwealth Service.
This will be the fifth Maundy Service missed by the Queen, with these previous times because of being away on overseas tours or because of the recent births of Prince Andrew and Prince Edward.
The annual service marks Maundy Thursday, which commemorates Jesus washing the feet of the apostles at the Last Supper.
The royal ceremony of awarding gifts on this day dates back to AD 600.
The recipients are traditionally local elderly people, who are being recognised for their contribution to community.
Each recipient is given two purses, one containing a small amount of ordinary coinage and the second containing specially-minted coins up to the value of the Queen's age.
The Maundy Service will come a week before the Queen's 96th birthday.