Prince Andrew returned from Falklands War 'a changed man', he says in deleted post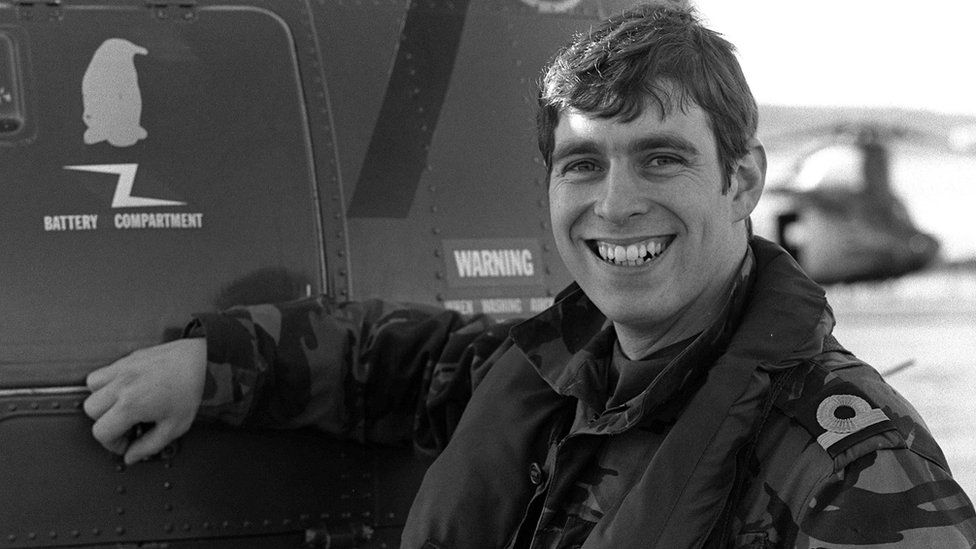 Prince Andrew returned from the Falklands War "a changed man", he said in a now deleted piece posted on his ex-wife's Instagram account.
The Duke of York recalled his time as a helicopter pilot in the conflict 40 years ago in three posts on Saturday.
His piece was initially signed off as HRH The Duke of York, before the reference to His Royal Highness was soon removed.
And only hours later all the posts were removed.
It is unclear why the 700-word account was taken down.
Virginia Giuffre sued Andrew for allegedly sexually assaulting her on three occasions when she was 17. The case later reached a multi-million pound settlement out of court.
In the first Instagram post, Sarah, Duchess of York wrote that she had asked Andrew for his reflections on the 40th anniversary of his sailing from Portsmouth to the Falklands.
Prince Andrew began: "As I sit here at my desk on this cold crisp spring morning thinking back to April 1982 I've tried to think what was going through my mind as we sailed out of Portsmouth lining the flight deck of HMS INVINCIBLE."
He concludes: "So whilst I think back to a day when a young man went to war, full of bravado, I returned a changed man.
"I put away childish things and false bravado and returned a man full in the knowledge of human frailty and suffering."
The 62-year-old said he was thinking about those experiencing conflict today.
Prince Andrew has found himself firmly back in the headlines this week, but presumably not in the way he'd hoped.
The Instagram posts, via the account of his ex-wife Sarah, Duchess of York, have just made a bad week worse.
It is unclear why Prince Andrew decided to record his reflections on his Falklands experience.
As a veteran he clearly has memories to share, but he isn't a working royal. He no longer has an official status within public life.
Nobody within the royal household speaks on his behalf and he has deleted all of his own social media accounts.
Crucially, he should no longer be using the HRH style alongside his name, as the Duchess of York initially did in the posts before swiftly removing it.
Whatever the intention, it all looked clumsy and ill-conceived.
Add to that Prince Andrew's role supporting his mother at Westminster Abbey last Tuesday during the Thanksgiving service for his father. He was at the event because it was deemed a "family occasion".
These things are carefully choregraphed. There had been a clear timetable of arrival times, with the prince originally scheduled to enter Westminster Abbey alongside his daughters.
There was no mention of him escorting his mother - so something changed.
Coming up are the official celebrations to mark the Queen's Platinum Jubilee. Will Prince Andrew be involved in any of these events?
He may want to be. The rest of his family may have other ideas.
In the posts, Andrew also described being shot at: "I was flying and saw a chaff shell fired from one of our ships that passed not that far in front of us.
"For a moment it was on a steady bearing before it began to cross to our left.
"The terror that that was going to be that, just for a moment, has had a lasting and permanent effect on me."
Andrew spoke about how the war had affected him during his 2019 Newsnight interview in which he denied allegations of sexual assault.