Storm Eunice: A guide to preparing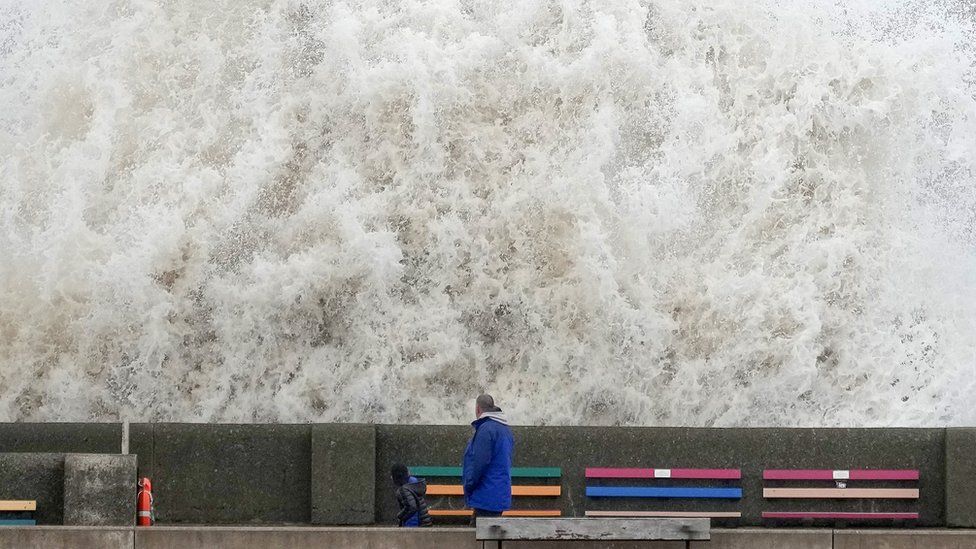 Parts of the UK are braced for Storm Eunice to hit. What practical things can people do to prepare themselves?
Rare red weather warnings - the highest level - have been issued in parts of south-west England, south Wales, London and south-east England, and the Met Office has warned of gusts of up to 90mph.
Before the storm, the Met Office recommends that you secure any loose objects such as garden furniture, ladders or anything else that could be blown around.
Doors and windows should be closed firmly - particularly those to the windward side of the house - and especially large doors, like those on garages. If the property has storm shutters fitted over the windows, make sure these are fastened too.
Close and secure loft trapdoors with bolts. If chimney stacks are tall and in poor condition, make sure any beds are kept away from the areas directly beneath them.
Vehicles should be parked in a garage, if possible - if not, make sure they are clear of trees, buildings and fences.
During the storm, the Met Office advises that you stay indoors as much as possible. Don't go outdoors to repair damage while the storm is in progress.
If you do go out, it says, try not to walk near buildings and trees. The Met Office also recommends that you keep away from the sheltered side of boundary fences and walls - this is the side they will collapse on.
If possible, it adds, try to enter and leave your house through doors on the sheltered side and close them behind you. Internal doors should be opened only when needed and closed behind you.
Drive carefully - that is, if you have to drive at all. "If driving, the best advice is to stick to main roads if possible, slow down and expect the unexpected," says Edmund King, president of the AA.
When driving in strong winds, the motoring group also advises keeping both hands on the wheel, maintaining your distance from other vehicles and avoiding the use of horseboxes and other high-sided trailers.
It also recommends watching out for twigs or small branches in the road - these could mean a fallen tree or large branch is around the next bend - and warns that partially fallen trees can be difficult to spot as they may sit above the sweep of your headlights.
Sean Sidley, AA Patrol of the Year, adds: "Check the travel news before you set off and take particular care where roads dip, for example under railway bridges, which are more likely to flood."
Call your insurer straight away if something has been damaged as a result of the storm. "If you suffer damage to your property, contact your insurer as soon as you can for help and advice," says Laura Hughes of the Association of British Insurers (ABI). Most will have 24-hour emergency helplines.
You might need to arrange temporary emergency repairs to prevent any damage getting worse, but the ABI recommends that you speak to your insurer first. Keep any receipts as they will form part of your claim.
After the storm, the Met Office warns you should be careful not to touch any telephone or electrical cables that have been blown down or that are still hanging.
It also suggests checking on vulnerable neighbours and relatives to make sure they are safe and, if necessary, helping them arrange for any repairs to be carried out.