Covid: Glimmer of Christmas hope on Omicron, says Jenny Harries
By Hamish Mackay
BBC News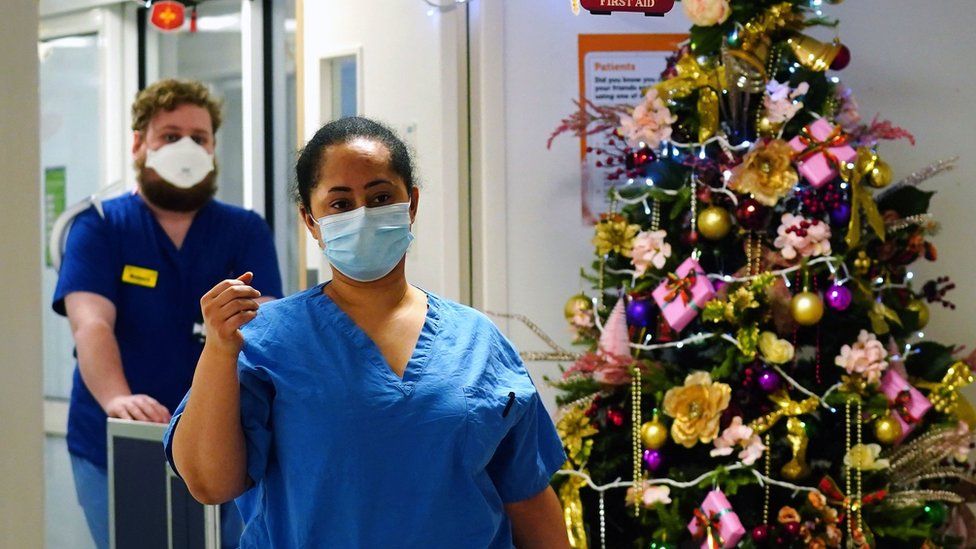 Official findings that Omicron may be less likely to result in serious illness than Delta offer a "glimmer of Christmas hope", the head of the UK Health Security Agency has said.
But Jenny Harries told the BBC it was too early to retract her statement that the variant was the most serious threat the UK had faced during the pandemic.
The UKHSA's findings are "preliminary", she said, and data around Omicron's impact on the elderly is still needed.
UK Covid cases have reached a new high.
A record of 122,186 new infections were reported on Friday - while the Office for National Statistics estimates 1.74 million people in the UK had coronavirus on 19 December, up by more than 368,000 on the figure three days earlier.
This equates to 2.7% of the population or one in 35 people. In London, that figure is one in 20.
Meanwhile, the latest figures show 1,171 people with Covid or suspected Covid were admitted to hospital on Monday - the highest number since 19 February.
Responding to UKHSA analysis that those cases with Omicron - now the UK's dominant strain - are less likely to need hospital care, Dr Harries told Radio 4's Today programme: "There is a glimmer of Christmas hope... but it definitely isn't yet at the point where we could downgrade that serious threat.
"What we have got now is a really fine balance between something that looks like a lower risk of hospitalisation - which is great news - but equally a highly transmissible variant and one that we know evades some of our immune defences, so it is a very balanced position."
The UKHSA estimates that someone with Omicron is between 31% and 45% less likely to attend A&E and 50% to 70% less likely to be admitted to hospital than an individual with the Delta variant.
However, Dr Harries warned there was much that is still unknown about Omicron.
"We don't yet know what the average length of stay for an individual is in a hospital," she said.
"We're not seeing very significant rises in intensive care utilisation or in the use of ventilation beds. Now that may be because a lot of the people who've been infected to date are actually younger people and we will see that coming through."
But if the severity of the disease is actually "significantly lower than Delta" then some of the impact on the NHS may be less severe, she added.
Office for National Statistics chief Sir Ian Diamond said there were "indications" the Omicron variant was encouraging people to adopt "safer" behaviour but it was "far too early to suggest that we will see anything other than a continued rise" in cases.
He told BBC Radio 4's World At One programme all areas of the UK, except for south-west England, were seeing increases - although in Scotland infections had "gone up just a little bit".
Omicron: What we know so far
This variant is very contagious - it spreads faster than others and can infect people even if they are fully vaccinated
Vaccines and boosters are still essential - they do a great job at protecting against severe disease that could put you in hospital
It is milder - if you catch it, the risk of needing hospital treatment is up to 70% lower than with previous variants - but that is largely because many of us have built up immunity from vaccines and past infections rather than changes to the virus
Even if Omicron is milder, because it is more contagious a large number of people will catch it and some will still become very ill, which puts pressure on the NHS
The UKHSA analysis, along with the data gathered around Omicron on a daily basis, will influence the UK government's decision regarding whether or not further restrictions are needed in England.
Asked whether ministers had enough data to make a call on new measures, Dr Harries said the government would consider more than just hospital admissions and cases.
"For example, we have very high rates of individuals off sick," she said. "That's having an impact on the workforce. So these are not simply about hospitalisation rates."
She added that ministers were being kept updated on a daily basis and that would continue throughout the Christmas period.
"I don't think we do know yet that this is going to be a significantly less serious disease for the population - the older population - that we are normally most concerned about in relation to serious disease and death."
Dr Harries' comments come amid the ongoing push for UK government to offer every adult a booster vaccine dose by the end of the month.
People in England will be able to get a jab on Christmas Day and Boxing Day as part of efforts to target the Omicron variant, the NHS has said.
Vaccinations will also take place on Christmas Eve, with about 200,000 first, second or booster appointments still bookable over the festive period.
It has been a record-breaking week for booster and third jabs in the UK, with more than 968,665 administered on Wednesday, the highest number to date.
Prof Clare Bryant - a professor of immunology at the University of Cambridge - told the Today programme that additional booster shots in the form of a fourth dose would be needed at some point, but exactly when was not yet clear.
"We are looking at fourth shots," she said.
"I suspect it's a question of when those will need to be introduced because of course a waning in immunity means that you may catch the virus a little bit more easily - but don't forget you're still very well protected against severe disease and that's absolutely critical."
In Austria, the government's National Vaccination Board has already recommended that fourth jabs be given to people working in "high-risk areas", such as healthcare, six months after the third dose.
Officials will also be working to fix supply chain delays with home tests over the festive period.
The UKHSA said it was sending a record number of rapid lateral flow tests to people's homes every day but acknowledged there was an issue with deliveries to some pharmacies.
Ministers have also been encouraging people to use the tests before they socialise or go to work, with the prime minister on Tuesday saying tests should be taken before they visit elderly or vulnerable relatives at Christmas.
The UKHSA said pharmacies were continuing to receive lateral flow tests and any delays in deliveries were a "supply chain issue and not a stock issue".
Are you hoping to get a vaccine on Christmas day? Or will you be one of those giving out vaccinations? Email haveyoursay@bbc.co.uk.
Please include a contact number if you are willing to speak to a BBC journalist. You can also get in touch in the following ways:
If you are reading this page and can't see the form you will need to visit the mobile version of the BBC website to submit your question or comment or you can email us at HaveYourSay@bbc.co.uk. Please include your name, age and location with any submission.