Covid: Ministers watch data as studies say Omicron risk lower
By Doug Faulkner
BBC News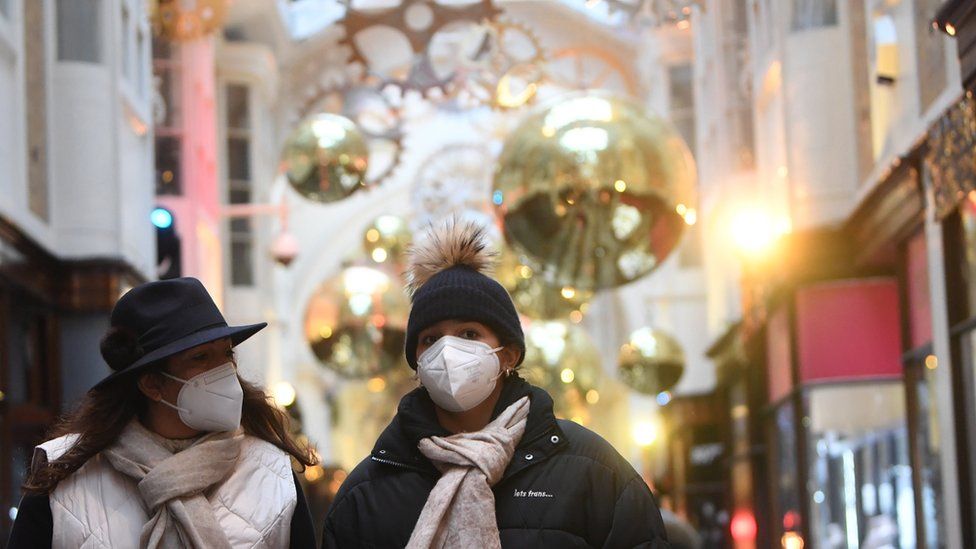 The UK government says it is monitoring Covid data after early studies found the Omicron variant may cause milder illness than the Delta variant.
Scientists said the findings were good news but warned a big wave of cases could still overwhelm the NHS.
Health Secretary Sajid Javid said no further restrictions were needed for England at present - but urged people to be cautious over Christmas.
"If you are meeting people who are more vulnerable... I think a really sensible thing to do is to take a lateral flow test and make sure you're negative," he said.
Scotland, Wales and Northern Ireland have all announced further measures to kick in from 26 December - but no further curbs have been announced in England.
Asked when people in England would get clarity on potential rule changes, Mr Javid said: "We do have clarity, the government has taken action already - the so-called Plan B.
"We're clear that there's no need for any kind of further restrictions of any type before Christmas but of course we will keep the situation under review."
Pressed again on potential rule changes after Christmas, Mr Javid added: "We're not planning any further announcements this week."
Analysis by researchers at Imperial College London found around a 40% reduction in the risk of being admitted to hospital for a night or more compared with Delta, while an Edinburgh University study suggested there was a 65% lower risk of being hospitalised with Omicron - but it was based on only a few cases.
In South Africa, a study suggested Omicron patients were 70-80% less likely to need hospital treatment. However, it suggested there was no difference in outcomes for the few patients that ended up in hospital with Omicron.
Imperial College epidemiologist Prof Neil Ferguson said the research was "clearly good news to a degree".
However, he warned the reduction was "not sufficient to dramatically change the modelling" and the speed at which Omicron was spreading could still mean hospitalisations "in numbers that could put the NHS in a difficult position".
While analysis showed evidence of a moderate reduction in the risk of hospitalisation from Omicron, he said this appeared "to be offset by the efficacy of vaccines against infection".
Omicron is milder than Delta, so can we all relax?
It's clearly good news if you test positive, but it's also important to remember some basic maths.
The pressure on hospitals will be a combination of the severity of the variant and the number of people infected.
If Omicron is half as severe, but we have twice the number of cases - then we're back where we started.
And there is a lot of Covid around at the moment. Daily cases peaked at 68,000 last winter and we've already topped 106,000 now.
There are also concerns that the benefit of Omicron being milder is eroded by more people being susceptible as the variant bypasses some immunity.
Then there is the pressure on hospitals if large numbers of staff have to isolate.
So while the severity data is welcome news, ministers will also have to closely monitor the trends in the number of cases.
Dr Jim McMenamin, the national Covid-19 incident director for Public Health Scotland, said the University of Edinburgh's findings were "a qualified good news story", but that it was "important we don't get ahead of ourselves".
He said a "smaller proportion of a much greater number of cases" could still mean a "substantial" number of people may experience severe Covid infections which could lead to hospitalisation.
And Prof Azra Ghani, chair in infectious disease epidemiology at Imperial, warned more data was needed on the impact of Omicron on older people.
She told BBC Radio 4's Today programme: "Omicron has really been circulating in a younger population and I think the big concern is that over this Christmas period there's going to be a lot more intergenerational mixing, and we don't know yet what that severity pattern might look like in the oldest age groups."
The UK Health Security Agency is expected to publish early real-world data on Omicron later, which could give further indications of the variant's severity.
But regardless of that data, the NHS is already under significant pressure and busier than last winter's peak, says Chris Hopson, chair of NHS Providers, which represents hospital trusts.
He told Today: "We are busier at this time of year than we have ever been before. Our bed occupancy rate is 94.5%, compared to last year's 89% - that's a huge difference.
"We've got more than 2,800 people every day who are having to wait more than 30 minutes in the back of an ambulance before we can admit them into hospital because we're so busy."
Meanwhile, 18,829 NHS staff at acute trusts in England were absent due to Covid-19 reasons on 19 December, up 54% from 12,240 a week earlier and up 51% from 12,508 at the start of the month.
Across the UK, the booster programme continues, with 968,665 doses given on Tuesday. The UK government has consistently said that there is a race on between the vaccine and the virus, and aims to have offered all adults in England the chance to book a booster by the end of the year.
The World Health Organization (WHO) has also warned that "no country can boost its way out" of the pandemic.
The rush for wealthy countries to roll out the additional Covid vaccine doses is making it harder for other nations to get hold of the jab and was "likely to prolong the pandemic", WHO director-general Dr Tedros Adhanom Ghebreyesu said.