Mark Easton's Boxing Day family puzzler 2021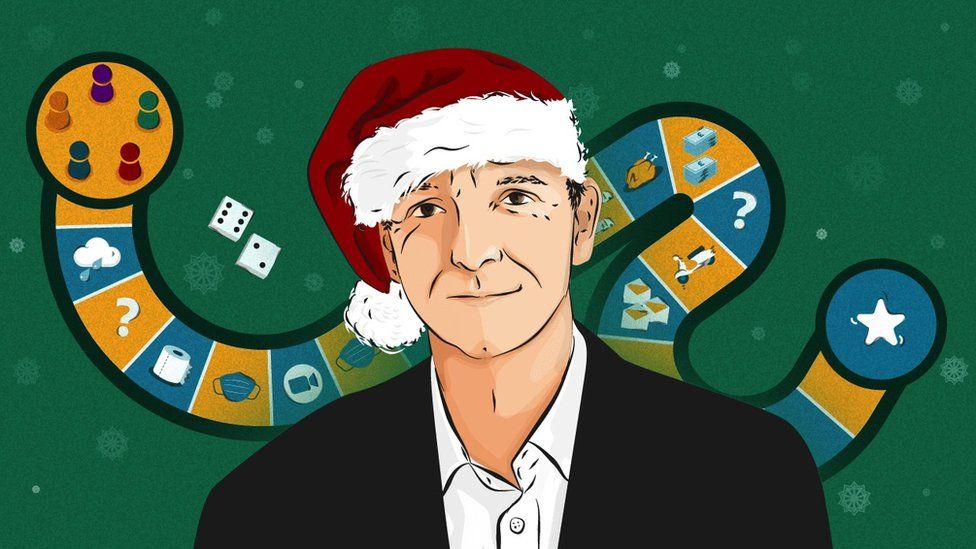 Welcome to the festive quiz in which no-one is expected to know any of the answers. Now in its 14th glorious year, my Boxing Day family puzzler aims to offer hope and entertainment to those struggling to focus after the indulgence of the season.
The questions relate to events from another very strange year, and all the solutions are numbers. You must use wisdom and judgement to get as close to the right figure as you can.
To make it fair, each player/team should write their guesses down before revealing them. One mark for the closest answer and three if by luck, or genius, you get it spot on. The answers can be found at the bottom of the page.
1. Boris Johnson has been asked to explain how he paid for a costly refurbishment of his Downing Street flat, overseen by exclusive interior designer Lulu Lytle. How much does she charge for a 10m roll of chintz wallpaper inspired by an 18th century sarong?
2. What has lockdown done to consumption of buns, cakes and pastries? Public Health England conducted a diet survey to find out. In grams per person per day, how has the quantity consumed by men changed, compared with pre-pandemic?
3. A 40-year-old Ford Escort with at least two previous owners was sold at auction this year. How much did a museum in Chile pay for the old banger? (One of the previous owners was Lady Diana Spencer).
4. According to research commissioned by the price comparison company Uswitch this year, what percentage of householders with a landline don't actually have a phone attached to it?
5. The official Business Register and Employment Survey states that the number of people currently employed in marine fishing in Britain is 4,800. According to figures from Wines of Great Britain, how many people are now working in the country's wine industry?
6. Londoner Max Stanford failed in his attempt this month to claim the record for eating the biggest plate of sprouts. The Christmas staple defeated him after 28 minutes, which meant Emma Dalton from Bromsgrove retained her 2016 world title. How many sprouts did Emma consume in 36 minutes?
7. On 16 February, temperatures in Anchorage in Alaska dropped to -7C. What was the low in subtropical Dallas, Texas that day?
8. The robin has become a symbol of Christmas. In the early 1970s there were an estimated 10 million of these uncompromising little birds in the UK. According to the British Trust for Ornithology, how many are there now?
9. In hours, how long was it between the April announcement by England's so-called Big Six clubs that they were joining a European Football Super League and their announcement that they were leaving the Super League?
10. Oprah Winfrey's bombshell interview with Meghan and Harry in March this year drew 5,380 viewer complaints to the broadcast regulator Ofcom. How many complaints did the media regulator receive about ITV's Good Morning Britain after Piers Morgan told viewers he didn't believe a word Meghan said?
11. When England's greatest bowler, James Anderson, dismissed five Indian batters at Lord's in August, how long had it been, in years and days, since his first five-wicket haul in a Test?
12. After apparently training for five years, Australian Neville Sharp this year broke a world record that has stood for more than a decade - the loudest recorded burp. The sound of a hairdryer typically measures 70 decibels and a lawnmower around 90 decibels. How loud was Neville's burp?
13. The government has encouraged official buildings to fly the union jack at all times. Having spent nothing on flags when Theresa May was prime minister, how much has the Cabinet Office spent on national flags since Boris Johnson entered Downing Street?
14. Jude Bellingham became the youngest footballer to appear for England in a major tournament when he came on against Croatia at the Euros this summer. He was, for six days, the youngest person ever to play at the Euros until Kacper Kozłowski appeared for Poland against Spain. In years and days, how old was Kacper?
15. With Richard Branson's Virgin Galactic and Jeff Bezos's Blue Origin looking to go head-to-head in the space tourism market, the British billionaire put tickets on sale in August. How much is he charging for a seat on Virgin Galactic's suborbital spaceplane, in dollars?
16. In 2019, the beautiful Indonesian island of Bali welcomed 6.2 million visitors. According to the province's head of tourism in an interview this month, how many international travellers arrived in 2021?
17. Taeil Moon, a member of South Korean boy band NCT, this year broke the world record for the fastest time to reach one million followers on Instagram. In hours and minutes, how long after his first post did he hit seven figures?
18. Glum consumers have seen shortages and soaring prices amid global supply problems caused, in part, by a huge container ship blocking the Suez Canal. The world's biggest shipping line, Moller-Maersk, had been expected to make $4.5bn operating profit this year. After a chaotic year, what is it now expecting profits to be in 2021?
19. A 12-month-old sheepdog called Kim was sold at a farming auction in Wales in February. How much did a farmer from Newcastle-under-Lyme pay for the female red-and-white border collie?
20. Sport climbing and skateboarding were among the exciting new sports contested at the Tokyo Olympics held this year, the latter attracting some very young competitors. What was the combined age, in years, of the three female skateboarders who won medals in the park event?
Answers are below the photo.
1. £840; 2. -12 grams; 3. £52,640; 4. 26%; 5. 5,000; 6. 325; 7. -19C; 8. 14.8 million;9. 48; 10. 57,793; 11. 18 years, 81 days; 12. 112.4 decibels; 13. £3,037.29; 14. 17 years, 246 days; 15. $450,000; 16. 45; 17. One hour, 45 minutes; 18. $17bn ; 19. £28,455; 20. 44