Covid booster jab booking system opens to over-40s in England
By Dulcie Lee & Marie Jackson
BBC News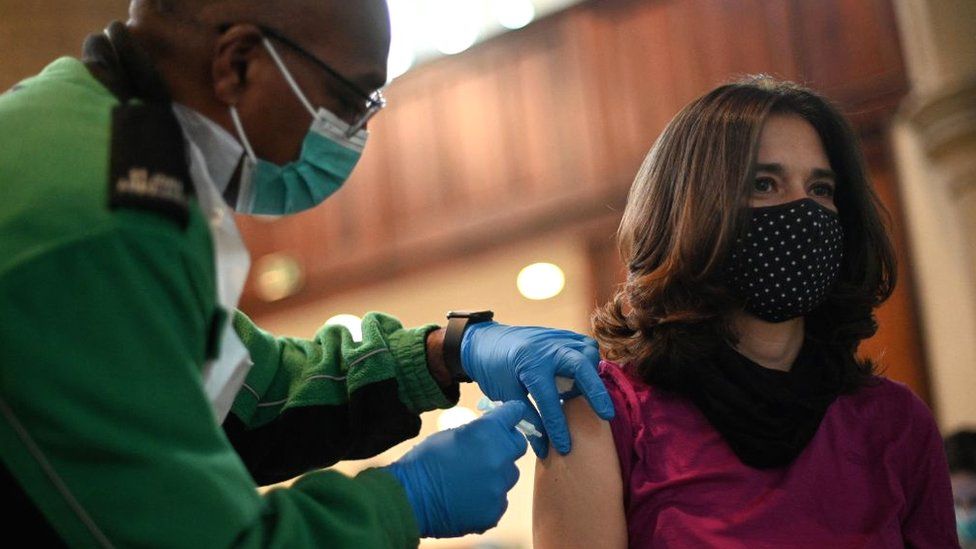 People aged 40 and over in England can now book their booster jab for three months after their second dose.
The latest expansion means another seven million people can book their top-up jab amid continuing concerns over the new Omicron variant.
NHS chief executive Amanda Pritchard said the vaccine rollout was continuing "at speed" in the run-up to Christmas.
The booking system will open to people a month in advance - two months (61 days) after their second dose.
People in high risk groups in England are also now able to book.
Since then, the NHS in England has delivered almost 100 million jabs - first and second doses, and boosters.
All UK adults are to be offered a Covid booster, and 12 to 15-year-olds will be able to have a second primary dose.
The NHS in England, Wales and Scotland have said all adults will be offered a booster by the end of January - although their appointment may be later than that.
Some people aged 40 and over have already been invited for their top-up, but the latest change means they can now book the appointment themselves.
Booster jabs were originally offered to the over-50s, front-line medical staff and people with health conditions that put them at greater risk. Last month the rollout was widened to include the over-40s.
Government adviser Prof Neil Ferguson said case numbers of the variant were doubling "at least every three days, maybe every two days" and it was likely to overtake the Delta variant to become the dominant form of coronavirus in the UK before Christmas.
At the moment, it represents only about 2% to 3% of cases, but he said overall case numbers would accelerate within a week or two due to its rapid growth.
Prof Ferguson said that with no action, the Omicron wave was likely to peak in January but measures taken in the UK would depend on how severe an infection it turned out to be.
"At the moment, we don't really have a good handle on the severity of this virus, there's a little hint in the UK data that infections are a little bit more likely to be asymptomatic, but we really need to firm up that evidence," he said.
He added that there was a rationale to try to slow down Omicron's spread by telling people to work from home to allow more time to administer booster jabs - but warned another lockdown might be needed.
The talk behind the scenes now is about what needs to be done to slow the spread of Omicron.
This is not about lockdown, rather buying time for more boosters to be given.
So measures such as issuing a work from home directive are certainly being considered.
That's because of how fast cases of the new variant are growing.
Ignore the official total of confirmed Omicron infections - just over 400 - as this is the tip of the iceberg. Less than a fifth of infections are checked for variants.
From testing, data experts believe around 2% of positive cases - approaching 1,000 a day - could be Omicron. And that's just the people who come forward for testing.
What is clear is the numbers are rising rapidly - doubling every two or three days, according to government adviser Prof Neil Ferguson.
There are suggestions the variant is causing milder illness - and that certainly makes sense as reinfections or infections post-vaccination are likely to not be as serious.
But even if that is the case a rapid rise in infections still has the potential to cause more hospitalisations than we are seeing now.
And the uncertainty about that is why it would not be a surprise if the government took action.
NHS chief executive Amanda Pritchard said: "There is a lot we do not know about the Omicron variant but experts believe that even if existing vaccines are less effective, they will give protection."
Dr Jenny Harries, head of the UK Health Security Agency, said boosters were critical to "bolster our defences against this new variant" and urged people to book their first, second or booster jab "without delay".
Almost 21 million people in the UK have now had their booster, official figures show. Some 88.9% of people aged over 12 in the UK have had their first dose and 81% have had their second.
Meanwhile, the NHS is appealing for tens of thousands more vaccinators and volunteers to support the ramped up programme.
Another 1,300 vaccination sites have opened in England since February, bringing the total number of sites to almost 3,000.
In summer, modelling suggested more than 60,000 deaths had so far been prevented in England as a result of the Covid vaccine programme.
Health Secretary Sajid Javid said: "We are halving the gap that people have to wait to get their booster to three months - prioritising those most at risk of serious illness and strengthening our collective defences in light of the Omicron variant, as this virus goes on the advance this winter."