Booster vaccines added to NHS Covid Pass for travel
By Becky Morton
BBC News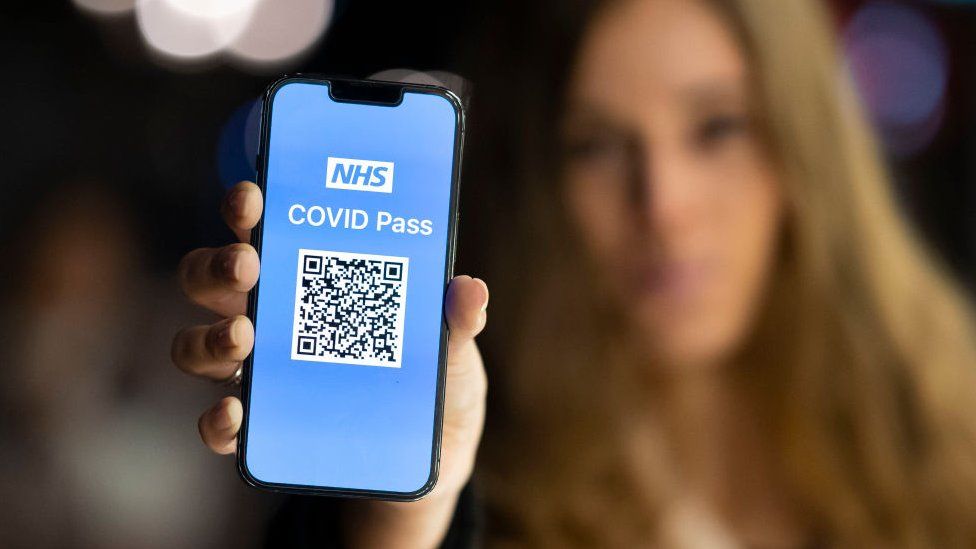 Travellers who have had a booster dose of a Covid jab in England are now able to prove their vaccination status using the NHS Covid Pass.
It enables quarantine-free travel to countries such as Israel, Croatia and Austria, which have a time limit for vaccination status to be valid.
Third doses are not being added to the domestic pass as they are not currently needed to qualify as fully vaccinated.
Booster doses were initially offered to over-50s, front-line health and social care staff and people with health conditions that put them at greater risk from the virus.
More than 13 million booster jabs have been administered in the UK so far.
People can already prove whether they have had a first or second dose, a recent negative test or recently recovered from the virus using the NHS App.
The NHS Covid Pass is used for travel, as well as for entry to some domestic venues which require it. It will not be necessary to show proof of a booster to travel to England.
In England, it is not currently mandatory to show proof of vaccination for any venues. However, it is compulsory for nightclubs and large events in Scotland and cinemas, theatres, nightclubs and large events in Wales.
The Northern Ireland executive has also voted to introduce mandatory Covid passports in venues like nightclubs and cinemas.
Booster jabs now show up automatically for users of the digital Covid pass in England, as of midday on Friday, but the information is not immediately available via the Covid Pass letter service.
The government said this would be updated in due course.
Boosters will appear on the Covid Pass in Wales from 29 November. However, evidence of a third dose is not needed to enter venues in Wales which require a Covid Pass.
Tim Alderslade, chief executive of Airlines UK welcomed the move, saying ensuring travel is as "straightforward as possible is vital".
"However, we still have a way to go to return to pre-pandemic levels of demand," he added.
Paul Charles, chief executive of travel consultancy The PC Agency, said the development was "a major step forward", boosting confidence for people to book trips over the Christmas period.
However, he said the government must "urgently" update the app so teenagers can also prove their vaccination status.
Health Secretary Sajid Javid said: "We want to make it as easy as possible for people to show their vaccine status if they are travelling abroad.
"This update to the NHS Covid Pass will mean people can have their complete medical picture at their fingertips if they are going on holiday or seeing loved ones overseas."
Vaccines minister Maggie Throup urged people to get their booster as soon as they were eligible, saying it was "the best way you can protect yourself ahead of winter".
Results from a UK trial of the Pfizer-BioNTech vaccine found a booster increased protection against symptomatic disease to nearly 95% in those aged 50 and above.
As well as boosters, some people with severely suppressed immune systems are being given a third primary jab as part of their basic vaccination - and they may also be offered a booster at a later date.