Stonewall boss says charity had no real influence on BBC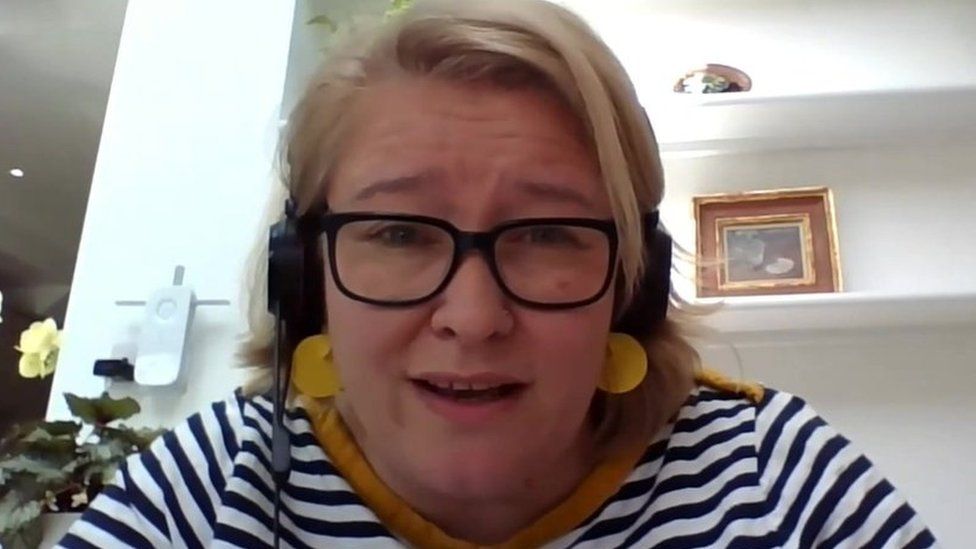 The leader of LGBTQ+ charity Stonewall says the organisation has not had "any real influence" over the BBC's editorial policy and output.
Nancy Kelley said she understood that the BBC left Stonewall's workplace diversity scheme as it could create a perception the BBC was not impartial.
She said the BBC was not aggressively pro-trans rights - with some coverage "tilted the other way".
The BBC has said it is committed to being a leading employer for inclusion.
The corporation said being part of the charity's diversity scheme "has never required the BBC to support the campaigns of Stonewall".
"As a broadcaster, we have our own values and editorial standards," it added.
Ms Kelley, chief executive of the charity since June 2020, was speaking during a wide-ranging interview on BBC Radio 4's Woman's Hour programme - which also covered her thoughts on the opinions of JK Rowling and academic Kathleen Stock.
The Stonewall Diversity Champions scheme is a paid-for programme which advises and assesses on creating inclusive workplaces.
There is also a separate workplace equality index, in which Stonewall scores employers on their diversity efforts.
The BBC said last month it would leave both of Stonewall's schemes because its participation had raised questions about whether it could be impartial on issues the LGBTQ+ charity is campaigning on.
In recent months, Channel 4, Ofcom, the Equality and Human Rights Commission and the Cabinet Office have all made similar decisions.
Ms Kelley said: "I definitely agree that the BBC needs to be seen to be impartial on all issues, it's the national broadcaster.
"It's really important that people can trust it, particularly news programming."
Ms Kelley added: "In reality, I don't think we've had any real influence over editorial policy. It will be lovely to have more, we would love to be able to kind of have a great amount of influence over the way that the LGBTQ stories are covered by everyone."
"We'd love to have more influence in the world, we want to grow more inclusive," she said.
There has also been controversy over a BBC online article, published last month, which asked: "Is a lesbian transphobic if she does not want to have sex with trans women?"
The BBC said at the time it must "ensure debate and make sure a wide a range of voices are heard".
Asked about the example of Stonewall encouraging workplace staff to declare their pronouns at the same time as the BBC was trying to cover the debate around whether that should happen, Ms Kelley said that would have come down to editorial decision-making.
She acknowledged that, if the BBC was effectively being marked down on the charity's equality index for not following Stonewall's guidance, that could create a perception of being on one side or the other.
"Of course I understand how that would create the perception," she said.
"On the other side, what the BBC actually does in terms of its coverage, which I don't think does evidence any sign of being aggressively pro-trans rights. And in fact, some of the coverage has tilted a bit the other way recently."