Lorry driver shortage: Government to lift rules on foreign haulier deliveries
By Francesca Gillett
BBC News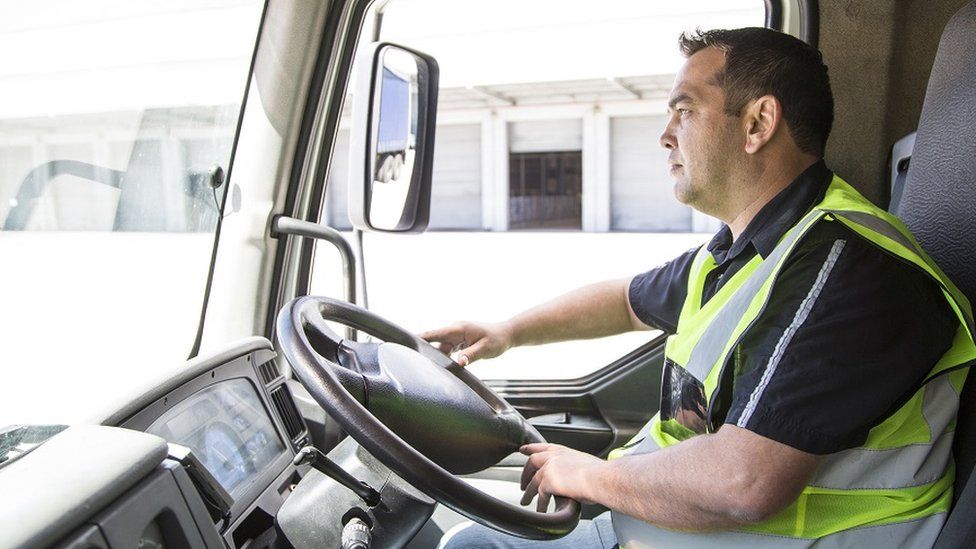 The rules on the number of deliveries overseas lorry drivers can make in the UK are set to be relaxed in a bid to tackle supply chain problems in the run-up to Christmas.
Under the new plans, drivers will be able to make unlimited deliveries or collections within a 14 day period.
Currently EU drivers can only make two pick-ups or drop-offs each week.
It is hoped the changes will happen by December - but UK drivers fear they might lose work to cheaper EU rivals.
The UK's lorry driver shortage - due to a combination of Covid, Brexit and other factors - has affected petrol stations, supermarkets and left containers piled up at Felixstowe Port unable to be moved.
Retailers have also warned there could be shortages of items such as toys at Christmas, with shoppers urged to buy gifts early.
And the first foreign drivers brought in on the visa scheme may not even arrive for another month, sources have told BBC transport correspondent Carrie Davies.
It means foreign HGV drivers that come into the country laden with goods can pick up and drop off items an unlimited number of times for two weeks before they return home.
The changes still need to be approved after a one-week consultation - but if passed they will come into force "towards the end of this year for up to six months", according to the government.
It would mean thousands more HGV deliveries each month, the government said, so more goods - especially food and items that come via ports - can get delivered on schedule.
Transport Secretary Grant Shapps told BBC Breakfast: "Having some additional capacity right now... it is a good idea. This is a quick way of doing it. It doesn't require visas, it's just a common sense measure.
"It is one of very many things. I don't think it is going to undercut or suppress the market."
Mr Shapps said problems with supply chains were a global issue.
He added: "It is very tight but our supply chain is pretty robust. They have worked through coronavirus and they will work through this as well."
But the haulage industry said the measures would undercut British operators.
Rod McKenzie, from the Road Haulage Association, told BBC's Today programme: "Well, I spoke to some of our members last night, and they were appalled. 'Ridiculous', 'pathetic', 'gobsmacked' were some of their more broadcastable comments.
"The government has been talking about a high-wage, high-skill economy, and not pulling the lever marked 'uncontrolled immigration', and to them this is exactly what it looks like.
"Allowing overseas haulage companies and drivers to come over for up to six months on a fortnightly basis to do unlimited work at low rates, undercutting UK hauliers who… are facing an acute driver shortage, rising costs, staff wages.
"So this is about taking work from British operators and drivers and giving it to Europeans who don't pay tax here and pay peanuts to their drivers.
"We don't want cabotage [the transportation of goods in one country by operators from another] to sabotage our industry."
The Unite union has raised the prospect of possible industrial action in protest at what it sees as poor pay and conditions in the industry.
"The treatment of drivers across the board has been nothing short of a disgrace," said Unite general secretary Sharon Graham.
"As the prime minister said recently, the answer to the driver shortage is better wages and improved conditions. This is what we demand.
"Now is the time for action not words. It's time for employers to pay workers a proper rate for the job.
"Unite will be consulting its members before deciding on next steps, including exploring the options for industrial action."
Mr Shapps said the long-term answer to the supply chain issues "must be developing a high-skill, high-wage economy here in the UK".
But talking about the latest measures, he said: "The temporary changes we're consulting on to cabotage rules will also make sure foreign hauliers in the UK can use their time effectively and get more goods moving in the supply chain at a time of high demand."
According to France's finance minister, the UK is faring worse in the supply chain crisis because it left the single market after Brexit.
"We are facing the same situation," said Bruno Le Maire at the G7 meeting in Washington. "But the fact that we are a member of a very important single market helps us facing these bottlenecks."
On Thursday, the government said it was also giving hundreds of foreign abattoir workers temporary visas, to help fix the shortage of workers in slaughterhouses.
The shortage of staff in abattoirs means pigs are not being killed fast enough, and there is not enough space on farms so farmers are having to kill them themselves.
Farmers have already destroyed 6,600 healthy pigs due to a backlog on farms, the National Pig Association said.