Pret allergy death: Parents welcome Natasha's allergy law
By Alex Therrien
BBC News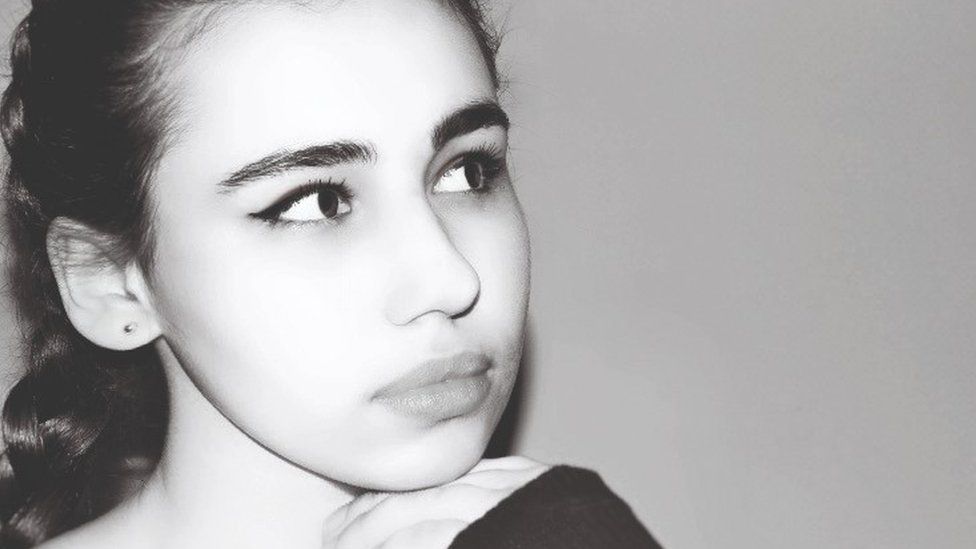 The parents of a teenager who died after an allergic reaction to a Pret a Manger baguette have welcomed the introduction of a new food safety law.
The rules - known as "Natasha's Law" - require full ingredient and allergen labelling on all food made on premises and pre-packed for direct sale.
The change follows the death of Natasha Ednan-Laperouse from anaphylaxis after she ate sesame in a baguette.
Her parents said she would be "very proud" of the new regulations.
Natasha's mother, Tanya Ednan-Laperouse, told BBC Breakfast that she and husband Nadhim had been waiting for this day for years. "Today we really feel like we've achieved it and it feels really special," she said.
Mr Ednan-Laperouse said they had set up a parliamentary petition online calling for an allergy tsar as a "matter of life and death".
"This is not what a great British nation should accept, that young people can die in this day and age because of the food they eat, when all it takes is more joined-up thinking to better protect them," he told BBC Breakfast.
The couple set up the Natasha Allergy Research Foundation and campaigned for the change in law after a food labelling loophole left Natasha unaware that the baguette she ate contained sesame seeds.
Natasha, from Fulham, west London, ate an artichoke, olive and tapenade baguette bought from a Pret shop at about 07:00 BST in Terminal 5 at Heathrow Airport on 17 July 2016, West London Coroner's Court heard.
She began to feel ill during a British Airways flight, and suffered a cardiac arrest. Despite her father administering two EpiPen injections, she died later the same day.
The inquest heard the baguette contained sesame - which Natasha was allergic to - baked into the dough, but the ingredient was not listed on the packaging.
Pret did not label "artisan" baguettes as containing sesame seeds despite six allergic reaction cases in the year before Natasha died, the inquest heard.
The regulations Natasha's law, all food retailers will be required to display full ingredient and allergen labelling on every food item made on the premises and pre-packed for direct sale - including sandwiches, cakes and salads.
Previously, non pre-packaged fresh food made on the premises did not need to be individually labelled with allergen or ingredient information.
By Colletta Smith, consumer affairs correspondent
Over the last 18 months cafes and restaurants have had to deal with a raft of new legislation because of the pandemic, faced huge losses during periods of closure, and had to make significant changes to the way they operate to cope with changing customer habits.
But food labelling is a hugely important issue for a growing number of consumers who suffer from allergies. They've been asking for clearer labelling for years, and understandably they don't want to wait any longer.
The regulator is trying to be flexible with an industry already under strain, so we're unlikely to see fines straight away.
But the Food Standards Agency will expect cafes and restaurants to at least be attempting to sort out their labelling and comply with the law before the end of the year.
Mr Ednan-Laperouse said Natasha's Law would be vital in helping to protect the two to three million people in the UK living with food allergies from life-threatening allergic reactions.
He said: "It is about saving lives and marks a major milestone in our campaign to support people in this country with food allergies.
"This change in the law brings greater transparency about the foods people are buying and eating; it will give people with food allergies confidence when they are buying pre-packaged food for direct sale such as sandwiches and salads. Everyone should be able to consume food safely."
Mrs Ednan-Laperouse said: "Natasha was always extremely careful to check the food labels and until that terrible day in 2016 hadn't had a severe allergic reaction for over nine years.
"Nothing can bring Natasha back, and we have to live with that reality every day, but we know in our hearts that Natasha would be very proud that a new law in her name will help to protect others."Food Standards Agency chief executive Emily Miles said: "If these changes drive down the number of hospital admissions caused by food allergies, which have seen a threefold increase over the last 20 years, and prevent further tragic deaths such as Natasha's, that can only be a positive thing."
A Pret a Manger spokesman said it has fully rolled out ingredient labelling, and this process began in 2019.