Afghanistan: Pen Farthing 'so happy' as rescue workers escape
By Joseph Lee
BBC News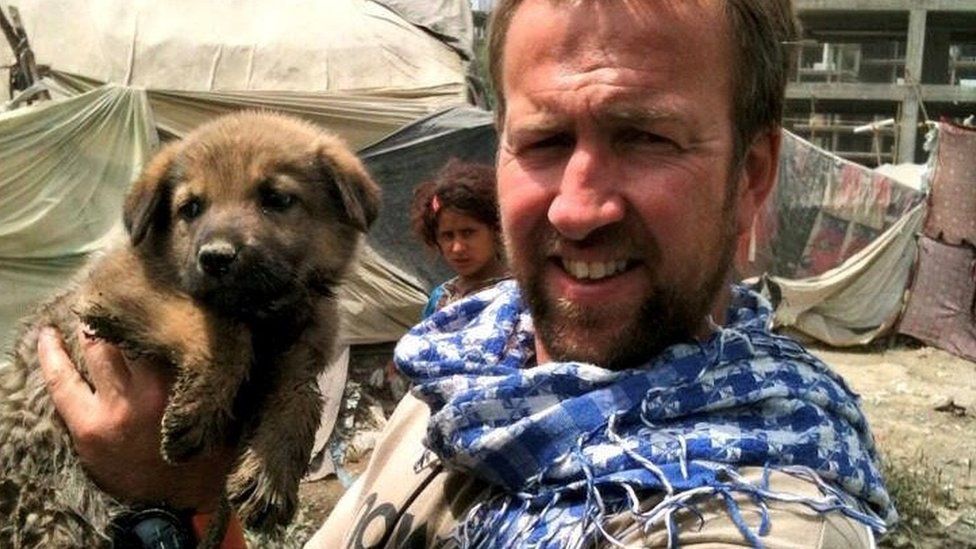 Former Royal Marine Paul "Pen" Farthing said the campaign to evacuate workers at his animal shelter from Afghanistan has been "a complete success".
Last month, Mr Farthing was forced to leave behind 68 staff and family members when he and some 150 animals were evacuated from Kabul.
The staff are now in Pakistan in the care of the British High Commission.
Foreign Secretary Dominic Raab said they would be brought to the UK in the coming days.
Mr Farthing's Nowzad animal shelter in Kabul - which cared for dogs, cats and donkeys, some of them belonging to UK servicemen and women - was a cause taken to the hearts of many Britons as the Taliban seized control of Afghanistan.
But when the Afghan staff were unable to leave during the frantic mass evacuation, concerns were raised that animals had been prioritised over people.
Mr Farthing, who insisted that his evacuation mission Operation Ark was intended for both people and animals, said the staff are "now safely in Islamabad" and being supported by the British High Commission.
He said he had seen pictures of staff and family members - who include 25 children and a newborn baby - after their arrival in Pakistan and the smiles on their faces "just tell you everything you need to know".
The operation had been a "complete success", he said. "This is absolutely mind-blowing. It has still not really sunk in."
Mr Raab said on Twitter that he was pleased the staff of Nowzad had successfully crossed the border into Pakistan, adding that the British High Commission staff are assisting them and "we look forward to welcoming them to the UK in the coming days".
The Afghan staff had previously made it to the airport with paperwork from the British government to leave, but Mr Farthing said last-minute changes by the US authorities to require a passport with a visa meant they were not allowed into the airport.
Despite the wave of public support for the animal shelter, the evacuation mission had caused controversy, with Defence Secretary Ben Wallace saying that some of Mr Farthing's supporters had "taken up too much time" of senior commanders as they struggled to get to grips with a humanitarian crisis.