Channel crossings: Migrant boats could be turned back in new UK move
By Francesca Gillett
BBC News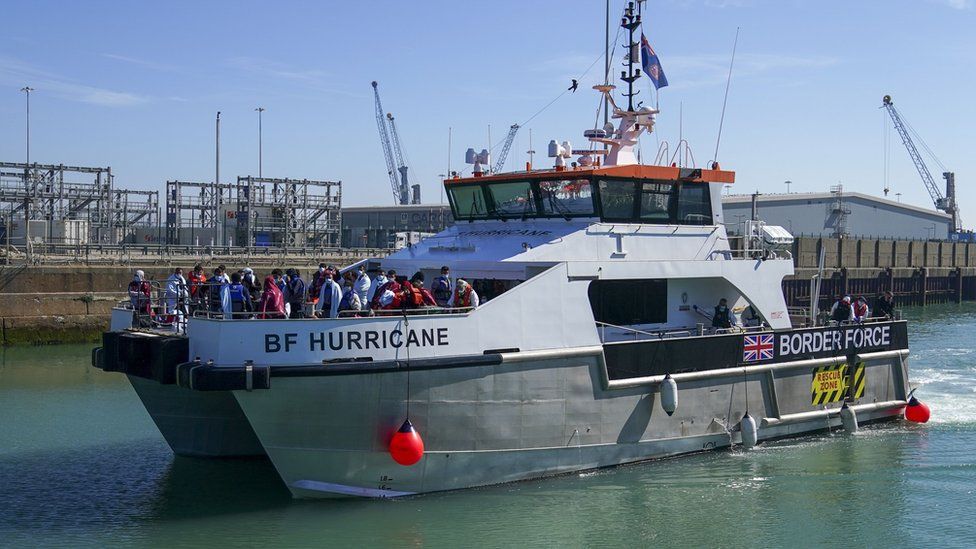 Boats carrying migrants across the English Channel could be turned back from the UK, if personally approved by Home Secretary Priti Patel.
The government has authorised Border Force officials to use the new tactic - but only in limited circumstances.
However France is strongly against the plan, saying it breaks maritime law and accusing the UK of blackmail.
But Boris Johnson's spokesman said any plans would be "safe and legal" and would comply with the law.
Rising numbers of migrants have been crossing the English Channel in recent months - and so far this week more than 1,500 people have crossed by boat.
The Channel is one of the most dangerous and busiest shipping lanes in the world. Many migrants come from some of the poorest and most chaotic parts of the world, and many ask to claim asylum once they are picked up by the UK authorities.
Government sources have confirmed to the BBC that a Border Force team has been training for months to begin the operation.
It is understood that the final training may take place within days, subject to the weather - meaning the tactic would then be ready to be used whenever is it practical and safe to do so.
But France says the move flouts international maritime law, which says people at risk of losing their lives at sea must be rescued.
France's interior minister Gérald Darmanin - who met Ms Patel on Wednesday for talks on the migrant crisis - also accused the UK of financial blackmail.
He was referring to a deal the UK and France struck over money earlier this year, when the UK promised to pay France £54.2m for extra action such as doubling the number of coast patrols. Since then, Ms Patel has warned that Britain could withhold the money, unless more boats are intercepted.
"UK's commitment must be kept," said Mr Darmanin. "I clearly said it to my counterpart Priti Patel. The friendship between our two countries deserves better than posturing which undermines the cooperation between our ministries".
The government's lawyers say turning boats back would be legal in limited and specific circumstances - although they have not confirmed what these will be.
Because the legal and safety risks are so high, it is also understood that Border Force chiefs have asked Ms Patel to personally support decisions to use the tactic, meaning she would have to be available to take a call from a Border Force vessel if and when they believe the tactic can be used safely.
The UK has a legal right to intercept people at sea where necessary to prevent crime or to protect borders.
But whatever the legal advice the UK government has received on migrant boats, it's questionable whether such an operation could continue once there is a clear sign of danger.
Border Force commanders, like everyone else at sea, are under an international legal obligation to protect life where possible.
So their window of opportunity to run a push-back operation could be very tight.
But more importantly… is this really ever going to happen?
The intervention from the French interior minister may have just sunk the operation before a single Border Force ship has set sail.
There are no international waters in the Dover Strait - so any operation would need French cooperation.
And Gerald Darmanin's statement makes clear France's opposition to any confrontation of dinghies in one of the world's most dangerous shipping lanes.
The tactic has never been used before in the English Channel, but it has been in the Mediterranean, said the Immigration Services Union (ISU) which represents borders, immigration and customs staff.
Lucy Moreton from the ISU said she would be "very surprised" if it ends up being used at all - calling it "dead in the water".
"There are understandably a lot of constraints around it, and you cannot do this with a vessel which is in any way vulnerable.
"But more importantly, you also need the consent of the French to do it. Because as you turn the vessel back towards France, when it crosses the median line it has to be intercepted and rescued by the French, and it appears the French will simply not engage in this."
What happens to migrants in the English Channel?
If migrants are found in UK national waters, it is likely they will be brought to a British port
If they are in international waters, the UK will work with French authorities to decide where to take them
Each country has search-and-rescue zones
An EU law called Dublin III allows asylum seekers to be transferred back to the first member state they were proven to have entered but the UK is no longer part of this arrangement and has not agreed a new scheme to replace it
Ms Patel met Mr Darmanin, on Wednesday for talks on the migrant crisis - but the two sides failed to agree any new measures.
More than 12,600 migrants have made the journey across the English Channel so far this year.
Charities urged the Home Office to take a "more humane and responsible approach" towards asylum seekers.
Amnesty International UK has said people have the right to seek asylum in the UK and "only make dangerous journeys and rely on smugglers because there are no safe alternatives made available to them".
And the head of the Refugee Council said: "Rather than spending time, resource and immense effort on pushing these very vulnerable people away, this government must give people options for safe routes to stop such perilous journeys in the first place.
"Refugee family reunion is one such safe route that has saved thousands of lives. Resettlement is another. We urge this government to rethink its brutal policy and think about the individual lives at the heart of these desperate journeys."
Labour also said the tactic risks lives, adding: "That the home secretary is even considering these dangerous proposals shows how badly she has lost control of this situation."
The Home Office said it continues to evaluate and test a range of safe and legal options to find ways of stopping small boats making the journey.
The prime minister's spokesman said the same, and that the UK's activities "comply with international and domestic law".
And the government added that it needs to use every possible tactic at its disposal to tackle people smuggling.
She will host the final day of the G7 interior ministers meeting on Thursday, with illegal migration anticipated to be the focus.