Covid-19: UK passes 7 million confirmed Covid cases
By Joseph Lee
BBC News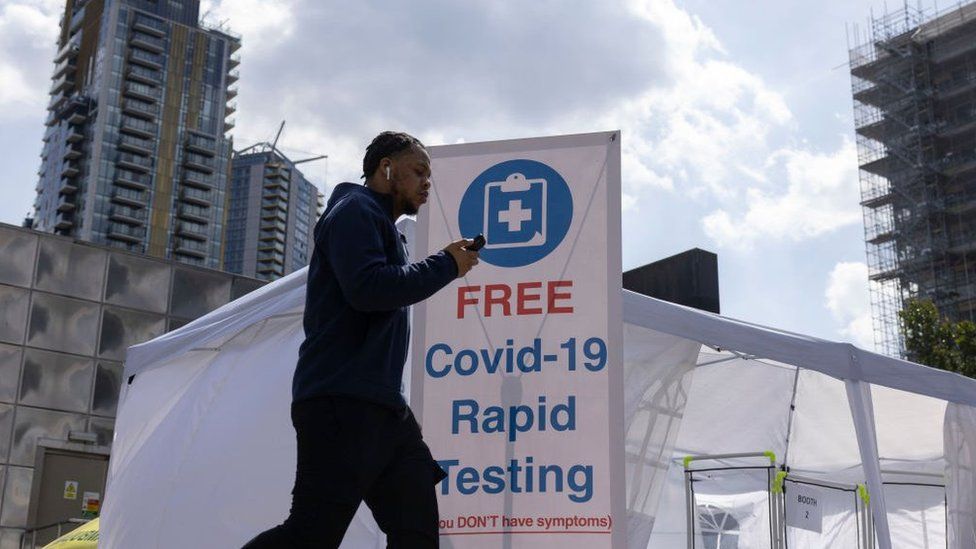 More than seven million confirmed cases of coronavirus have been recorded in the UK since the pandemic began, official figures show.
It comes as another 41,192 positive tests were reported on Monday, along with 45 Covid-related deaths.
But the real number of people infected during the pandemic is likely to be much higher, partly due to the lack of testing in the early stages.
Covid-19 has been named on the death certificate of 156,119 people.
The most recent figures show that there are 7,606 Covid-19 patients in hospital, with 1,034 on ventilators.
Many cases during the pandemic have not shown up in the official daily count because testing only became available in summer 2020, with only people in hospital being tested before then.
Even as testing became widespread, cases will have been missed as some people did not develop symptoms or had such a mild illness they did not realise they were infected.
Modelling by the University of Cambridge suggests 17 million people in England have been infected since the pandemic began - about 30% of the population.
The milestone of seven million confirmed cases came as the vaccine minister said a vaccine booster programme was "ready to go".
Nadhim Zahawi told MPs that third jabs were the "most important piece of the jigsaw" remaining to help end the pandemic.
He said the NHS was primed to roll out boosters - but the government was awaiting scientific advice for the scheme to be signed off.
The government had "ambitious" plans to give Covid and flu vaccines at the same time, he said.
Mr Zahawi said a hold-up with one of the UK's largest suppliers of seasonal flu vaccines would "not delay the overall flu vaccination programme at all".
But Mr Zahawi told the House of Commons Seqirus had "a border issue with their Spanish factory".
He said: "They are meeting with the Spanish regulator to see what is the issue. They are being very careful and estimating a one or two weeks delay.
"It will not delay the overall flu vaccination programme at all, their German and Belgian supply chain has been flowing normally and they are one supplier."
Mr Zahawi also refused to be drawn on whether all 12 to 15-year-olds would be offered a Covid jab.
In response to questioning from Labour's Jonathan Ashworth, Mr Zahawi said the NHS was prepared to administer a vaccine within five working days of any recommendation.
It comes as pupils across the UK have returned to school, with many in England and Wales resuming classes on Monday.
Many Covid measures have now been lifted in schools, including the requirement for face masks and isolation bubbles.
Meanwhile, Monday was the busiest morning on the London Underground since March 2020, Transport for London said.
Tube passengers were up 20% and bus passengers up by 40% from the previous week, accounting for the bank holiday, but numbers were still less than half of pre-pandemic numbers on the Underground.