Hire UK workers to drive lorries, minister tells firms
By Emma Harrison & Doug Faulkner
BBC News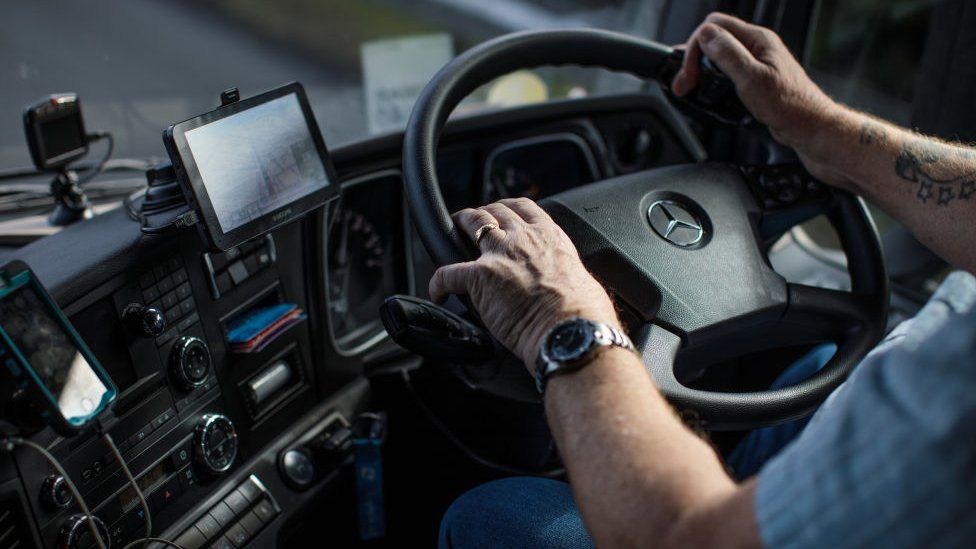 Businesses have been told to prioritise hiring UK-based workers rather than relying on labour from abroad to fix a shortage of lorry drivers.
Business Secretary Kwasi Kwarteng rejected calls from firms to loosen immigration rules, saying it would be a "short-term temporary solution".
But Logistics UK says it can take nine months for new drivers to qualify and there is a backlog of driving tests.
A growing number of firms have said the issue is causing product shortages.
A combination of Covid, post-Brexit immigration rules, tax changes and other factors has meant there are not enough drivers to meet demand, with the shortages affecting well-known brands such as Nando's and McDonald's, as well as supermarkets.
Responding to the groups, Mr Kwarteng said HGV drivers would not be eligible for a skilled worker visa or be added to the shortage occupation list to allow firms to recruit them from abroad.
While this would help in the short term, he said businesses should instead be "utilising the strength of our domestic workforce" and looking to employ those facing an "uncertain future" when the furlough scheme ended next month.
Mr Kwarteng said the government was offering £7,000 per apprenticeship for people training to be lorry drivers, as well as grants to train military service leavers, ex-offenders and the long-term unemployed to move into jobs where there were labour shortages.
Logisitics UK said it was "frustrated" with Mr Kwarteng's response and it estimated the backlog of HGV driver tests could take until early 2022 to clear.
"The industry needs drivers now, and we have been urging the government to replicate its temporary visa scheme, introduced for agricultural workers, for logistics to keep trucks and vans moving in the short term," a statement said.
As well not being included in the visa scheme, reforms to the IR35 tax rules have also made it less attractive for drivers from elsewhere in Europe to work or be employed in the UK.
The government said the UK had a "highly resilient food supply chain and well-established ways of working with the food sector to address supply chain disruptions.
A spokeswoman said it had announced measures to help tackle the HGV driver shortage, including plans to streamline the process for new drivers to gain their licence and to increase the number of tests able to be conducted, but said most solutions were likely to be driven by industry.
What is the skilled worker visa?
The UK's skilled worker visa allows a person to stay in the UK to do an eligible job with an approved employer.
Workers must meet criteria, including having a "certificate of sponsorship" from a UK employer approved by the Home Office.
There is also a shortage occupations list, which includes jobs in healthcare, education, science and engineering. HGV drivers are not on this list, which means they are excluded from the visa.
The Road Haulage Association has estimated there is a shortage of more than 100,000 drivers in the UK, which had around 600,000 before the pandemic.
On Friday supermarket chain Morrisons became the latest company to join the growing chorus of calls for drivers to be eligible for Skilled Worker visas to allow them to work in the UK.
The National Pig Association told the BBC any suggestion that people coming off furlough could solve a shortage of meat processors was not realistic.
Tim O'Malley, managing director at food firm Nationwide Produce, said the industry needed to make its jobs more attractive to UK workers.
He said: "If we are going to increase pay and working conditions to attract British workers then we are going to have to pay more for our food, we are going to see food price inflation."
Business groups in logistics and the food sector have repeatedly said they do want to grow more of a UK-based workforce - something the government keeps saying must happen.
But firms insist that will take time and they can't wait. They say a shortage of HGV drivers, that's been steadily building in the background due to a cocktail of factors including an ageing pool of labour, has been sharply exacerbated by both the pandemic and post-Brexit immigration rules.
In other areas where there are job vacancies, such as meat processing, it's proving extremely hard to attract domestic workers who are prepared to do the job, or have the right skills.
That's why we're hearing increasingly loud calls for short-term solutions. The government has so far rejected any changes which involve making it easier for EU migrant workers to fill the gaps.
Businesses say they have spent money on bumping up wages to compete for staff. But the continuation of that will mean higher prices. One fruit and veg distributor told me: "The end of cheap labour means the end of cheap food."