Reports of sex abuse between children double in two years
By BBC Panorama
Reporting team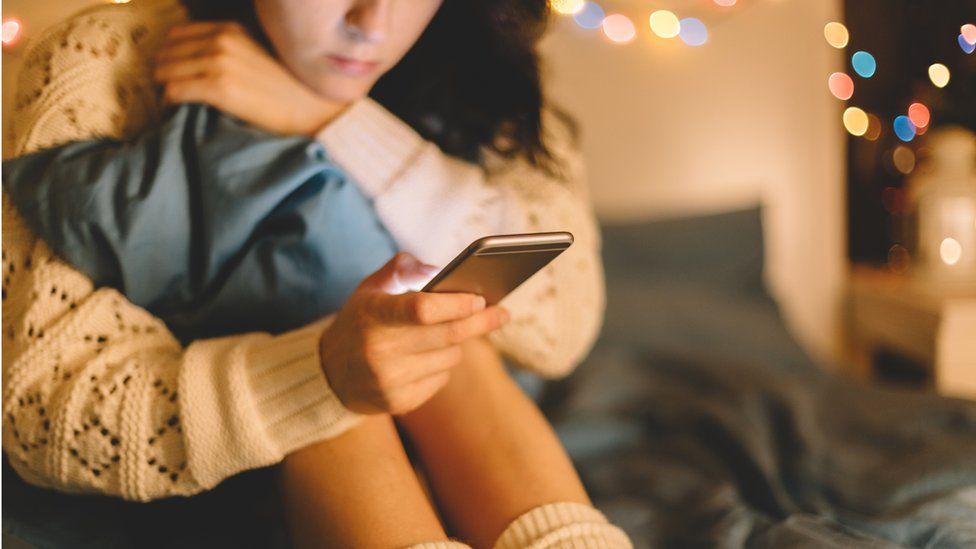 Reports of children sexually abusing other children doubled in the two years to 2019, according to police figures obtained by BBC Panorama.
The programme has followed up on research from 2017, when police recorded almost 8,000 reports of abuse among under-18s in England and Wales.
Yearly reports have risen to between 15,000 and 16,000, but cases fell in 2020-21 during the pandemic.
In about 10% of reported cases the alleged abuser was aged 10 or under.
And overall, a big majority of cases involved boys abusing girls.
Thirty-four of the 43 police forces in England and Wales responded to Freedom of Information requests asking for the number of sexual offences reports, including rape and sexual assault, where both the alleged perpetrator and victim were under 18.
The figures did not include the online offence of non-consensual sharing of private sexual images or videos.
The Labour MP and former teacher, Emma Hardy, said: "I still think that those figures might be an underestimation of the extent of the problem, because not all cases ended up going to the police. Not all things are reported."
Dr Rebekah Eglinton, chief psychologist for the Independent Inquiry into Child Sexual Abuse, said unwanted touching, as well as being pressured into sharing nude photos, had become a part of everyday life for children "to the point where they wouldn't bother reporting it".
"What children have said to us is that sexual violence is now completely normalised through social media platforms [and] through access to online pornography," she told Panorama.
Figures collated from the FOI responses of 38 police forces between April 2016 and March 2017 showed there were 7,866 reports of sexual abuse among children.
Two years later, in 2018-19, the number of reports had doubled to 16,102.
In the latest full year of data, 2020-21, some 10,861 reports of abuse were made, despite months of lockdown and closed schools due to the Covid pandemic.
Analysis of the new figures shows about nine in 10 of the alleged abusers were boys. And the abuse was carried out on girls in about eight in 10 cases.
Danielle* was about 12 years old when she was harassed and sexually assaulted for a year by a boy from her school.
"Every time we met he groped me and touched me up. He would ask if we could have sex, and I would always say no, but he would just end up just touching me anyway," she says.
"We were walking up the stairs at one point and he grabbed up my skirt and it really made me upset. I started crying at that point, I think it felt like I had no space."
She began self-harming, but she didn't want to tell her parents or her teachers about the abuse.
"I thought that I would get in trouble. I just thought I was the one to blame, they would just get very angry with me and they wouldn't understand," she says.
Eventually, she told her teachers what had been happening. She says they did not inform the police or her parents, and said she and the boy should meet to apologise to each other.
"It was a very small meeting room that we were sat in," Danielle says. "I don't remember looking at him. The meeting itself included just one teacher and she just kind of like said, 'Oh you know, just talk about your feelings and just work things out between you two.'"
Danielle has since told her parents and left the school.
The website has now collected more than 50,000 testimonies.
Soma Sara, who set up the project, told BBC Panorama: "I think there is a lack of understanding of the kind of impact of this kind of behaviour, even the smaller transgressions of sexual bullying and harassment that happens to young people.
"But those experiences have an impact. They are traumatising, and especially when they perpetrated over a long period of time."
In April, the NSPCC set up a helpline for school pupils, commissioned by the Department for Education, in response to the testimonies collated via the Everyone's Invited project. The charity says it has been contacted 653 times since its launch.
Tips for starting a conversation with your child
Conversations around boundaries and consent will depend on many things, including how old and mature the child is, says the children's charity, the NSPCC. But they have a few tips to make conversations easier:
Pick a time when your child's relaxed, not too tired, and when there aren't other people in your family around. You could also choose a neutral place, like on a walk or in the car
Listen openly and non-judgementally - and reassure them that they can tell you anything they need to and you won't blame them in any way
Explain that consent both online and offline means actively saying yes, using both words and body language
Explain that they should always get consent from the other person for any type of sexual activity, and those involved have the right to change their mind at any time
Remember - children under 13 cannot legally consent to any type of sexual activity
Try to have realistic expectations - think regular, shorter conversations rather than trying to cover everything at once. And it might not go as well as you're hoping, but give it time as they might restart the conversation a few days later
If a child discloses abuse off the back of a conversation, it's important to let them know it's not their fault, that they've done the right thing by telling you and that you'll take them seriously. Explain to them what you'll do next and report it as soon as possible to the NSPCC helpline or police so the details are fresh in your mind and action can be taken quickly.
It found that girls in particular were frustrated that there was not clear teaching about what constitutes acceptable and unacceptable behaviour.
And many teachers said they lacked knowledge on topics such as consent, healthy relationships and sharing of sexual images.
Last year the government introduced a new mandatory curriculum for England, covering topics like sexting and porn.
Grace Academy in Solihull runs a project in conjunction with a charity in an effort to stop problems arising, and has set up schemes to address potentially harmful sexual attitudes and behaviour at the school before it starts.
This includes a campaign to call out sexual bullying, and pupils can scan a code on their phone to report abuse anonymously.
But head teacher Darren Gelder said schools can only do so much: "We do seem to be becoming the point of call really for a very, very wide and varied range of societal challenges that have come at the door of schools.
"I don't think anyone is shying away from that in education, but obviously we have limited resources."
Children's minister Vicky Ford told Panorama that schools were very clear about the government's safeguarding guidance, saying training was available and the government would be rolling out extra support to designate safeguarding leads in another 500 schools.
She said: "We've strengthened [guidance] every year, specific advice on keeping children safe and education from sexual abuse."
She added the government had also set up partnerships so that schools can work together with police, health authorities and social services on safeguarding issues.
In Scotland, Wales and Northern Ireland, teacher guidance on abuse between pupils is less comprehensive than in England.
The Welsh government said it had issued guidance to support schools in creating a safe learning environment for children.
The Scottish government said it was working with charities Rape Crisis Scotland and Zero Tolerance to pilot a new approach to tackling gender-based violence in schools.
In Northern Ireland, a spokesman from the Department of Education said they had been "engaging with other UK jurisdictions on actions being taken in response to the Everyone's Invited website and is currently considering… what specific action is required."
If you or someone you know has been affected by any of the issues in this article, information and support is available via the BBC Action Line.