Met Office issues first UK extreme heat warning
By Katie Wright
BBC News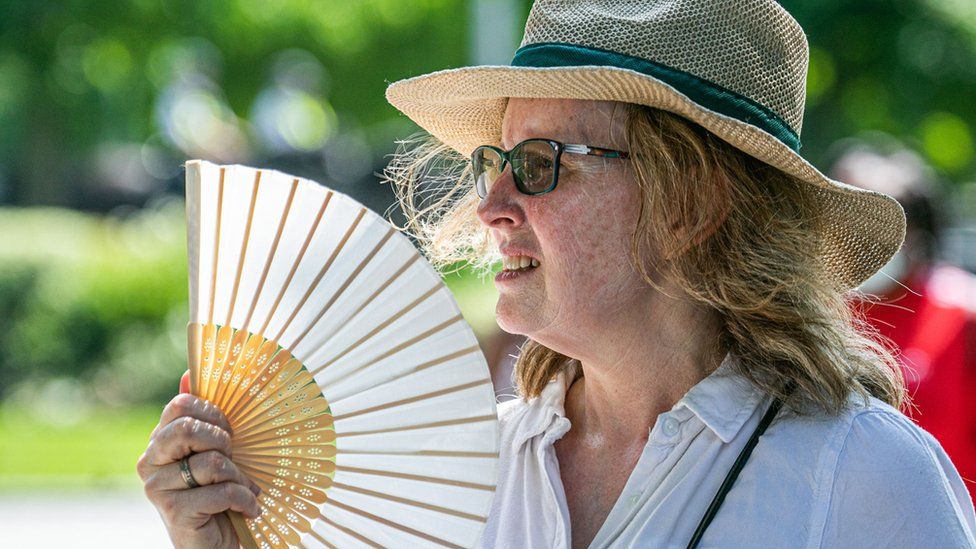 The Met Office has issued one of its new-style extreme heat weather warnings for the first time for parts of the UK.
The amber warning covers large parts of Wales, all of south-west England and parts of southern and central England.
It will be in place until Thursday, when temperatures are expected to peak.
It warns of the potential impact of the heat on people's health, as the UK experiences a prolonged period of sweltering conditions.
All four UK nations recorded the hottest day of the year over the weekend, and forecasters warned temperatures would continue to climb and could reach 33C (91.4F) in some western areas.
Steven Ramsdale, from the Met Office, said: "The high temperatures are going to continue through a large part of this week.
"Many areas will continue to reach heatwave thresholds but the amber extreme heat warning focuses on western areas where the most unusually high temperatures are likely to persist."
The UK's highest temperature of the year so far was recorded on Sunday at Heathrow, where it reached 31.6C (88.9F), while on the same day Wales hit a high of 30.2C (86.4F) in Cardiff.
On Saturday, Northern Ireland saw its hottest day since records began with 31.2C (88.1F) in Ballywatticock, County Down, while Scotland reached 28.2C (82.8F) in Threave, in Dumfries and Galloway.
It comes after a record-breaking number of heatwave deaths were recorded in England last summer.
The Met Office warning advises that people vulnerable to extreme heat are likely to experience "adverse health effects", while the rest of the population could suffer heat exhaustion and other heat-related illnesses.
It also warns that more people are likely to visit coastal areas, lakes and rivers leading to an "increased risk of water safety incidents".
Chloe Brimicombe, a PhD heatwaves researcher at the University of Reading, said there were likely to be increased hospital admissions over the next few days due to heat stress - which is a build up of body heat as conditions prevent people from cooling down - and other heat-related health issues.
She said: "Vulnerable people do die. Outdoor workers can get long-term kidney disease. We can also see a rise in air pollution, which affects people's lungs."
Heatwaves are becoming more likely and more extreme because of human-induced climate change.
The world has already warmed by about 1.2C since the industrial era began, and temperatures will keep rising unless governments around the world make steep cuts to emissions.