Covid: PM and chancellor not isolating after Javid test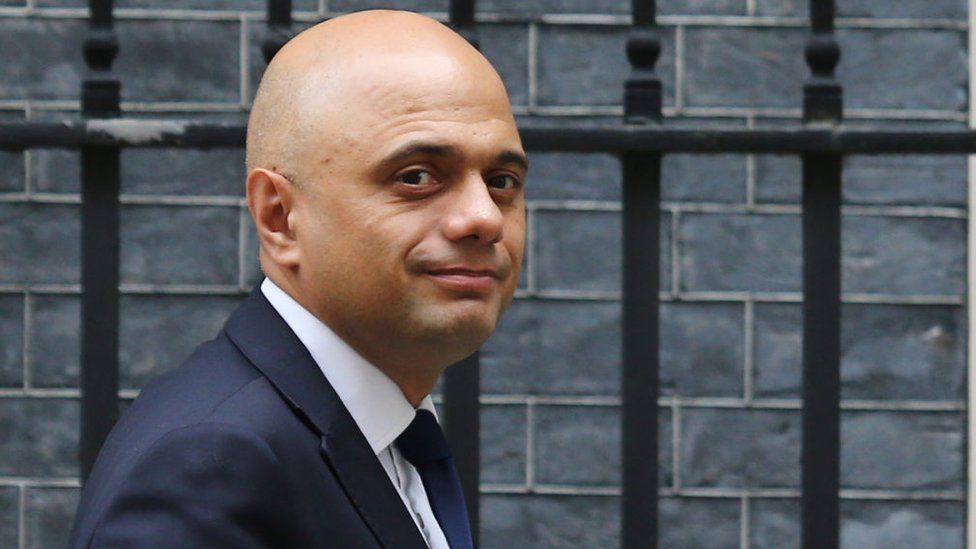 The prime minister and chancellor will not be self-isolating after contact with Health Secretary Sajid Javid, who has tested positive for coronavirus.
Downing Street said the pair would take part in a pilot programme, where daily tests replace self-isolation.
They will have to self-isolate when not working and will only conduct essential business, a spokesman said.
Labour said the public would think this means there is "one rule for them and another for the rest of us".
Mr Javid tested positive on Saturday morning after a meeting at Downing Street the day before, and both Boris Johnson and Rishi Sunak were contacted by NHS Test and Trace as his contacts.
Downing Street is among 20 private and public sector organisations - including Network Rail, Transport for London and Border Force - taking part in a pilot where close contacts of Covid cases take daily tests.
Workplaces need a testing system in place for asymptomatic people and individuals taking part must self-isolate when not working.
Number 10 said: "They will be participating in the daily contact testing pilot to allow them to continue to work from Downing Street. They will be conducting only essential government business during this period."
Case numbers are continuing to rise ahead of the lifting of legal rules on social contact in England on Monday, and businesses have raised concerns about staff shortages due to the numbers of people self-isolating.
Opposition parties criticised the decision to allow the prime minister and chancellor to escape the normal self-isolation requirements.
Labour's shadow health secretary Jonathan Ashworth told the BBC's Andrew Marr Show parents whose children were missing school or businesses short of workers would be thinking "it's one rule for them and another for the rest of us", with politicians having access to "VIP testing".
He said ending almost all legal restrictions on Monday while cases surge is "reckless, like putting your foot down on the accelerator while taking your seat belt off".
Liberal Democrat leader Sir Ed Davey said: "How about the school teachers, transport workers and health workers getting a chance to be part of this test pilot, or is it only for the privileged few?"
But Housing Secretary Robert Jenrick, stepping in for Mr Javid on the Andrew Marr Show, said: "The scheme is a well known and long-standing one, it's not just available for politicians."
He said his department was not part of it and "the normal rules would apply to me as you would expect".
Mr Jenrick said the government was ending self-isolation in England for entire school bubbles on Monday while from 16 August fully vaccinated people will not have to self-isolate if a close contact tests positive.
Mr Javid, who has received both vaccine doses, posted on his Twitter feed on Saturday to say that he had taken a lateral flow test after feeling "a bit groggy" on Friday evening, describing his symptoms as "very mild".
He later tweeted that the positive result was confirmed by a PCR test.
As a result, Test and Trace staff looked at his recent close contacts - for example anyone he had been within 1-2m of for more than 15 minutes - and whether they needed to self-isolate as well.
In addition to the meeting at Downing Street, Mr Javid had been working from his office at the Department of Health and Social Care in Whitehall last week and was in the Commons chamber three times.
He is also known to have visited a care home in south London on Tuesday. Aashna House in Streatham has a 100% vaccination rate among staff and residents, however.
While social-distancing rules will end on 19 July, requirements to self-isolate will only be eased for fully vaccinated people four weeks later, and guidance will advise that face coverings should still be worn in enclosed spaces such as in shops and on public transport.
But the government is facing growing criticism over its plans.
There have been warnings that the UK may need to re-impose measures in the autumn, with England's deputy chief medical officer, Prof Jonathan Van-Tam, suggesting a "bumpy winter" could lie ahead.
Mr Javid said people who feel groggy or come into contact with someone who is positive should take a lateral flow test.
Lateral flow tests provide a quick result, using a device similar to a pregnancy test and are intended for use in those without symptoms, according to the NHS.
PCR tests are mainly used when people have coronavirus symptoms or have already had a positive lateral flow result, and are sent to laboratories to be checked. The NHS suggests people do a lateral flow test twice a week to check if they have the virus.
The Liberal Democrats said that Mr Javid's positive test shows that "no-one is safe from this deadly virus" and urged the government to reconsider the lifting of measures.
Health spokeswoman Munira Wilson said: "By easing all restrictions with cases surging, they are experimenting with people's lives."
Meanwhile, transport unions have warned there will be "dire consequences" in the next few days as infection rates increase, impacting staff numbers.
The Metropolitan Line on the London Underground was suspended on Saturday when control room workers were contacted through the NHS Test and Trace app to self isolate.
The UK recorded 54,674 cases on Saturday - following 51,870 new cases on Friday - as well as 41 deaths within 28 days of a positive coronavirus test.
It is the second day running that the UK recorded more than 50,000 daily cases - a figure not reached since mid-January.
Scotland will move to level zero of Covid restrictions on Monday, meaning pubs and restaurants can open until midnight. However, limits on outdoor meetings will remain, the return of workers to offices will be delayed and face coverings will still be mandatory.
Most Covid rules in Wales are set to be scrapped from 7 August, but face coverings will still be required in most public places and on public transport.
In Northern Ireland, restrictions will be eased further on 26 July, if approved at a review on 22 July.