Covid: Doctors want to keep some measures after 19 July
By Kathryn Snowdon
BBC News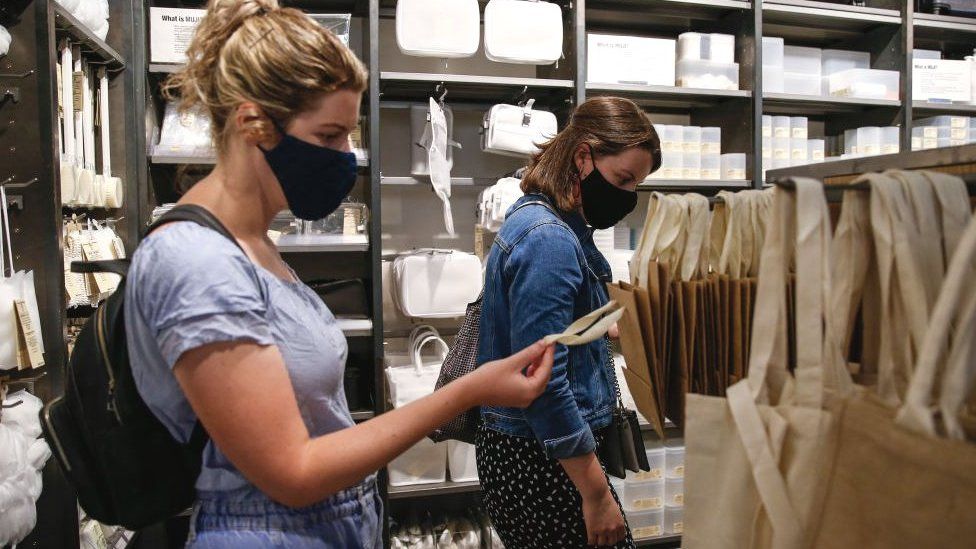 Some Covid measures should be kept in place in England beyond 19 July - when all legal restrictions are due to be lifted, a doctors' union says.
The British Medical Association is calling for the continued use of face masks and new ventilation standards.
It says it is crucial to protect the NHS, health and education amid what it says is an alarming rise in cases.
It comes as ministers consider allowing fully jabbed people to avoid isolation and testing if exposed to Covid.
A Downing Street source said the need for isolation or daily tests for those who had received two coronavirus injections could be removed after the final step of lockdown easing.
Prime Minister Boris Johnson said on Thursday that he hoped England would be able to return to as close to the pre-pandemic status quo as possible on 19 July - the fourth and final stage of lockdown lifting in England.
But he hinted that some "extra precautions" might still be needed.
Weekly coronavirus cases in the UK are up 74% on the previous seven days, according to government figures.
And on Friday, the UK recorded 27,125 new cases and another 27 deaths within 28 days of a positive test.
The number of people admitted to hospitals in England with Covid-19 has risen by 55% over the past week, the British Medical Association (BMA) says.
Dr Chaand Nagpaul, BMA council chairman, said the easing of restrictions was not a binary "all or nothing" decision and that "sensible, cautious measures" were still required.
He said: "As case numbers continue to rise at an alarming rate due to the rapid transmission of the Delta variant and an increase in people mixing with one another, it makes no sense to remove restrictions in their entirety in just over two weeks' time.
"The promise was to make decisions based on data and not dates, and while we were pleased to see the government react to data in delaying the easing on 21 June last month, ministers must not now simply disregard the most recent, damning numbers by rushing into meeting their new 19 July deadline."
"Targeted measures" put forward by the professional body for doctors include requiring people to continue wearing face coverings in enclosed public spaces, such as shops and on public transport.
The BMA also urges the government to improve public messaging on how the virus spreads and the importance of good ventilation - including the setting of legal standards.
Dr Nagpaul urged ministers not to throw away the progress made in the vaccination programme.
He said more time was needed to roll out jabs, adding the country was "still some way from protecting enough of the population".
Twice as many coronavirus patients were on ventilators now compared with this time last month, he said, presenting a particular worry for doctors.
High levels of community transmission could also provide fertile ground for new, potentially vaccine-resistant variants to develop, he added.
In the UK, 45 million people - 85.5% of the adult population - have now received one dose of a coronavirus vaccine. More than 33 million people - 63.1% - have been double jabbed, according to latest government figures.
Dr Bharat Pankhania, a senior clinical lecturer in communicable diseases at the University of Exeter's medical school, told BBC Radio 4's Today programme he thought it was "perfectly okay" for people who had received two doses of a coronavirus vaccine to be exempt from quarantine measures.
He said while the "gold standard" would be to remain cautious even if you had been fully vaccinated, he thought that the fact that immunised people were "less infectious" meant it would be okay for them not to have to do so.
Dr Pankhania said that he felt that the vaccines were working "really well" at breaking the link between infections, hospitalisation and death.
"Therefore, having uncoupled that, we can start thinking about other uncoupling measures as well," he said.
Ending isolation for people who have had two jabs could be a relief for the hospitality industry with Rob Pitcher, chief executive of Revolution Bars Group, saying that the NHS Test and Trace app was making it "very difficult" for the sector to recover following lockdowns.
He told the Today programme the company, which runs 66 bars, had "probably got 10-15% of our estate in some form of closure" due to staff being required to isolate.
He said the app was "casting the net quite wide" and sad some staff were choosing to delete the app because "they can't afford to self-isolate for 10 days".
But Prof Robert West, a health psychologist who is a member of the Scientific Pandemic Influenza Group on Behaviours (SPI-B) which advises Sage, warned that exempting those who were fully jabbed from isolating would be unfair and could cause "resentment".
"When you get unfairness in situations like this, you get resentment and when you get resentment you can get loss of compliance," he told Times Radio.
The final stage of measures lifting was deferred by four weeks from 21 June amid concerns of the spread of the Delta variant, first identified in India, with the government saying more time was needed to administer vaccines.
The Delta variant continues to account for approximately 95% of confirmed cases of coronavirus across the UK.
Public Health England figures show 161,981 confirmed and probable cases of the Delta variant have now been identified in the UK - up by 50,824, or 46%, on the previous week.