Covid: Green list expansion not enough, say travel bosses
By Hazel Shearing & Becky Morton
BBC News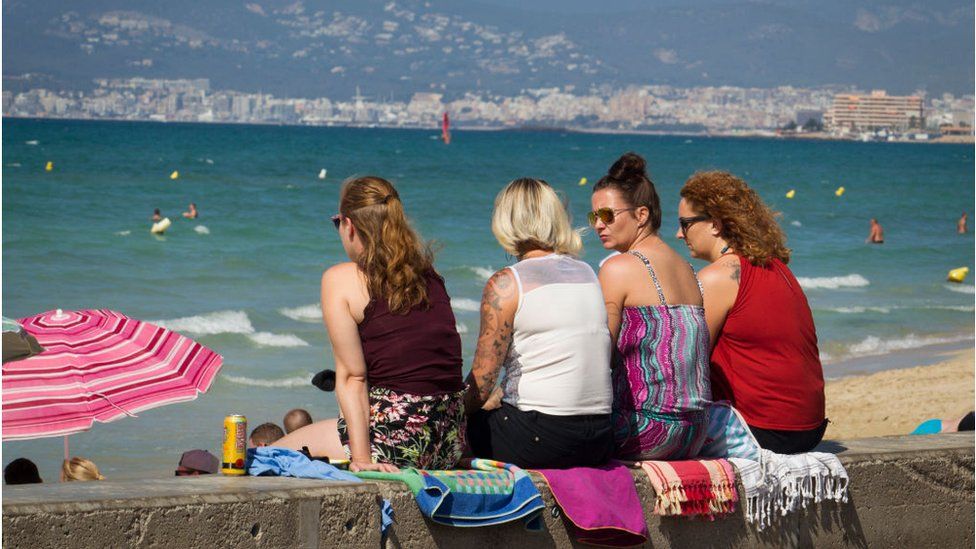 The government's expansion of the UK's green travel list does not go far enough, industry leaders have warned.
Arrivals from 16 places, including Spain's Balearic islands, will not have to quarantine from 04:00 on Wednesday.
But EasyJet has said the timetable "simply isn't ambitious enough".
Among the places being added to the UK's green list is Malta, which has since tightened travel rules for British holidaymakers.
From 30 June, only arrivals from the UK who have been fully vaccinated - with a vaccine certificate recognised by the Maltese Health Authorities - will be allowed into Malta without having to quarantine.
Some in the travel industry have reacted more positively to the UK government's latest travel announcement, including Thomas Cook, with the company describing the announcements as "a good first step" that opened up more holiday options for customers.
EasyJet Holidays chief executive Garry Wilson said there had been a "huge surge" in people booking holidays to countries that had been placed on the green list.
However, he questioned why more destinations, such as the Canary Islands and the Greek islands, were not added to the list.
And he criticised what he described as the "delay" to opening up travel to double-vaccinated people, saying the UK was "falling behind Europe".
The transport secretary said several issues still needed to be resolved before the system could be introduced, including whether children should be given the vaccine and how people from outside the UK could prove their vaccination status.
Mr Shapps told BBC Breakfast there was also a "fairness issue" because younger people had not yet had the opportunity to have their second jab.
He also defended the green watch list as a "maximal transparency approach" but even for countries on the regular green list he said there was no guarantee their status would not change at short notice.
The destinations added to the green list from 04:00 BST on 30 June are:
Europe: The Balearic islands (which include Ibiza, Menorca, Majorca and Formentera), Malta and Madeira
Caribbean: Anguilla, Antigua and Barbuda, Barbados, British Virgin Islands, Cayman Islands, Dominica, Grenada, Montserrat and Turks and Caicos Islands
Other British Overseas Territories: Bermuda, British Antarctic Territory, British Indian Ocean Territory and Pitcairn
Six destinations will also be added to the government's red list on 30 June. They are the Dominican Republic, Eritrea, Haiti, Mongolia, Tunisia and Uganda.
All the additions to the green list, with the exception of Malta, have also been added to the green watch list, signalling they are at risk of moving back to amber. Israel and Jerusalem have also been put on the watch list, the government said.
The Department for Transport said the plan to allow fully vaccinated people to arrive from amber list countries without having to quarantine will take place in phases, starting with UK residents.
It also said it plans to remove the guidance that people should not travel to amber countries, and will take clinical advice on whether regular testing could provide a safe alternative to quarantine for children accompanied by vaccinated adults.
However, a spokesman said further details - such as when these changes might happen - will not be set out until next month.
This is the longest the green list has been since the traffic light system was introduced this year.
The addition of Spanish and Caribbean holiday islands is helpful for the travel industry, but it still leaves most of Europe on amber.
The majority of destinations have also been placed on the green watch list - a sign that they are at a higher risk of tipping to amber. Will this dissuade potential travellers from booking?
After more than a week of build up, there's some disappointment that there's no guarantee of when quarantine will be dropped for fully vaccinated arrivals from amber list countries.
While some in the industry are celebrating a small step in the right direction, others have already said that this is not enough to save the summer.
Reacting to the news, Sean Doyle, chief executive of British Airways, said the announcement was not enough to help the sector recover from the pandemic.
"We cannot afford another missed summer. There are jobs at stake, Britons separated from family members and we cannot afford to allow the success of our vaccine programme to be wasted," he said.
And industry body Abta said the announcement "will not on its own deliver the meaningful restart of international travel that the industry desperately needs".
Airline Jet2 cautiously welcomed the announcements as "a step in the right direction".
However, chief executive Steve Heapy said the traffic light system still did not set out the criteria for placing countries in different lists.
Labour also called for the government to publish the criteria by which it was assessing each country and said the amber list was a concern.
"It's essentially a nod and a wink to go if you want to go. But it doesn't give confidence to consumers to book ahead," shadow transport secretary Jim McMahon told BBC Radio 4's Today programme.
Mr Shapps said the Joint Biosecurity Centre, which advises the government on which countries to open up to travel, publishes the data behind its decisions including case rates, vaccination levels, the amount of sequencing of variants and the quality of data from a country.
However, the prospect of European holidays does, however, face another hurdle, after German Chancellor Angela Merkel suggested earlier this week all EU countries should make British travellers quarantine on arrival to slow the spread of the Delta variant.
But those going to Italy have to self-isolate for five days then take a test, while fully-vaccinated UK visitors to France can enter without quarantining.
Cases numbers are continuing to rise in the UK, with a further 16,703 reported on Thursday. Another 21 deaths were also reported.
More than 60% of UK adults have now been fully vaccinated, while 82% have had at least one dose.