Covid: 19 July 'looking good' for end of lockdown, says PM
By Hazel Shearing & Becky Morton
BBC News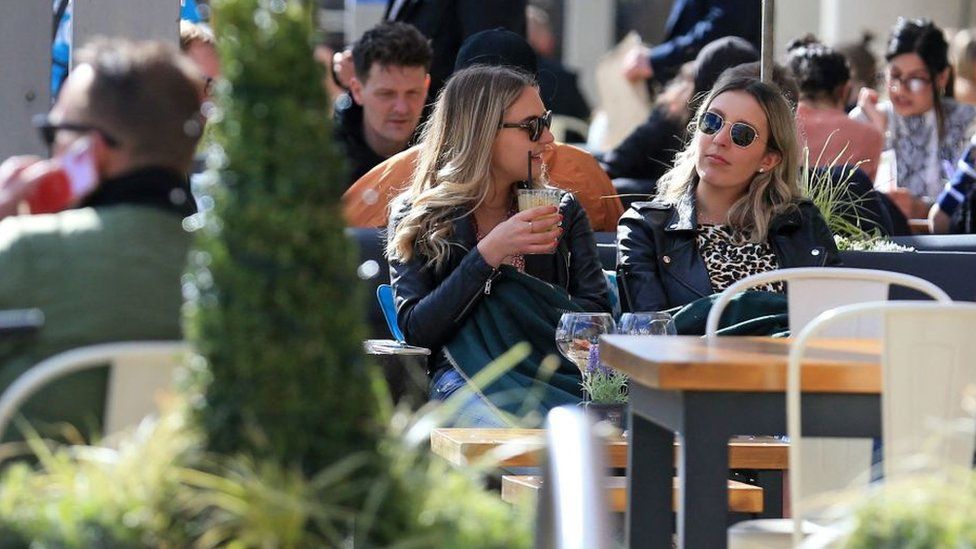 Plans to ease Covid restrictions in England on 19 July are "looking good", the prime minister has said.
Boris Johnson said that was based on the efficacy of vaccines against identified variants.
But he warned there could be a "rough winter for all sorts of reasons", including a resurgence of flu.
It comes as the health secretary said he hoped to exempt fully vaccinated people from the requirement to isolate for 10 days when contact-traced.
Asked during on a visit to a laboratory in Hertfordshire whether he could rule out further lockdowns this winter, Mr Johnson said: "You can never exclude that there will be some new disease, some new horror that we simply haven't budgeted for, or accounted for.
"But looking at where we are, looking at the efficacy of the vaccines against all variants that we can currently see - so Alpha, Delta, the lot of them, Kappa - I think it's looking good for 19 July to be that terminus point."
His comments came after Prof Anthony Harnden, deputy chairman of the government's advisory committee on vaccination, told BBC Radio 4's Today programme that flu "could be potentially a bigger problem this winter than Covid."
Flu immunity is likely to have dropped in the population as a result of low prevalence because of lockdowns, and it could come "back to bite us", he said.
Mr Johnson said the risk of a "rough winter" was "all the more reason to reduce the number of Covid cases now, give the NHS the breathing space it needs to get on with dealing with all those other pressures, and we are certainly going to be putting in the investment to make sure that they can".
Meanwhile, Health Secretary Matt Hancock said that he hoped to bring in a new approach to self-isolation to reflect the changing situation as the country opens up more and more.
For the past two months, a pilot study has been under way in which 40,000 people who have been named as contacts of someone who has tested positive for Covid have been allowed to take daily Covid tests and continue with their lives, rather than having to self-isolate.
"We're piloting that now to check that will be effective and it is something that we're working on," the health secretary said.
"We're not ready to be able to take that step yet. But it's something that I want to see and we will introduce, subject to clinical advice, as soon as it's reasonable to do so."
The trial is not expected to be completed until later in the summer.
Currently, anybody who has been told by NHS Test and Trace that they are a contact of somebody who has tested positive for the virus must self-isolate for 10 days.
This means not leaving home at all - even to buy food or medicines, or for exercise.
The rule applies to people regardless of whether they have received a coronavirus jab.
So far, nearly 60% of UK adults have had two doses of the vaccine, meaning they are fully vaccinated, and more than four in five adults have had their first dose.
More than one million jabs were booked on Friday and Saturday in England, after vaccinations opened to all over-18s.
There have been a further five deaths within 28 days of testing positive in the UK, according to the government's daily figures - and 10,633 new cases.
The prime minister said the government was also looking at using daily tests for travellers.
Asked whether ministers were considering allowing double-vaccinated travellers to be exempt from quarantine on their return to the UK if they took daily tests, Mr Johnson told reporters: "When it comes to travel, we'll certainly be looking at that.
"But I want to stress this is going to be, whatever happens, a difficult year for travel - there will be hassle, there will be delays, I'm afraid, because the priority has got to be to keep the country safe and to stop the virus coming back in."
Currently, people arriving in the UK from a country on the government's amber list must quarantine for 10 days - regardless of whether they have had a coronavirus jab.
However, in England an individual may be able to end their quarantine period early if they pay for an additional test under the test-to-release scheme.
Transport Secretary Grant Shapps said he was "cautiously hopeful" about being able to lift some restrictions on international travel as a result of the vaccine programme.
He said the government had always committed to regularly review their international travel plan, with the next "checkpoint" taking place on 28 June.
He said that the checkpoints would look at whether the "science would support" relaxations including people who have received two vaccine doses no longer have to quarantine after returning from certain countries.
The original date the government had planned to remove all legal limits on social contact in England was 21 June - but this has been delayed to allow more people to be vaccinated.
However, some restrictions have still been eased.
The number of guests at a wedding is no longer limited to 30 (although there are capacity rules depending on a venue's size), visiting arrangements for care homes are changing, children can go on overnight trips in groups of 30, and pilots of large events like Euro 2020 games will continue.