East Kent hospitals: The failings that led to baby deaths
By Michael Buchanan
Social affairs correspondent, BBC News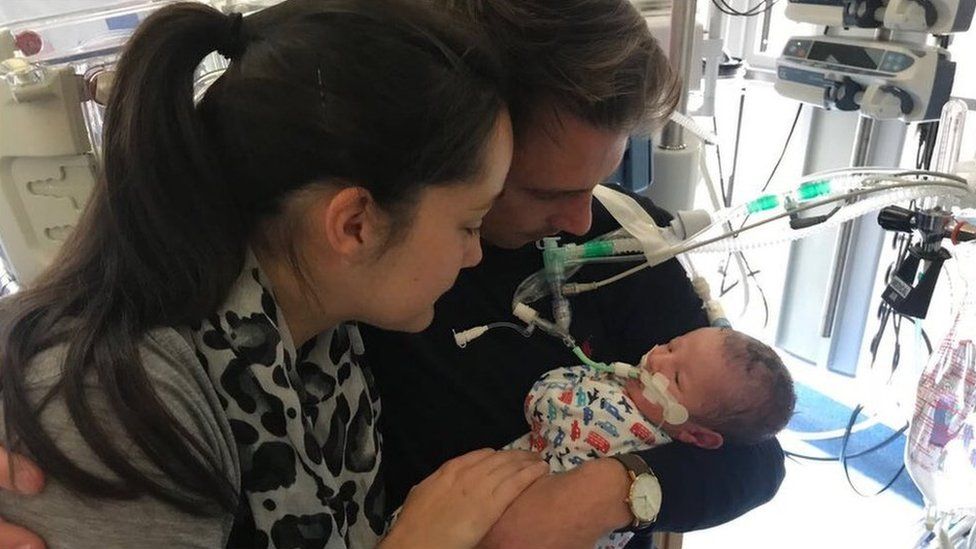 In a landmark case an NHS trust is due to be sentenced for failing to provide safe care and treatment. The criminal prosecution follows the death of baby Harry Richford in November 2017 at the East Kent Hospitals Trust. But how did the trust end up in court?
"I remember the anaesthetist came up to me and said, 'I'm going to put you under general anaesthetic'. And I was glad he was going to do that, because I didn't want to be in that room anymore," Sarah Richford told me last year, as she described the worst night of her life.
The PE teacher, who had endured a slow, agonising labour, had eventually been rushed to theatre for a caesarean section - an operation that a locum medic would subsequently botch.
Her son Harry was born pale and floppy, and to compound the chaos in the operating theatre the neonatal team then failed to properly carry out a vital resuscitation procedure, struggling for 28 minutes to insert a life support tube.
Harry Richford died a week later. His parents chose to withdraw his care after being advised their son would have no quality of life.
His death was the consequence of several years of deep-rooted problems in maternity care which the trust had failed to address.
'Bullying, divisive culture'
At the heart of the Richford case, and the Care Quality Commission's prosecution of the trust, was a lack of staff, poor training and a bad culture - and the trust leadership, as well as outside bodies like NHS England and the local Clinical Commissioning Group, knew about the problems but had failed to address them.
"We had poor outcomes for years, high numbers of births going into the neonatal unit," a former manager said. "There was a bullying culture, a divisive culture. Staff at the two hospital sites - in Margate and Ashford - never worked as a team, there was no sense of camaraderie."
Board papers show investigations were started into eight neonatal deaths in the first eight months of 2014. In total, between September 2012 and April 2017, there were 20 investigations into neonatal deaths as well as three inquiries into maternal deaths. Other deaths occurred that weren't reported to the board. Two stillbirths that occurred in 2016 were not included in the board papers.
At a meeting in June 2016, a Maternity Improvement Plan was launched, overseen by NHS England, after an external review from the Royal College of Obstetricians and Gynaecologists found significant problems across the Queen Elizabeth the Queen Mother hospital in Margate and the William Harvey hospital in Ashford.
Among the issues highlighted were consultants who didn't carry out ward rounds, review women, attend out-of-hours calls when requested or complete mandatory training.
"Consultants in Margate became set in their ways. They hadn't been managed properly in years and were lost souls in many ways," a former member of the trust said. "They felt their thoughts never mattered - all the focus, and investment, went to Ashford first."
BBC News has been told tentative discussions were held at the trust over whether to close the maternity unit in Margate as problems were continually emerging over its ability to handle complex deliveries. It struggled to attract staff and it didn't have a neonatal intensive care unit on site.
A lack of staff within the maternity team was a constant complaint, with a document from June 2016 stating the trust "does not meet national recommendations for safety within its two neonatal units".
Throughout 2016, in fact, it was clear problems in the trust's maternity units were mounting.
There were increased serious incidents due to poor monitoring of CTGs, the system used to measure a baby's heart-rate in the womb. There was also concern "as to whether the trust was learning from incidents," according to one board paper.
Despite the attention that maternity care received after the RCOG review, improvements didn't follow. In 2017, the trust's management acknowledged there were "challenges in embedding a mature and developed patient safety culture". Maternity staff "didn't attend" patient safety meetings and didn't present requested reports.
Despite the multiple failings around the care of Sarah and Harry Richford in 2017, there have been allegations that the trust didn't immediately improve its maternity care or its attitude to parents.
At a court hearing in April, the trust pleaded guilty to failing to provide safe care and treatment to the Sarah and Harry. In a statement at the time, it said it was "deeply sorry that we failed Harry, Sarah and the Richford family and apologise unreservedly for our failures in their care".
The rate of neonatal death and still births at the trust have both fallen since 2020, which the Richford family said "proves that with the right level of focus, leadership and attention, babies' lives can be saved".
However, it took a skilled, determined, grieving family's fight for justice to force meaningful change on a reluctant and failing organisation.